What in the world happened to 2015? Is anyone else wondering that? I think I have to start paying better attention, because 2015 seriously slipped by me.
I thought it would be fun to take a look back at some of the things that went on for the COAH household in 2015, honestly it was hard remembering everything and I had to look back at my Facebook and Instagram to see what we did LOL!
The kids are all one year older which makes me sad. I wish they could stay babies forever, but at the same time it's been fun having older kiddos around too. Strawberry Shortcake turned 12, and will be 13 at the end of this January, Tinker Bell turned 9,  Turbo turned 11, and Miss Lady Bug made her debut as a 7 year old!
We've successfully completed 2 years of homeschooling in the new house. And I think I finally have our school room set up in a functional and mostly organized manner.
We lost one of our border collies to cancer, then had to put the other one down due to old age this past summer. It was a bummer of a summer I tell ya.
Turbo started ice hockey for the first time after several years of inline hockey. He was a little behind in skating skills so he took some lessons to get caught up and is doing great!
All of the kids are continuing with swim team, and lessons for Miss Lady Bug. They're all doing well, and I like the extra exercise that they get with swimming. Plus with all four of them swimming, I get a little break each week while I sit and watch. Mostly I bring some sewing to do. Some days I just sit and watch. Since I find swimming relaxing it's a nice break in the day.
We headed up to the Greeley Stampede for their annual Independence Day celebration. Got to see a rodeo, fireworks, and check out the sketchy carnival rides.
We got to see the Rocky Mountain Airshow in our backyard this summer. It was such a cool experience and I hope they do it here again!
I published my second book, Taking Charge of Your Child's Education, this past summer, and am working on my third book now. It's slow going with all of the things we have going on, but I hope to be done with it in this new year!
We took a camping trip with some friends to a private lake where the kids had a blast on jet skis and tubes. Then of course we had a fire and s'mores to top it all off.
I found a new hobby love in quilting at the end of 2014, then spent the majority of 2015 sewing whenever I got the chance. I made a ton of fun quilts, mostly all went to gifts, but there were a few in there for me too! You can see them all on my Instagram.
We took the kids to their first Avalanche hockey game this year. We had a great time, and hopefully we can do it again soon! Thankfully Turbo gets discounted tickets through his youth league because man are pro-hockey tickets pricey!
The girls continued with their Keepers at Home group this year, and we did a lot of fun activities, and still have more to go for 2016!
Everyone is participating in our local options program again this year. Mama gets a day off, and the kiddos get to go have fun with friends. Win win!
Jason and I managed to get out for a couple of date nights, and an anniversary weekend away. Grandma came and stayed with the kids, so I know they had just as much fun as we did!
We didn't take any big trips this year, but we definitely enjoyed several smaller field trips, and not too far road trips over the course of the year. We also spent lots of time together enjoying s'mores, friends, neighbors, swimming, biking, fishing, and playing!
We all go to see a Lunar eclipse on 9/27/15 through our telescope. It was so cool! And it's documented on my Instagram if you missed it!
Tinker Bell, Strawberry Shortcake, and Miss Lady Bug all started figure skating lessons and performed in their first holiday ice show on December 11, 2015.
We ended up getting a new borgi puppy from some friends of ours at the end of November 2015. He's been a blast, has a ton of energy and gets lots of love from all of us. There are lots of pictures of him on my Instagram and Facebook if you want to see what he's up to. The kids were all excited to have a puppy for Christmas.
Well, that's probably enough reminiscing for now. Onto the task at hand which is feeding all of the troops for January 2016! Of course I couldn't do it without some kind of meal plan, and I'm hoping it helps all of you as well.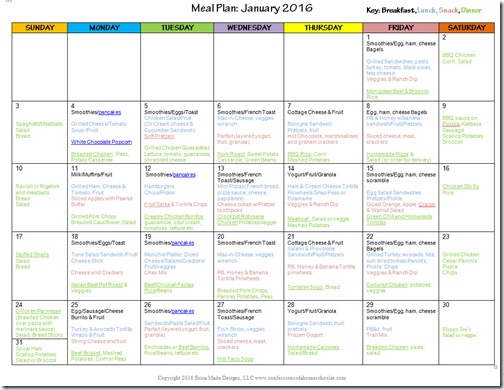 Download the 2016 January Monthly Meal Plan:
If you haven't already used this before, you can click on any of the underlined menu items to get to the recipe.
I like to shop once a week, so I just make a list off of my menu plan and head to the store. I find that I spend less when I shop off of a list, then flying by the seat of my pants. I also end up with ingredients that will actually go together instead of a bunch of random items that don't amount to anything.
For more fun recipes, visit my Recipes Page!
Here are some of our favorite smoothie recipes, just click on the image below!