Good morning everyone! It's finally December, and that mean's it's officially the most wonderful time of the year! If you've been following me for awhile now, you already know that I love Christmas time. I love driving around and enjoying all of the twinkle lights, sledding, snow fort building, and hot chocolate drinking If you live anywhere near us, you're also getting to enjoy snowy evenings by the fire.
And if you're like me, then you're also standing outside in the snowy cold night waiting for your new puppy to go potty. It's seriously a good thing he's cute!
If you follow me on Instagram or Facebook you've already met him, but I'd still like to officially introduce you to our newest family member, Bandit.
He's was originally named Cosmo after "Cosmo's moon" in the movie Moonstruck with Cher and Nicolas Cage. I saw it years ago, and when I saw him I start singing… "When the moon hits your eye like a big pizza pie that's amore"
I also used it as a selling point for my husband because in the movie Cosmo sees a moon so big and bright that it reminds him of the night he proposed to his wife. How romantic right? And thus our new puppy would obviously remind me of how much my husband loves us!
However for some reason the name Cosmo just didn't stick, and we ended up going with Bandit. Since he's fairly sneaky and stealth, I think Bandit is also a good fit!
Anyway, he's super duper cute and cuddly. He's a Borgie that came from some very good friends of ours. Are you're wondering what the heck a Borgie is? Don't worry, I didn't know what that was either! It's a Border Collie and Corgi mix. He looks just like one of our first border collies, however he is much shorter! Like he disappears in snowdrifts over about 5" tall. But don't worry, he loves the snow and always comes back out the other side. So it's all good.
So far he's very smart, cuddly, and playful. Both Corgi's and Border Collies are stock dogs, so they're used to herding their flock. And he's definitely very good herding the children! Everyone is super excited to have a puppy for Christmas, and he's been lots of fun to have around. He'll be even more fun once he's potty trained

Anyway, onto the reason for this post, it's time for the December 2015 Monthly Meal Plan! This one is a yummy month as it includes lots of warm comfort foods, along with some festive winter snack ideas and treats too! I hope you enjoy it, and have a wonderful holiday season!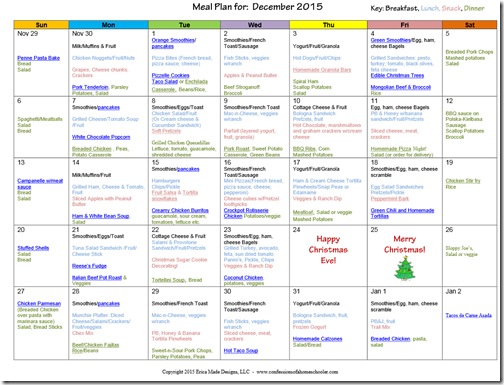 Download the 2015 December Monthly Meal Plan:
If you haven't already used this before, you can click on any of the underlined menu items to get to the recipe.
I like to shop once a week, so I just make a list off of my menu plan and head to the store. I find that I spend less when I shop off of a list, then flying by the seat of my pants. I also end up with ingredients that will actually go together instead of a bunch of random items that don't amount to anything.
For more fun recipes, visit my Recipes Page!
Here are some of our favorite smoothie recipes, just click on the image below!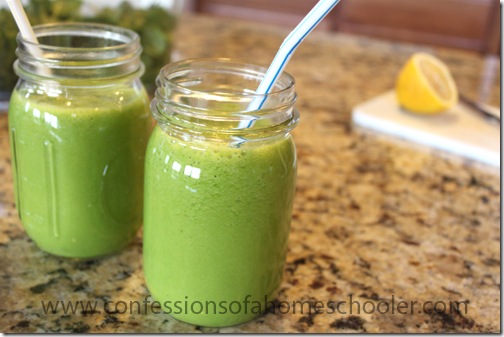 Merry Christmas!