hey everyone! I hope you all had a wonderful Thanksgiving with family and friends. We spent the day visiting and enjoying some amazing food! And now that Thanksgiving is officially over, the Christmas season begins!
And no, I didn't go Black Friday shopping because I can't handle the crowds, and the craziness! I have gone in years past, but the last time I went I had someone lunge over several boxes of toys to get to the electric jeep I had in my hands! They ended up knocking another jeep on my head. While I love a good deal, I'm not willing to sacrifice physical injury to get it! Haha!
So that said, I hope you all had a safe shopping event if you braved the deals.
And with your safety in mind, I'm doing my annual Cyber Monday 30% OFF Sale! YAY!! And the best part is that you can get it from the safety of your home! No long lines, or getting shoved, pushed, and beat up. Your savings is just a simple click away!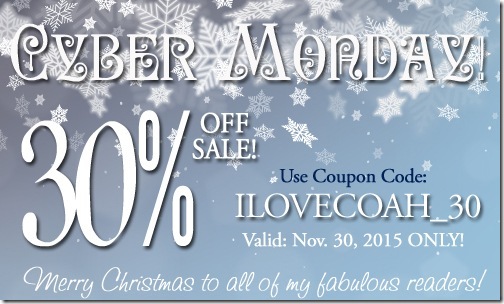 That means everything in my store is on sale at 30% off. And my 10% multiple item discount still applies, so depending on your purchase, you can get up to 40% off your entire order! Yipee!!
But the sale is for TODAY ONLY!!! No exceptions, sorry!
Use coupon code: ILOVECOAH_30 at check out to get your 30% discount.
Coupon code is valid Monday, November 30, 2015 12am-midnight ONLY!
I hope this helps out some of you who might be switching gears mid-year, or even starting school in January!
Please note: The literature mega packs do NOT count in the multiple-product 10% discount since they are already discounted 10% as a pack. Affiliate books like iBlog, iBlog Pro, and Big Homeschool Book of Ideas is not included in the sale as I am only a contributor for these items, and the sales run through the iHomeschool Network store.
Happy Holidays and have a great week!