Hi everyone! Did I mention that I'm Italian? And I married a German? Well, since our wedding my father-in-law has hassled me about always serving Italian dishes whenever they come over. And so tonight I was feeling a little crazy and decided to make up my very own recipe for Zuppa Toscana. I figured with the hearty combination of potatoes and Italian sausage we'd both be happy!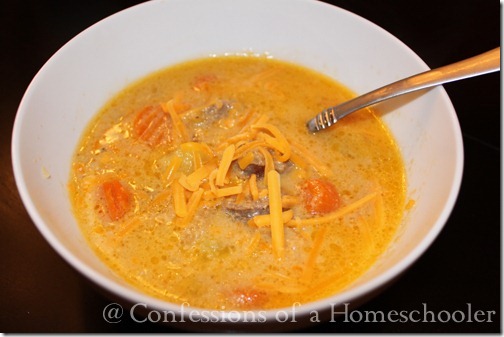 Of course before giving it to my father-in-law I tested it on his son and grand-children. And whoot whoot! We have a success! All the yummy goodness of Italian cuisine combined with the hearty meat and potatoes that my German in-laws love. And not only did my husband say it was delicious, but all of the kiddos liked it as well.
Except for the Teeny Tot, who didn't like the potatoes for some reason.
Which is weird because she likes potatoes. But who knows, she's picky.
And she ate everything else except the potatoes. Which in my opinion were the best part.
So anyway, let's get to the goodness shall we?
Ingredients:
4 Tbsp butter
1/2 sweet onion diced (Finely if you have little guys)
3 slices diced bacon (Optional)
5 Italian sausage links (I usually get Johnsonville Sweet Italian Sausage.)
1/4 cup all purpose flour
3 red potatoes, diced
1 cup frozen crinkle cut carrots
3 cups chicken broth
2 cups half-and-half (Or milk if you're out, it still works!)
2 1/2 cups shredded Monterrey jack cheese
Directions:
In large pot, melt butter over medium-high heat, add in onions and whole sausages. Sauté until onions are soft and sausage is browned on all sides.
Remove sausages, slice thinly, and add back into pot.
Sprinkle with flour and stir, then add in chicken broth and simmer for 3-4 minutes.
Add carrots, diced potatoes, and half-and-half, then simmer for another 15 minutes.
Right before you're ready to eat, add shredded cheese and stir until melted.
Serve in bread bowls (or regular bowls), top with a little shredded cheese and serve immediately.
Serve with crescent rolls, or your favorite bread and enjoy! Serves about 6 people, with one serving of leftovers for moms lunch the next day!