I have a super easy and fun art activity for kids to share today!
But before we start, I know you are all curious about our art boards, so I just wanted to address them in a post. They're simply 2×3 chalk boards turned over, on the backside is like mason board material. I purchased these at a local Office Depot store and that's it. Nothing fancy or expensive, but definitely perfect for keeping tables clean during messier projects!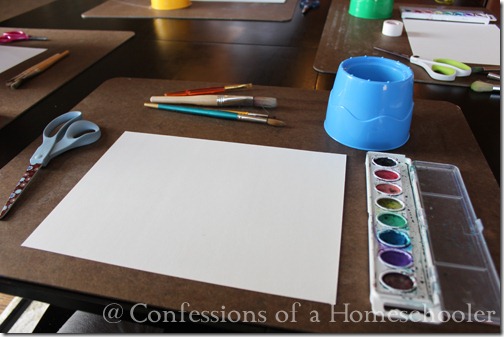 Now onto the project…
Supplies:
Masking tape
Water Colors
A water dish (Mine are no-tip water cups from Lakeshore Learning)
Paint brushes
Water Color paper
Scissors (1 pair per student)
Directions:
I gave each student their own setup of supplies along with a few strips of masking tape. I then asked them to think about a design they could create using the tape along with a few ideas such as a flower, shark, lit candle, or abstract design. As you can see Turbo is deep in thought over his idea.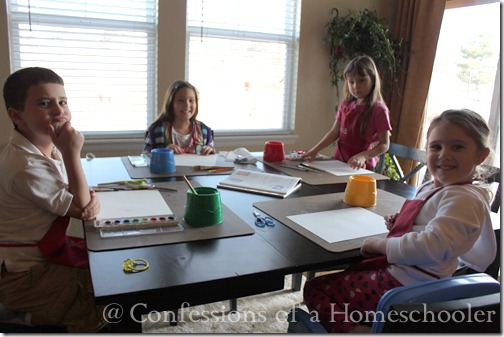 Once a design is chosen, simply cut out shapes from the masking tape and place them onto the paper to create your design. I helped the Teeny Tot with her design, she wanted to do a flower. As you can see below I helped cut out the flower pieces and then we placed the tape onto her paper.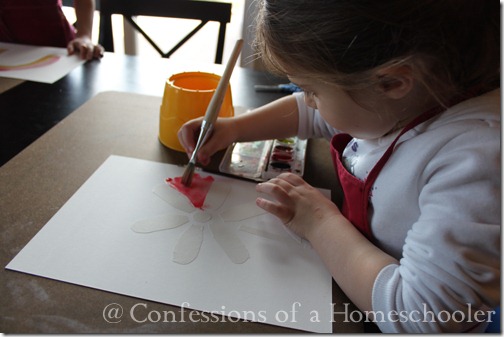 After your tape is placed on the paper, use the water colors to create a colorful background for your image. I encouraged them to fill the entire paper with water color so it its more dramatic when you remove the tape.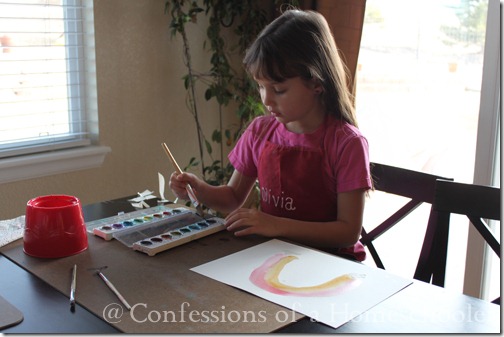 Turbo went for an abstract design…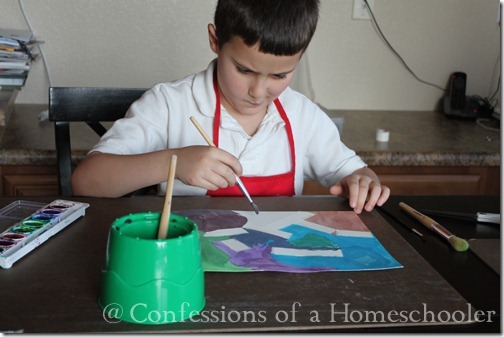 While Strawberry Shortcake decided to do a heart design with her tape.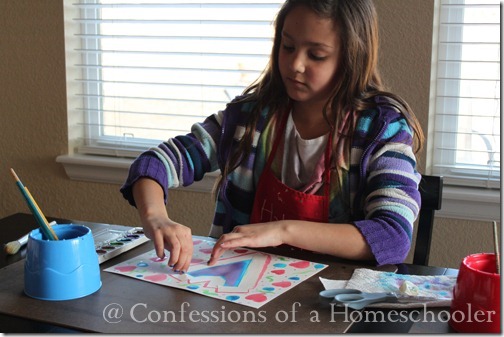 Once the painting is complete and the water color is dried, carefully remove the masking tape from your paper to expose your design. Tinkerbell made two small cloud shapes using the tape then painted a rainbow and sky background.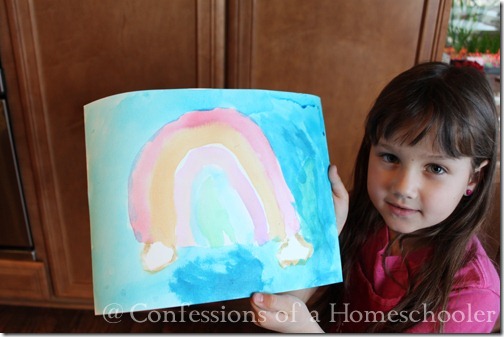 Here are the other finished projects.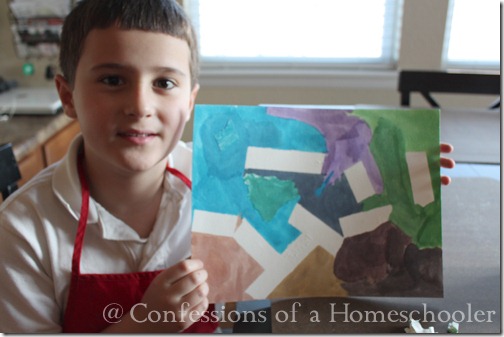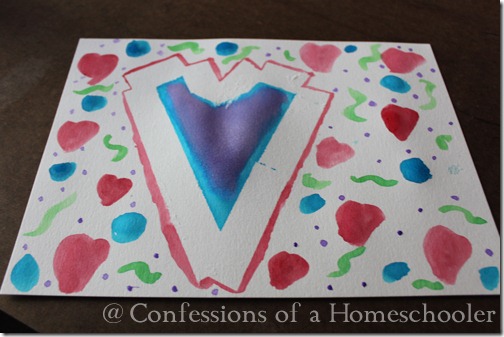 As I said, let the paper dry before removing the tape. The Teeny Tot was impatient and removed hers while the paper was still wet. As you can see the design edges aren't quite as sharp as the others as the tape tore off a bit of the painted area as well. I also think part of her issue was the amount of water that she added to her paper. She likes to be thorough when painting. Lots of paint and lots of water. Maybe a little too much, but she was happy with the result so it's all good.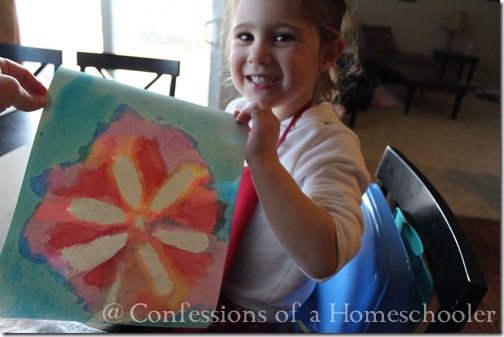 And that's it! A super easy but fun water color activity for kids. And the best part is you should have most of these materials at home, so no special trips to the store.
Have a fun art idea to share? Make sure to leave a comment below so others can be blessed by your ideas!