I just wanted to pop in today to wish everyone a wonderful Christmas! We'll be celebrating the birth of our savior with our extended family on both sides, an enjoying wonderful food too!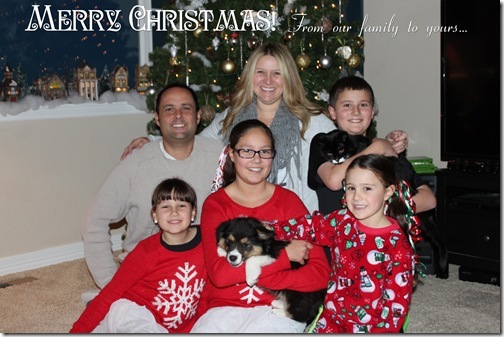 We're so thankful for all of your support and encouragement this year. I may  not have time to reply to all of the comments, but I do read them, and am so blessed by all of your wonderfully kind words! You guys are the best and make blogging so much fun! We pray you all have a wonderful holiday and a fabulous new year!
And the angel said to them, "Fear not, for behold, I bring you good news of great joy that will be for all the people for unto you is born this day in the city of David a Savior, who is Christ the Lord." ~ Luke 2:10-11
Here's a quick peak into Christmas time at the COAH household!

Blessings from our family to yours,
We wish you all a very Merry Christmas and a wonderful 2016!
Erica, Jason, Strawberry Shortcake, Turbo, Tinker Bell, Miss Lady Bug, Bandit, and Six!
P.S. I'd love to hear what you are all up to for Christmas this year, leave a comment below!