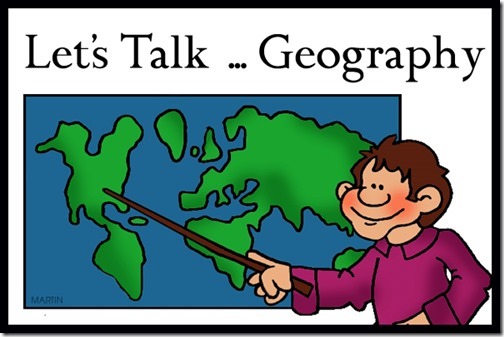 Hi everyone! I hope you are enjoying the curriculum discussions we've been doing lately. I'm hoping they will help you in choosing curriculum for your own family!
Today I want to focus on the subject of Geography. Of course our family had a great time with the Expedition Earth World Geography, then moved to Road Trip USA Geography after that. Both are full year curriculum for elementary aged students. And they're both really fun, hands-on, visual, and did an excellent job of getting my kiddos to remember what they learned!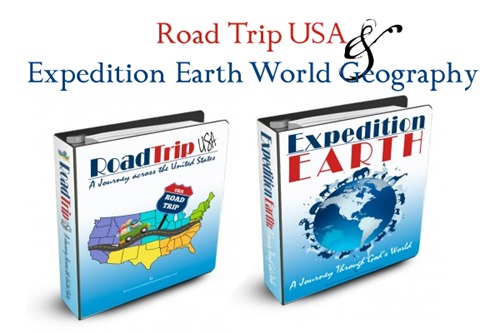 Expedition Earth World Geography curriculum is is a hands on world geography curriculum that covers 31 countries across the world. It is designed primarily for K-5 students. Students will learn the continents, oceans, people, cultures, animals, climates, try new foods, crafts and more, all through hands-on activities! Get ready for an exciting voyage across the world! Come along as we walk on the Great Wall of China, wander through the Amazon Rainforest, and climb the Egyptian Pyramids! Within this curriculum you'll discover the sights and sounds of 31 countries across the globe. You'll get hands-on with fun activities, crafts, recipes and more! So grab your passports, and get ready to go! It's time for Expedition Earth!
–> Click here to download a sample of our Brazil Week <–
The revised version includes Lap Books for each country, new information, internet links, and books. Here's a peek at the Teacher's Manual. It includes everything you need for each lesson including any additional info, internet links, reading assignments, crafts, and recipes for each country as needed. There are 32 weeks of lesson plans, plus a Christmas Around the World Unit. The Teacher's Manual is outlined for you on a daily basis and even includes a Craft Supply Shopping List for each country just to make your life a little easier!
Road Trip USA is a United States Geography and History curriculum. From the signing of the Declaration of Independence, to the wild west, you'll uncover all the secrets this Nation has to offer! Within this curriculum you'll discover the sights and sounds of all 50 states, including state symbols, U.S. Presidents, famous people, landmarks, historical events, and much more! This curriculum is geared for elementary aged students.
–>Click here to download a sample<–
For you history buffs, this is a great introduction for young learners! You will start out learning about the Constitution, Declaration of Independence and Revolutionary War. Then you'll move south to learn more about the Civil War and Underground Railroad. From there you'll journey with Lewis & Clark through the mid-west, live with the Hopi in the southwest, then venture out into the wild west on a covered wagon ride! So grab your Travel Logs, and pack your bags! It's time for a Road Trip!
Pros:
Hands on
Fun activities
Great memory games and visuals
Buy once, print multiple times for your family.
Cons:
Can be pricey if you have a lot of student copies to print.
What do you think?
I would love to hear what you all do for Geography, and if you used one of my curriculum, feel free to comment on how it went or if there's anything you'd like to have added or changed to make it easier to use!
So, now comes the fun part!
What are your favorite Geography curriculum, resources, websites, etc? Leave a comment below discussing your choices for this year and why.
Feel free to ask questions or reply to each other too!
It's my way of doing a forum without actually doing a forum haha!
And hopefully this will help us all as we start the process of researching curriculum, and trying to decide what will be the best fit for our homeschool.
Note: Please keep today's conversations geared towards Geography, I will be posting one for each subject separately so we can keep our comments organized.
Click here if you missed my previous Homeschool Curriculum Forum posts!
Disclosure: This was not a sponsored post, I may however be affiliated with one or more products mentioned. The opinions expressed in this post were not influenced by the company. They are products I have used and felt like sharing, cuz' it's my blog and I can if I want to.