Good morning all! Welcome to another homeschool curriculum forum. Today we'll be discussing music curriculum!
Music has two parts as far as we are concerned. The first part I like to call "Music Appreciation". To us that means studying famous composers and learning to listen to music critically. The second part encompasses actual music lessons whereby our children are learning to play instruments.
MUSIC APPRECIATION: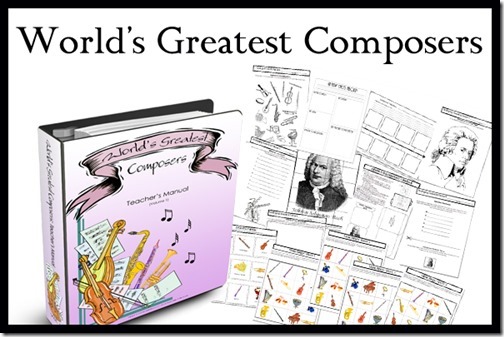 The goal behind the World's Greatest Composers curriculum is to immerse students in the work of each composer so that they are well familiar with their style, methods and music. Much of your time studying will be through open discussion with students and listening to compositions. Upon completion of this curriculum, your student should be able to easily recognize the pieces from each composer studied. They will also have learned several different styles of music, vocabulary, as well as have gained an appreciation for music in general.
What is included in the study?
For each day of listening there is an activity for students to complete while listening. This will help them focus on the music, and think critically about what they are hearing. By the end of the study, your student will have a completed composers notebook along with an orchestra and music lap book.
Introduction to Orchestra
Johann Sebastian Bach
George Handel
Wolfgang Amadeus Mozart
Ludwig Van Beethoven
Frederic Chopin
Peter Tchaikovsky
Igor Stravinsky
George Gershwin
Composer Reports
Instrument Word Scrambles
Music Bingo Cards
Each composer unit has 10 lessons, I suggest scheduling 2-3 days per week for the composers study. The curriculum will take 1 full year to complete at this pace. However, the lessons can be easily adapted to fit your schedule as well.
Pros:
Very hands on
Lots of listening examples so students can really get a good feel for the various composers
Fun activities to help music make sense and promote critical thinking skills
Includes items to complete a composers lapbook for each student.
Great price!
Cons:
Hmm…I made this so right now I can't think of any, but if anyone has suggests on improving the curriculum I'd love to hear them!
Another music appreciation type curriculum we like are the Maestro Classics CDs. Each CD introduces children to classic music and most come with some sort of small activity booklet, or guide to help walk you through the CD. They offer a wide variety of CD lessons so you can pick and choose. Lessons come in CD or download MP3 format.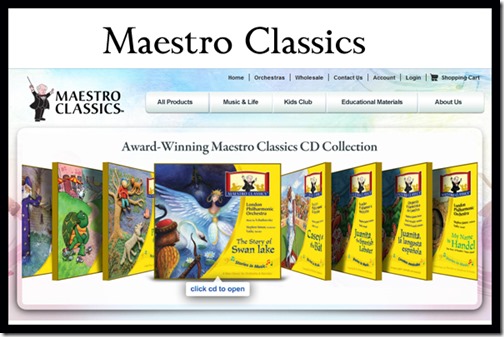 Pros:
Great listening experience
Cons:
Can be pricey to purchase individual CDs.
I usually feel the need to add some type of lesson to the CDs so that is a bit of extra work on my part.
MUSIC LESSONS:
The second part of music in our homeschool involves actual hands on music lessons. Right now we are all working our way through our own Piano lessons using  Piano is Easy series. We started with Teach Yourself Piano Step by Step.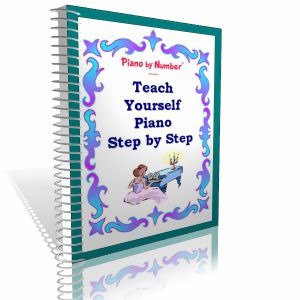 We alternate piano and typing lessons, so they are doing piano about twice a week right now which is clearly not enough. I have noticed them playing here and there during off school hours which is also great. I do like these lessons and they progress through slowly, but teach actual songs as they go so students feel like they're learning quickly.
I am happy with these books, however at some point, I do think we'll need to move to an actual "live" piano teacher to progress further.
Pros:
Inexpensive compared to lessons
Can do at home, anytime of day
Fun and engaging for students
Once started, students can mostly do the lessons independently with just a small amount of teacher guidance.
Cons:
So far we're only through the first book, but I'm thinking we'll need regular lessons at some point.
So, now comes the fun part!
What are your favorite MUSIC curriculum, resources, websites, etc? Leave a comment below discussing your choices for this year and why.
Feel free to ask questions or reply to each other too!
It's my way of doing a forum without actually doing a forum haha!
And hopefully this will help us all as we start the process of researching curriculum, and trying to decide what will be the best fit for our homeschool.
Note: Please keep today's conversations geared towards MUSIC, I will be posting one for each subject separately so we can keep our comments organized.
Click here if you missed my previous Homeschool Curriculum Forum posts!
Disclosure: This was not a sponsored post, I may however be affiliated with one or more products mentioned. The opinions expressed in this post were not influenced by the company. They are products I have used and felt like sharing, cuz' it's my blog and I can if I want to.