Hi everyone! I have a fun review and discount special just for you, my COAH readers today!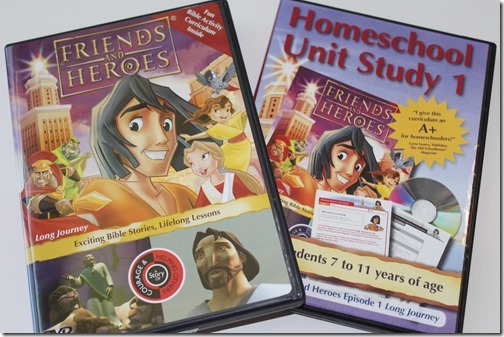 My children have been enjoying the Friends and Heroes DVDs for a while now, and I just recently learned they also have homeschool curriculum that goes with their DVDs!
I immediately contacted the company to see if I could do a review of the units. They currently offer 13 different unit studies which are geared towards students 7-11 years of age, and they blend visual learning, with hands-on activities to help cover all learning styles.
We promptly received the Long Journey study along with the homeschool unit printables disk to go along with the study. The Long Journey covers the story of Daniel and the lion's' den and Jesus and the miraculous catch of fish.  My kiddos already love the Friends and Heroes DVDs so this will be a fun addition to our Bible study curriculum plans for our year!
Homeschool Unit Study Includes:
Each DVD features two themed Bible stories (usually one Old and New Testament).
CD-ROM printables that can be used with multiple children.
Parent's/Teacher's Lesson Guide including answer keys and certificates of completion.
Student Workbook of activities
Friends and Heroes DVD containing a full length adventure episode.
Each unit study contains a lesson pack with hands-on, fun worksheets to go along with the DVD. Students will watch a fun DVD lesson then complete the resources that accompany each unit. The units include topics such as history, geography, science (creation-based), creative writing, Bible study, crafts, and discipleship.
What's the cost?
Each unit study costs $29.99, or you can buy the entire series.
Fun Features:
The friends and Heroes site also has a fun interactive children's website at www.friendsandheroes.tv that is loaded with video clips, games, Bible stories, historical background information for the series and downloadables! And the best part is it is all FREE!
SPECIAL DISCOUNT!
As promised, I have a special limited time discount on the Friends and Heroes homeschool curriculum!
From now until July 31, 2013 Friends and Heroes are offering the following discounts to my readers only!
20% off Friends and Heroes Homeschool resources
10% off other Friends and Heroes curriculum resources
Plus, the price of the Friends & Heroes DVDs for home use has recently been reduced by 25%!
Want to take advantage of this special pricing? Visit the Friends and Heroes special COAH discount page!
I hope you enjoy this curriculum, we're excited to add it to your lessons for our upcoming year!