Good morning everyone. Welcome to another What's in the Workbox Wednesday! Today we'll be sharing our workboxes for Strawberry Shortcake who is currently in the 5th grade.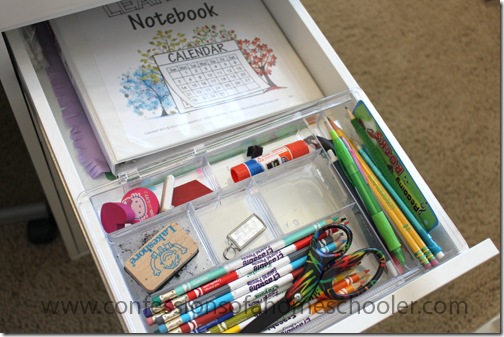 As you can see her first box contains supplies and our famous Daily Learning Notebook. I found our expandable drawer organizer at the Container Store.
I realize Strawberry Shortcake is in 5th grade and does not need to do the daily notebook any longer, but they all love it and requested to do it this year again. She's doing the cursive daily learning notebook.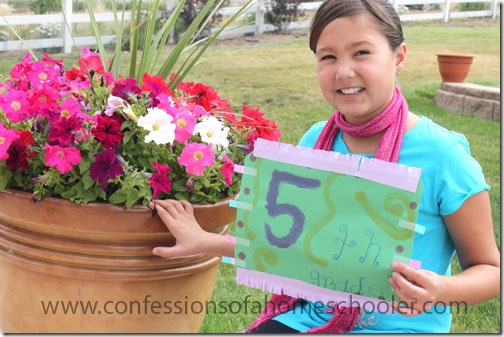 Strawberry Shortcake (5th grade)
The next box contains everything she needs to do math. We're currently using Math U See Epsilon. (I realize the photo has the Delta unit in it, we had a couple weeks left to finish from last year before moving on to Epsilon this year.) Each day after school is over I pull out the next day's worksheet and lay it on top of her book. That way she knows what is to be done.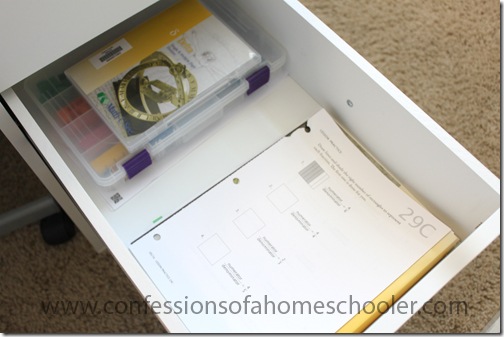 The next box contains our BJU Handwriting 5 and Rod & Staff English 4. So far we like both of these programs. I was advised to use a grade level down since we're just starting and so far that advice is proving to be accurate.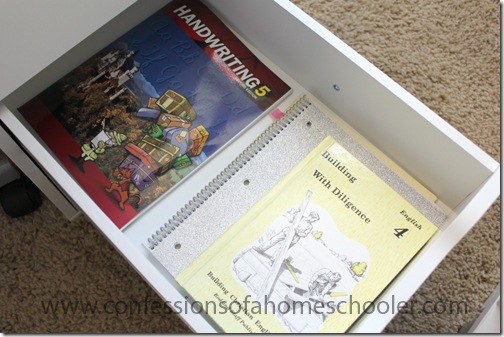 Her next box contains Wordly Wise 4 and BJU Press Spelling 5 along with All About Spelling. We're currently using the BJU Spelling for a more difficult word list, but I still prefer the phonics lessons that go with the All About Spelling program. So we do a quick lesson, then she does her BJU Word list.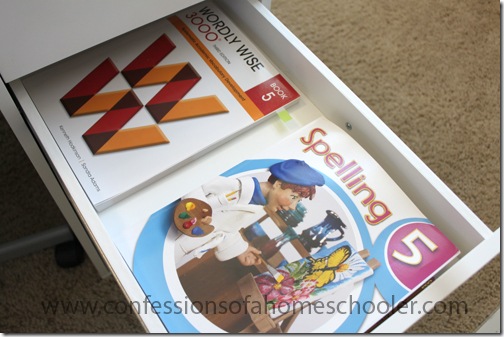 And her last box contains a couple things. First is the World's Greatest Composers Vol 1, Grapevine Studies (the green binder), and her Abeka Reading 4 and Read & Think Skill sheets. If you haven't tried the Read & Think Skill sheets, I highly recommend them! They're short timed reading drills with comprehension questions. It's a great way to get used to doing those pesky comprehension sections in the standardized testing units.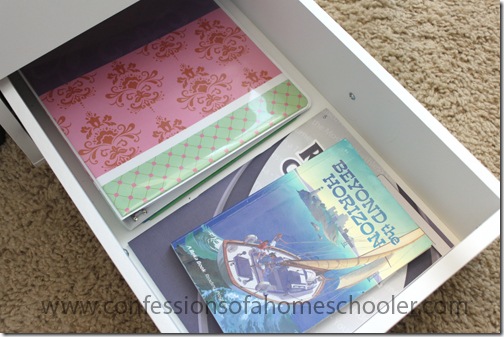 As you can see the group activities such as art, PE, science, history, typing, etc. are not kept in our workboxes, since we only have 5 drawers we really put our more independent and core work in there. Then we do the group stuff together either before or after our workboxes depending on the day and my mood :o)
After school is done each day I will re-fill the drawers with his new work for the next day. It usually just takes a couple minutes per student to pull out the new work. But it spares me chaos in the morning since we're ready to go.
Have some great workbox ideas to share? Make sure to leave a comment below!
Click here to see more "What's in the Workbox Wednesday" posts!
If you don't know what workboxes are, click here.
Watch a video tutorial on our workboxes here.