Hola! We're back today with another Expedition Earth World Geography unit study for you! This week we're focusing on Peru.
Did you know that Peru's Macchu Pichu was named one of the New Seven Wonders of the World in 2007, along with the Great Wall of China and the Taj Mahal? That was just one of the cool things we learned about this week. Read on to see what else we did…
So of course we started off our week by finding Peru on the map, then stamping our passports!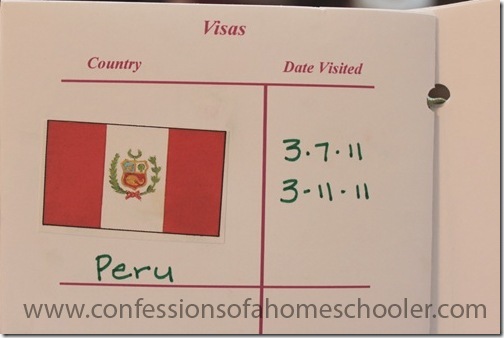 Here are some more of the things we covered this week:
Located Peru and The Andes Mountain Range on the map, and completed our worksheet
Learned about the Peruvian Flag and colored in our worksheet
Learned how to say "Hello" in Spanish – Hola (Hello) Buen Dia' (Good Day)!
Prayed for the people of Peru
Learned a Peruvian Song
Completed our mini lap book activity
Learn about the 3rd Wonder of the World: Machu Picchu
Learned about and classified 6 animals of Peru
Learned more about Peru by National Geographic Kids
Made Silver Wind Chimes
Was supposed to make Dulche de leche, but didn't have time!
Peru grows the worlds softest avocados, so we tried a yummy stuffed avocado recipe this week.
Here are some of the highlights from our week:
We always start off by reviewing all the countries and capitals we've learned so far until we get to our new country.
Here is my white board for the week, it always has the country stats and song to make it easier for the kids to sing along.
We learned about the Peruvian flag then worked on our mapping and flag worksheets.
One of our completed flags:
We learned about 6 animals found in Peru, then completed our mini-book and added them to our classification wall. Here were our favorites: The Chinchilla, Tapir, and Blue Dart Frog.
Well that wraps up our week on Peru! Stay tuned as we head over to Argentina next week!
Click here if you'd like to follow along with our Expedition Earth Geography Curriculum Journey!
Expedition Earth is a hands on world geography curriculum that covers 31 countries across the world. It is designed primarily for K-5th grade students. Students will learn the continents, oceans, people, cultures, animals, climates, try new foods, crafts and more, all through hands-on activities!