Hi Readers! Today I'm sharing Strawberry Shortcake's 5th grade daily schedule with you. If you've missed my previous posts, you can see the 'Daily Homeschool Schedule' series here.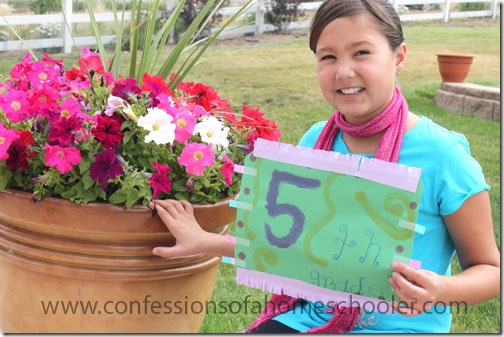 Strawberry Shortcake is currently 10 years old, and in the 5th grade. She definitely has a filled schedule this year, but she's doing great and enjoying school!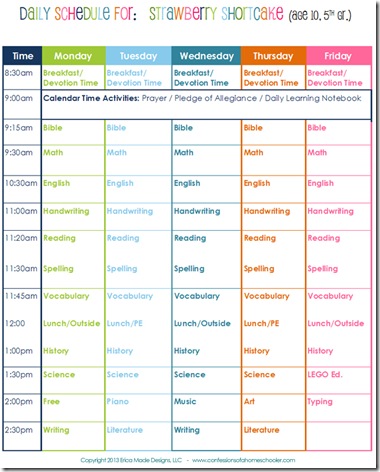 Download a copy:
Here is our basic 5th Grade Schedule:
8:30am – Breakfast / Family Devotions
9:00am – Daily Learning Notebook
9:15am – Bible
9:30am – Math
10:30am – English
11:00am – Handwriting
11:20am – Reading
11:30am – Spelling
11:45am – Vocabulary
12:00 – Lunch/PE
1:00pm – History
1:30pm – Science
2:00pm – Typing/Music/Art/Piano (1x per week)
2:30pm – Writing / Literature (2x per week)
As you'll probably notice, Strawberry Shortcake's schedule is virtually identical to Turbo's. I find it works well to keep their schedule's in line with one another. That way neither feel that they're doing more or less work even though the work level is different. Since they're only 1 grade apart it makes it easier to teach them together as well.
As I mentioned we are currently doing Bible, History, Science, and Literature as a group which makes it a bit easier on me. Then Turbo and Strawberry Shortcake do writing together too.
Here is our 5th grade curriculum for the year:
Have a scheduling tip to share? Make sure to leave a comment below!