Good morning parents! Are you wondering how to get your kids to listen without nagging, reminding, or yelling? Look no further!
I'm partnering with Amy McCready in another great FREE parenting webinar for you! Amy is founder of Positive Parenting Solutions & TODAY Show contributor. Together we will be hosting a FREE LIVE parenting webinar on Tuesday, April 22, 2014 at 9:00 PM, EST.
For those of you who don't know, Amy is author of the awesome website, Positive Parenting Solutions, where she shares all kinds of great tips and tricks for parents! She is a regular on The Today Show and has appeared on Rachael Ray, CNN, MSNBC, in The New York Times and more.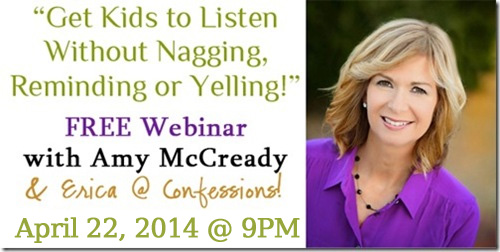 What's the Webinar About?
Get Kids to Listen Without Nagging, Reminding or Yelling (And who couldn't use some help in that area right!?)
I've hosted this seminar before and had several requests to repeat it since many of you were unable to attend. And quite honestly, it's a good refresher for me as well. Unfortunately i tend to drift back into our old habits, so I always enjoy a good kick start to get us back on track!
Who Should Attend? Frustrated parents of kids ages 2-16!
A special note from Amy:
Why is it so difficult sometimes to get kids to listen? You know she heard you, but she ignores you. You ask again and still . . . no response. If you're tired of nagging, reminding and yelling to get kids to listen–this session is for you! Discover proven tools for your most frustrating discipline dilemmas including the 5 R's of Fair & Effective Consequences. This hour-long investment will lead to a lifetime of peace in your home. Join us to learn easy to implement strategies to correct misbehavior and reclaim the calm voice you had before kids.
What do you need?
All you need is your computer. (No webcam required.) You'll see and hear Amy on your screen and you can even ask questions and she'll make them part of the presentation.
**I'll also be online chatting along with everyone while Amy teaches us via live video feed.
About Amy McCready
Parenting expert Amy McCready is the Founder of Positive Parenting Solutions and a "recovering yeller." She is a champion of positive parenting techniques for happier families and well-behaved kids. Amy reaches a worldwide audience with her Positive Parenting Solutions Online course and is a frequent guest on the TODAY Show and has also appeared on Rachael Ray, CNN, Fox & Friends, MSNBC, and elsewhere. In her most important role, she is mom to two teenage boys.
Reserve Your Seat Today!
Tuesday, April 22, 2014, at 9:00 PM, EST
RSVP today and then kick back and learn from the comfort of your home. Webinar seating will be limited so don't wait!