Hi everyone! I have another What's in the Workbox Wednesday post. And today we're taking a look into Turbo's boxes.
He's in 4th grade this year for those of you just joining us! His boxes are very similar to Strawberry Shortcake's boxes since they're only 1 year apart.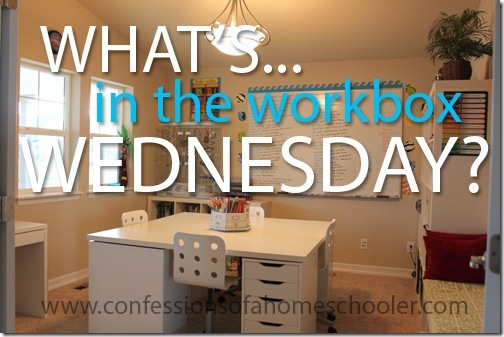 Drawer #1:
1) As you've probably already seen, our top drawer houses our expandable drawer organizer and it holds all of the pencils, glue, erasers, etc. that Turbo needs on a daily basis. It hangs on the drawer sides, so it can slide back and forth out of the way which is a nice feature. It also expands/contracts to fit most drawer sizes.
2) This drawer also holds Apologia Who is God? student notebook, which we're enjoying. This curriculum is great for elementary aged students. This is just the student journal, then I keep the teacher's guide in my shelves. We do this as a group with our 2nd, 4th, and 5th grade kids.
3) It also has his weekly assignment printout. I get a lot of questions on this, and it's just a report printout from www.homeschooltracker.com that I print and spiral bind for them. Granted a few things changed since we started the year, so you might prefer to print this out on a weekly basis, but for the most part it works to help him keep track of his daily workload.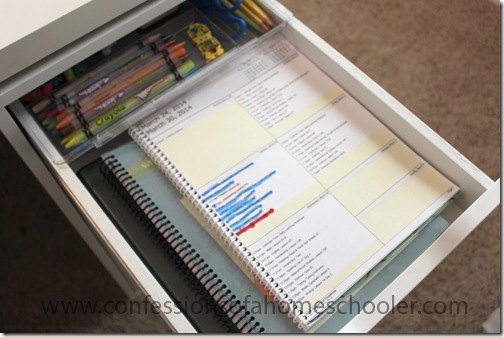 Drawer #2:
1) Math U See Delta. A.K.A. Division. Math is the only thing in this drawer, the blocks, fraction tiles, DVD and books take up enough room. Normally I pull out the next day's worksheet for him so he knows what to do.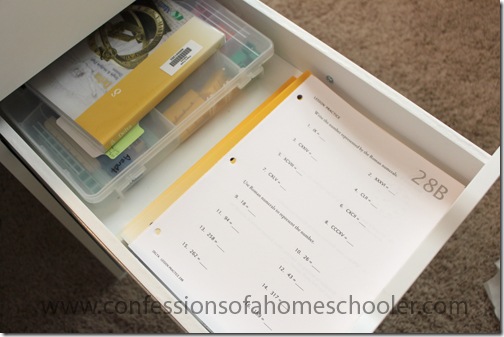 Drawer #3:
1) BJU Press Handwriting 4. Turbo is almost finished with the level 4 handwriting, and so far it's gone well. We'll probably stick with this handwriting again next year.
2) We also have the BJU Press Spelling level 4 in this drawer. This is the traditional "memorize and test" type curriculum, so it's not my favorite but it's a good refresher for now. He also does the blue cards from All About Spelling but is done with the levels for this year since we're nearing the end.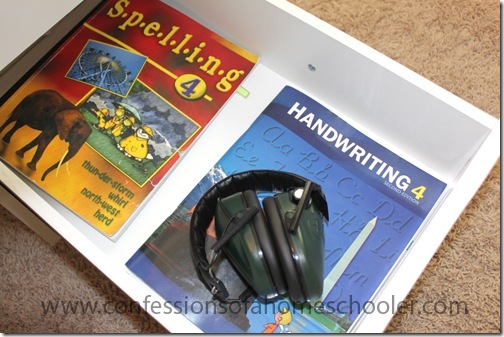 Drawer #4:
1) Vocabulary Fundamentals for 4th grade. None of us liked the Wordly Wise curriculum, so we've switched to Evan-Moor Vocabulary Fundamentals for now. They come in several different grades, and so far we are enjoying these a bit more. I'll let you know my final decision on this later on.
2) Rod & Staff English 4. Turbo is in 4th grade this year, but it is our first year trying out the Rod & Staff English and I was told to start out a year down from their normal grade. I'm glad we did this as it's a little more advanced than the BJU Press that we switched from so I think it was the right choice. I do like this curriculum, and the kids seem to be liking it as well. I honestly can't say I love it any more or less than BJU Press, and I'm waiting for our testing this year before deciding whether we'll stick to this for next year. Jury's still out…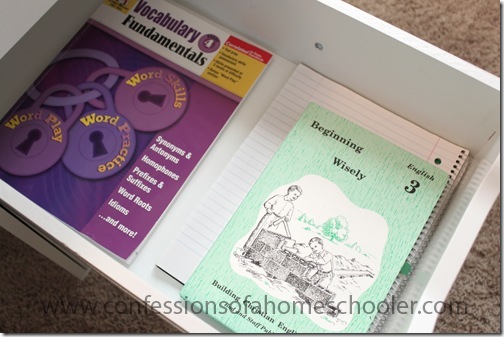 Drawer #5:
1) Literature Units and any other unit studies we do are kept in this drawer. Turbo's currently reading The Wind in the Willows, but this switches out as he moves through the units. This year he's doing them independently, so he reads 1 chapter per day (unless otherwise indicated on the teacher's manual) and then completes the mini-book and adds it to the lapbook himself. When he's done, he shows me his work and we check the mini-book to make sure he did it correctly. This drawer holds whichever unit he's currently working on and we rotate through them throughout the year:
2) The American Revolution History Pocket by Evan-Moor. We're doing these fun units as a supplement to our Abeka history this year.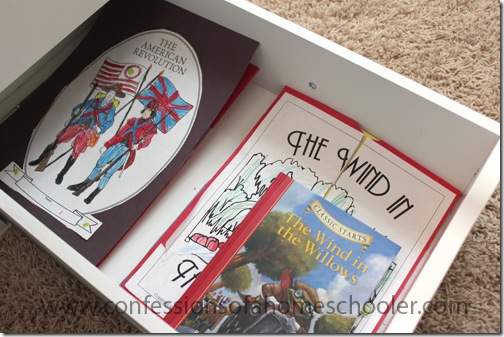 What's not in our boxes?
We do history, science, and writing together, so I don't keep those things in their workboxes. But I did want to mention them so you can see what he does each day.
1) Read & Comprehend Skill Sheets 4 from Abeka. These are great for grades 3 – 6! Every Friday he complete one of these sheets. They're basically a timed reading and questions drill for your student. I find them to be great practice for standardized testing, and also a good way to improve reading speed while still enforcing the need to comprehend what's been read.
2) Understanding God's World 4 (Science). Like I mentioned we do this as a group, so it's not in their daily workboxes. We do science 4 times a week right now, and I normally read the text to them, then we complete any additional quizzes, tests, or experiments as indicated in the lessons.
3) The History of Our United States 4. Again we do this as a group, and I chose level 4 just because we hadn't started with Abeka history from the start and I wanted to make sure we hit all of the topics. I read the text to them, then we answer questions, take quizzes, tests, and complete any of our Evan-Moor History Pockets that go with our reading for the day. Right now we do history 4 times per week.
4) Institute for Excellence in Writing Level A DVD and lessons. Turbo and Strawberry Shortcake do this together, and we only do writing twice a week, so I don't keep it in their boxes. Instead on writing day, we will either watch the DVD together, or complete the next assignment in the teacher's manual together.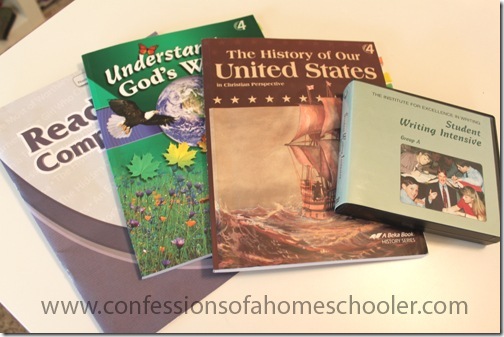 He also does piano, typing, art, and music once per week. We rotate piano and typing, and right now we do a Home Art Studio lesson, and my composer units together.
And that's it for a day in the life of our 4th grader!