Good morning! I thought I'd do another update on the Teeny Tot for you all today. She's reviewing some of her favorite Letter of the Week activities, and we're slowly adding in more of the K4 Kindergarten activities to her day as well.
This week she mostly worked on the Letter E games.
Here she is with her completed elephant lacing card. I've had a lot of questions about laminating and printing on cardstock. And unless you're going to re-use your materials with future children, there's not much need to laminate and print everything on cardstock. But for the lacing card, it is important that it's somewhat durable. So if you're not reusing materials, I would say at least laminate this card if nothing else.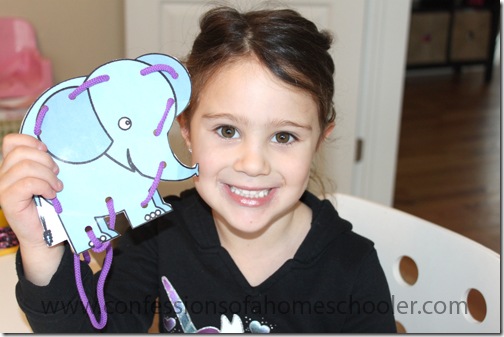 She knows her colors quite well, but still enjoys doing these color matching puzzles.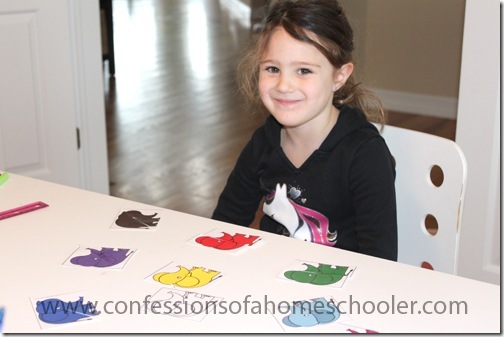 These are the elephant counting cards. She put them in numerical order, then counted out the correct amount of beads to go on each card. You can use anything you have on hand for this activity.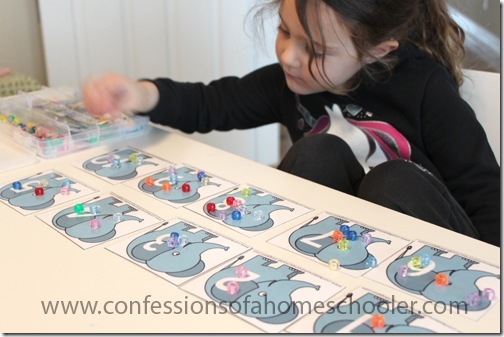 Here is a K4 activity, it's called the Letter Hunt worksheet. And her job is to find and mark all of the capital and lowercase letter "E's". She used a do-a-dot marker for this activity, but you can also use a highlighter, or just have them circle the letters with a pencil.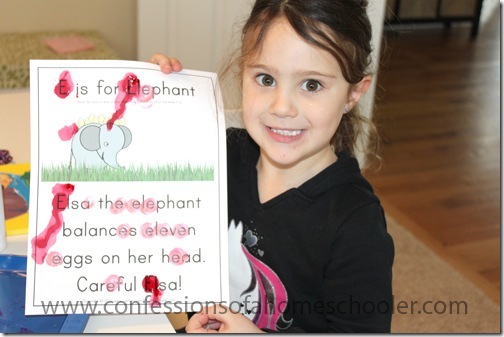 We also add in handwriting sheets whenever possible to work on her fine-motor skills. These are the A-Z Handwriting Worksheets, and are free to download from my website.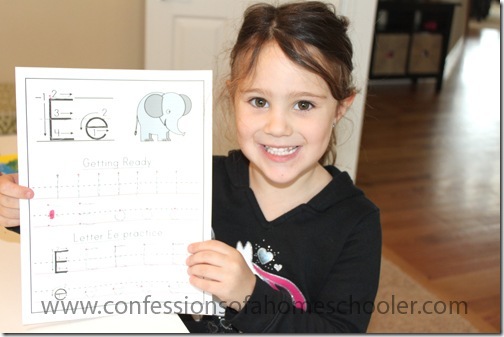 She still enjoys the puzzles from the Letter of the Week as well though honestly they're way too easy for her at this point! But there is no harm in doing them and she still gets a sense of accomplishment.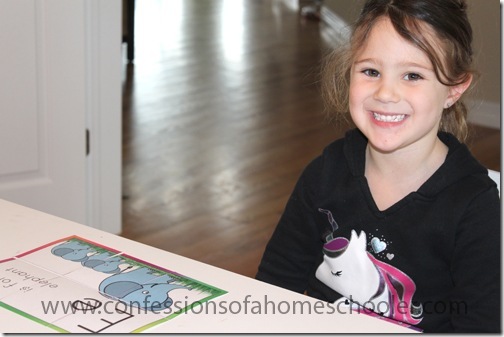 Here is the pre-writing tracing cards for the Letter E. These are laminated and she's using a dry-erase marker to practice her writing on them.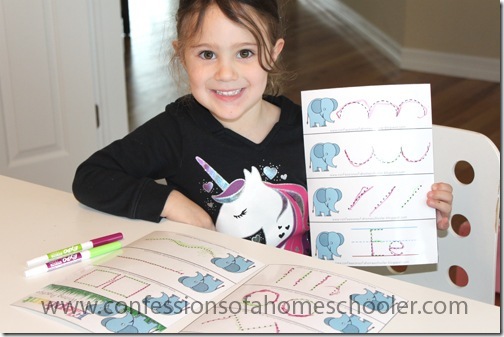 We're still working on patterning activities, and she's getting better doing these independently.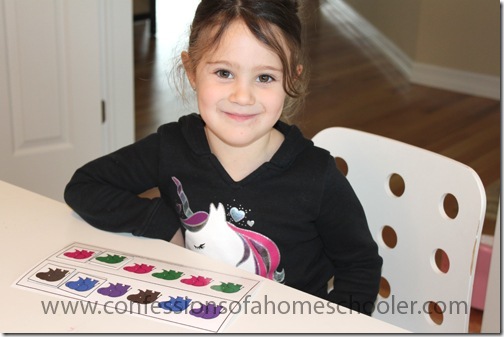 We found a fun new alphabet app called Bob and Larry's ABC's that she's enjoying. It's a book they can either read to themselves, or have read to them. It's just a fun book and she enjoys going through the letters with the characters.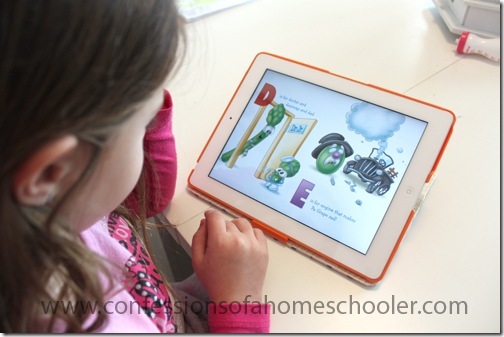 She's also working on my Kindergarten Number Writing worksheets now and doing a great job!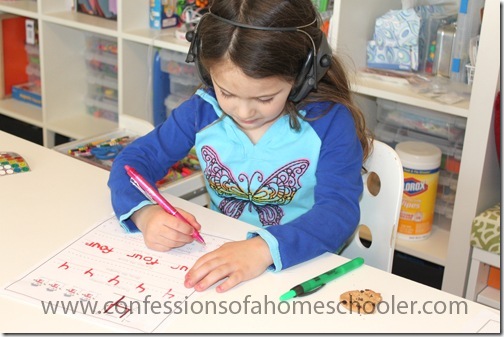 Here she's working on the Beginning Math Cards that come in my K4 Kindergarten curriculum. She counts the items on the card then places a mini-clothes pin on the correct answer.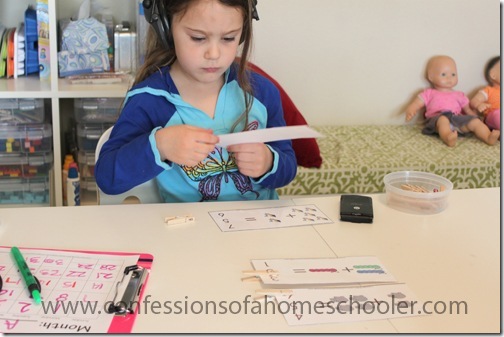 Another fun ipad app she's working with now is the Hot Dot's Jr. iPad App. this one helps her review letters, sounds, colors, numbers, pattern, and a bunch more.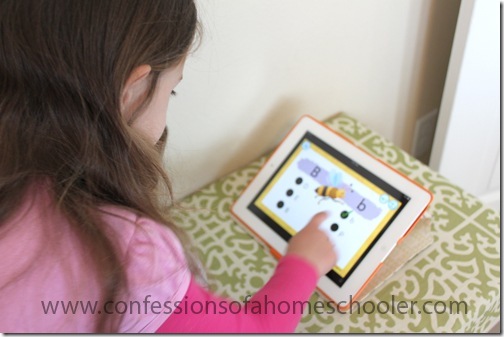 And finally, she did some Number Worksheets today. She counts the number of images on the card, then fills in the dots to match. Today she used stickers, but we've also used do-a-dot markers, cheerios, magnets, and anything else we can get our hands on!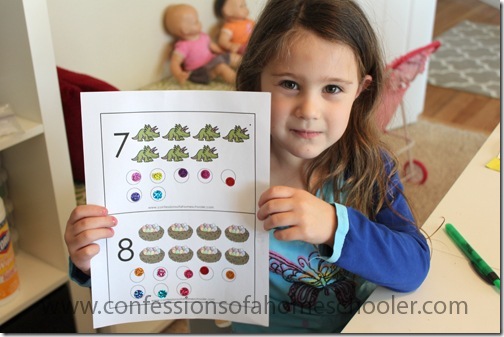 And that's it. The Teeny Tot has been doing a mix of my Letter of the Week and k4 Kindergarten curriculum lately. I've been adding in things from the K4 Kindergarten as she's ready, but I don't have a set lesson plan that I'm following. I just try to mix her activities together so she's working on a nice variety of skills each day.
What is your preschooler or kindergartener working on now? Leave a comment below!
The activities in this post can be found in my Letter of the Week Preschool Curriculum.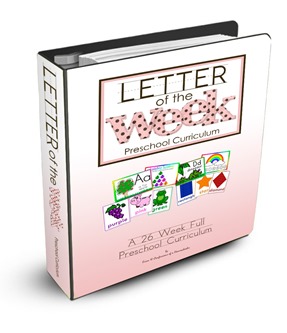 Is the Letter of the Week too easy for your student? Are you ready for something a little more challenging? Then the K4 Curriculum is for you! The K4 Curriculum is geared towards kids ages 4-5 who are kindergarten ready and want a fun hands-on kindergarten curriculum. All of the items you see in this post, plus a ton of extras including lesson plans are included in the K4 Kindergarten curriculum.