Good morning everyone! Well, we're finally back in school. I don't know where my summer went, but I'm always excited when we get to start new curriculum and a new year.
Fall is one of my four favorite seasons, and I H.E.A.R.T. September back-to-school time!
And this is when my meal plans really start coming in handy. Getting back into the groove of things always takes time. I somehow forget…or maybe block out…just how much of my day is taken up by educating our children!
Point being there really isn't much time for me to think about meals these days!
Anyway,  I hope my plans help you out as well, and can take at least one thing off of your busy plate each day!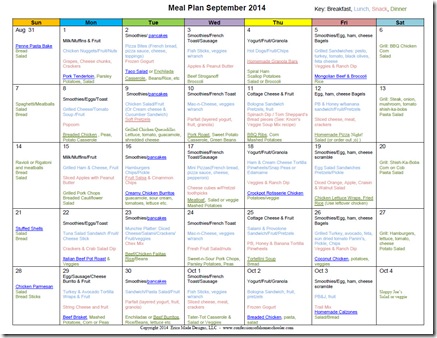 Download the 2014 September Monthly Meal Plan:
Coming soon! I'm working on putting them all together in a book for you as well to make it a little easier each month!
And since you always ask, here are some of our smoothie recipes: