Hey happy homeschoolers! Most of you know that I've been part of iHomeschool Network for some time now. And I'm always amazed at how much cool stuff they come up with. And today is no exception people.
The Big Book of Homeschool Ideas is finally available! It is a gem written by 55 bloggers and is 560+ pages full of encouragement, advice, and resources for homeschoolers.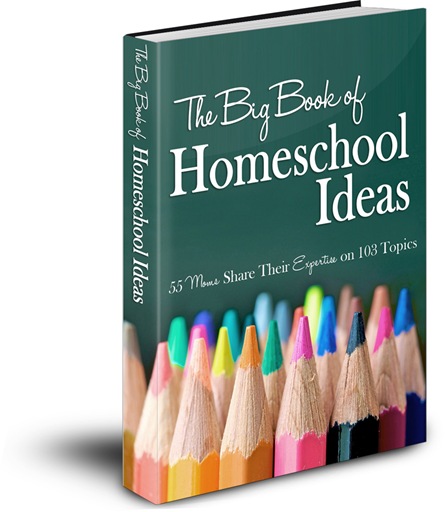 (Disclosure: This post contains affiliate links. For more information see my full Disclosure statement here.)
What's it all about?
Wouldn't it be great to have a resource you could turn to when you have a question in your homeschool?
How can I encourage my tweens and teens to be more independent learners?
What should a preschooler be doing for school?
How can I make geography practical and fun?
What can I do to make learning handwriting easier for my children?
What are my options for foreign language learning in homeschool?
What should I do if my child hates math?
And beyond the basics of academics this book delves into things like learning to teach out of the box i.e. your comfort zone! It talks about all different sized families, and different types of learning styles including special needs students.
It even goes into homemaking, gardening, budgeting, and maintaining a strong marriage!
My Contributions:
As usual, I am honored to be a part of such a wonderful collaboration. For the Big Book of Homeschool Ideas, I have contributed a chapter on organization and time management that's sure to help out even veteran homeschooling parents!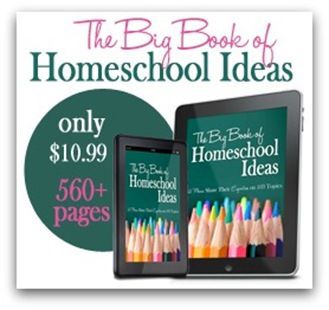 Sound enticing? I hope so because these bloggers did a great job pulling together this amazing resource packed full of information for new and veteran homeschoolers. They really cover so many topics that I can't even list them all here, but if you visit The Big Book of Homeschool Ideas webpage you can see a list of the entire table of contents.
What's the cost?
You can get it for just $10.99 and it comes in pdf, mobi, and epub formats so you can read it on your iPad, tablet, laptop, smart phone, or any other device that can unzip PDf files!
Get it now!
You can get your own copy here –> The Big Book of Homeschool Ideas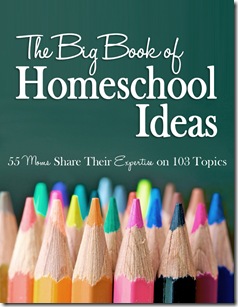 (Disclosure: This post contains affiliate links. For more information see my full Disclosure statement here.)