Okay, so I have a pig lover in our midst. It's Tinker Bell. She loves all things pig. And when I saw this super adorable pig hat tutorial from Repeat Crafter Me, I couldn't pass it up!
Oh my word, this is so cute!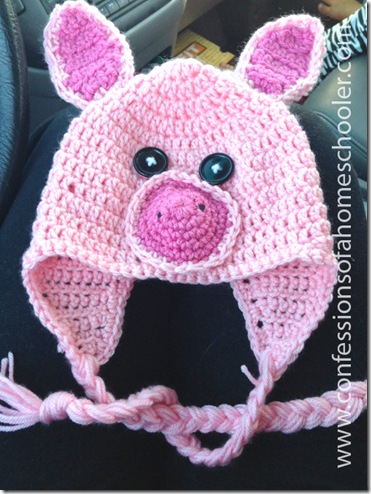 This pattern was actually fairly simple to follow once you learn the stitches. So I think it is definitely do-able for beginners like me.
And it makes me look like I might have a clue about what I'm doing.
Which makes me seem all 'crafty' and like I'm a cool mom.
And I like anything that makes me seem like a cool mom.
Word.
Here are our supplies:
1 size H (5mm) crochet hook
1 Skein pink yarn: We used Vanna's Choice® Lion Brand medium worsted weight yarn in Pink.
1 Skein dark pink color We used the Vanna's Choice® Lion Brand medium in Pink Poodle
A tiny amount of black yarn for the nostrils.Like literally a couple inches. So we just used whatever we had in our stash.
A teeny amount of white yarn to stitch on the eyes. (Same as above, just used some leftover white yarn.)
Two 3/4" black buttons for eyes
Tapestry needle
Some abbreviations you'll need to know to follow the pattern:
ch – chain
SC – Single Crochet
DC – Double Crochet
And thanks to YouTube you can really just learn how to do anything, so I used those videos to learn how to do basic stitches listed above.
I also suggest watching the below video tutorial on creating a magic ring to help get your hat started. I found this DC Corochet Magic Circle Tutorial that starts with a Double Crochet and it helped greatly! Thanks Rebecca From ChemKnits!
After making the magic ring, I used the pattern posted by Repeat Crafter Me. She has patterns for infant to adult so you can tailor it to fit your child's size. For Tinker Bell I used the Child sized tutorial, and it fits her perfectly.
And if you have time make sure to send some love over to Sarah at Repeat Crafter Me, because she's super cool and creative!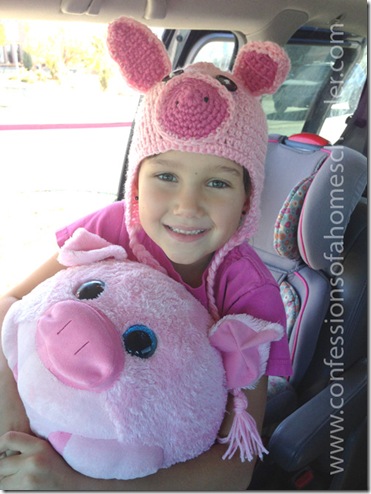 The pig obsession continues…
To complete her birthday request for all things pig, we also made these really cute pig cupcakes which were super easy and turned out great!
We just made strawberry cupcakes, then frosted them with pink frosting.
The ears and snout are pink marshmallows. Cut the marshmallow in half so you have two circles. Then cut one of the circles in half for the ears, and use the remaining circle for the nose.
We found these cute candy eyeballs, but you could also just use some black frosting for the eyes, and nostrils.
Super cute, and super easy! As a matter of fact, Tinker Bell herself helped me put them together!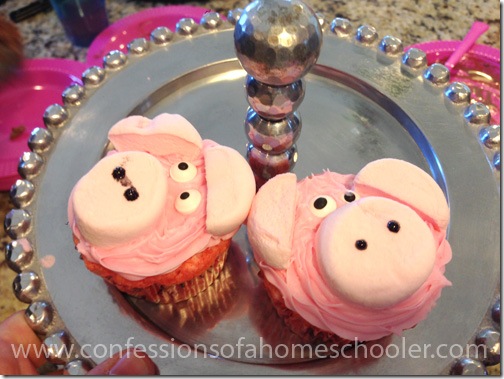 And that concludes our pig-focused theme post for today!
Hope all of you pig-lovers enjoyed it!