Good morning everyone! Do you think applique' is too hard? Don't worry, I have a step by step guide to help you out today!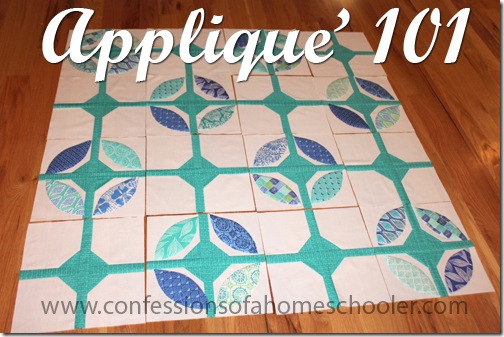 I'm not sure why, but for some reason just the word applique' intimidated me. But I started researching YouTube video tutorials and soon decided that it wasn't so scary after all!
So today I'm going to tackle any fears you might have, and hopefully encourage a few of you to take a leap into this art form.
Supplies for this tutorial:
Fusible Web
First off, you need to know a little bit about fusible products. Fusible webbing is basically a man-made fiber that will melt when heated. It gets sticky like glue and when placed between two pieces of fabric it will hold them together. This is important when you're talking about quilting because you'll want to then stitch around those pieces to secure them and you definitely don't want them sliding around while you're trying to sew. The fusible web holds it in place.
There are different types of products you can use, and it will really depend on the project you're working on as to what you need. For this project I'm going to recommend a product called Heat-N-Bond Light. It's light weight, so fabric doesn't get too stiff which is nice. And it's not tacky to the touch really, so you can cut it easily without gumming up scissors or your needle.
Remember, the heavier the webbing, the longer it will last, but the more it will gum up your needle or machine. If you're going to sew the edges anyway, I suggest choosing a nice light weight fusible product.
How To Use Fusible Web
To use the product, you simply trace your image onto the PAPER side of the fusible web. I used a pencil, but you can use anything you want, with the exception of FRIXION erasable pens. They disappear with heat, which means your lines will disappear when you iron the web and your pattern will be gone! No bueno! Don't ask me how I know this.
If you have a large project, you might also consider cutting out the center portion of your design leaving about 1/2″ around the outside edges so that the middle of your design is softer. I was too lazy to do that, so I just left my pieces whole.
Next you want to roughly trim your web using scissors, do not trim right up to your shape, but leave a bit of excess. This keeps you from having to carefully cut twice and waste time.
Once you are ready, lay the web sticky side down onto the WRONG side of the fabric. Your paper side should be facing you.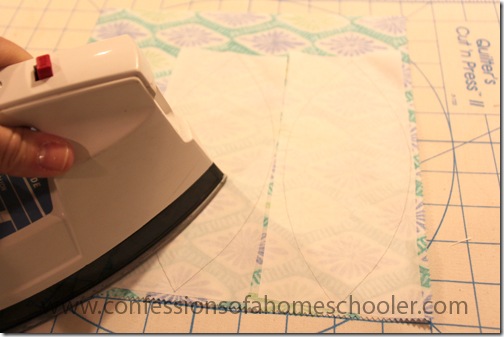 Then iron on low heat to secure the web to your fabric. Heat-n-bond light uses low heat and only takes a few seconds to adhere, but you'll want to follow the instructions on whatever fusible product you choose to use.
Side tip: As you can see for this project, I had 10" squares I was using, so I first trimmed off a 2 1/2" strip from the left side, and then a 1 1/5" strip from the top. That way I created some usable scraps  and had less waste when cutting out my petals.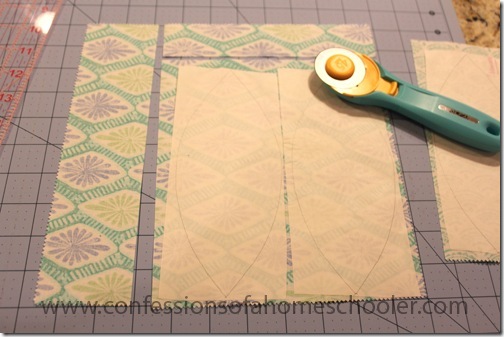 Once you're done ironing on the fusible web, cut out the shape along the lines. To save time, I iron on all of the web first, then cut them out in bulk.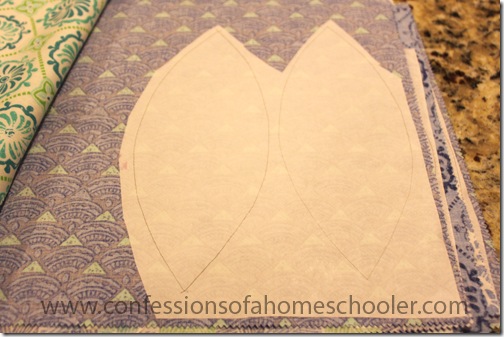 You can peel your paper backing off at this point and set your pieces aside.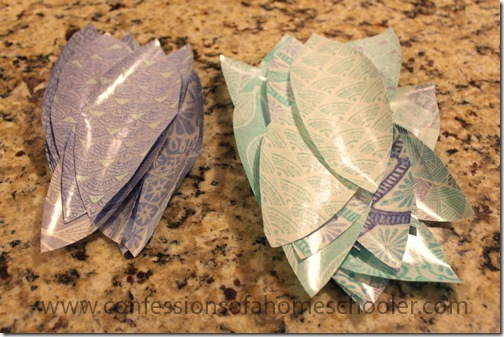 Next it's time to iron! Place your piece RIGHT side up on to your quilt block, fabric, or whatever you're working on. The point is you want the sticky side down, and the pretty side up!
You'll want to carefully arrange your applique' pieces how you would like them before ironing, so make sure they're positioned correctly.
Iron the product again at a low heat to secure it to your block, and  you're done. You can layer applique pieces, just make sure they're layered properly before ironing them down, because once they're fused it's too late! You'll also want to make sure you do not over iron the piece or it can become somewhat stiff and you want your project to be nice and soft, especially if it is going on clothing, or a quilt.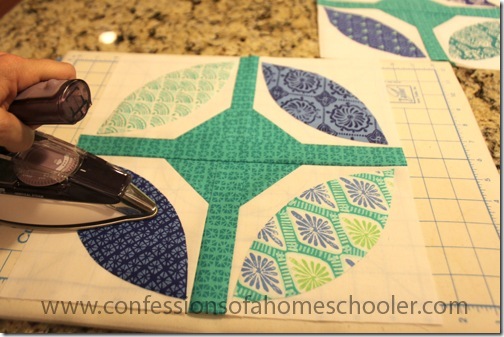 Sewing
Once all of your pieces are ironed in place, next it's time for sewing!
For this project, I choose a zig-zag stitch on my machine and set the stitch with a width of 3.6 and a length to 1.0, the smaller the number the closer together your zig-zag will be. If you set it to "0" you'll have a solid looking zig-zag stich.
I just messed around with the stitches on a scrap piece of fabric until I got one that I liked the look of.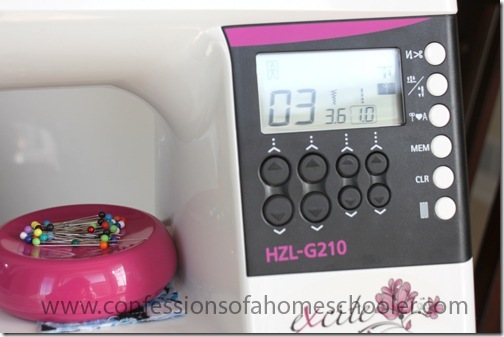 I usually start at the tip of the petal for this pattern, but you can start at any point on your project that makes sense. I start by placing my needle into the down position at the tip of my petal. Then begin stitching. I also switched to a clear foot that helps me to see where I'm stitching a little better. It also has a small arrow at the front which helps me keep my fabric lined up.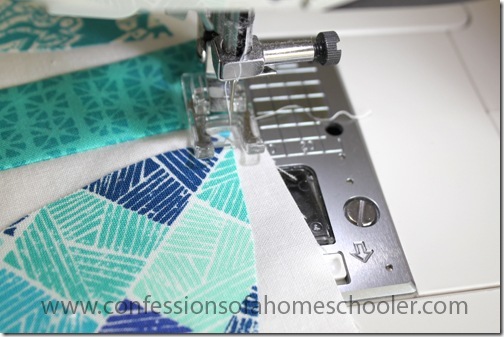 Since I chose the zig-zag stitch it is important to keep the zig to the outside of the applique piece, without actually hitting it. If you take small chunks out of your applique' piece you'll end up with fraying on the edges.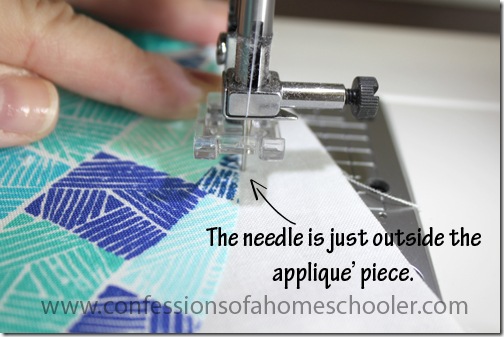 Then your zag stitch actually bites into the applique' piece. Continue stitching around your piece using this method.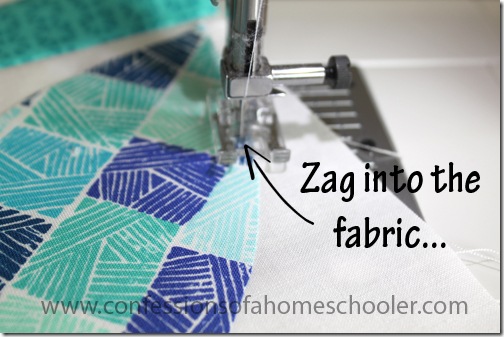 When you hit a corner, place your needle in the down position, then lift your presser foot, and turn your fabric. Then continue on sewing! You may have to stop and lift the foot periodically just to smooth out your fabric if you're going around small curves.
Just take it slowly and you'll get the hang of it quickly!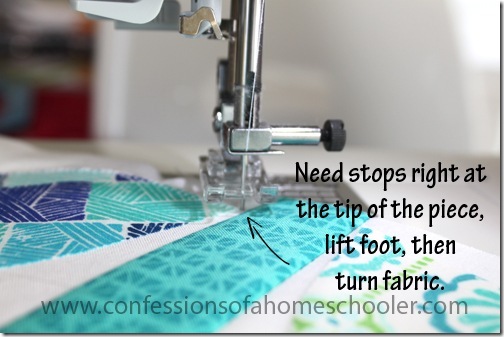 Here are the most common applique' stitches…
1. The zig-zag like I chose. This will keep material from fraying on the edges if you want that clean look.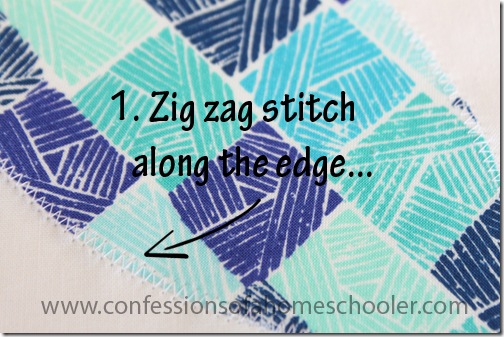 2. You can also straight stitch along the edges like below. You'll want to leave about a 1/8" or 1/16" border to make sure the piece is fully adhered. This stitch will allow the fabric to fray on the edges, so if you like that look go for it!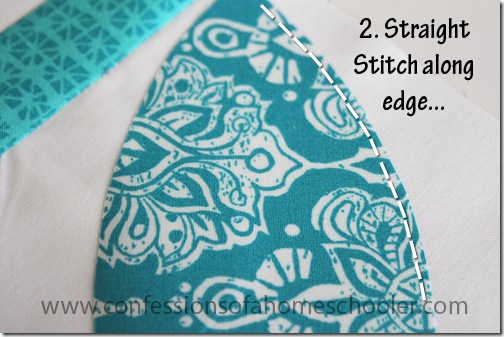 3. The blanket stitch. This stitch will also allow a bit of fraying and provides a fun look as well.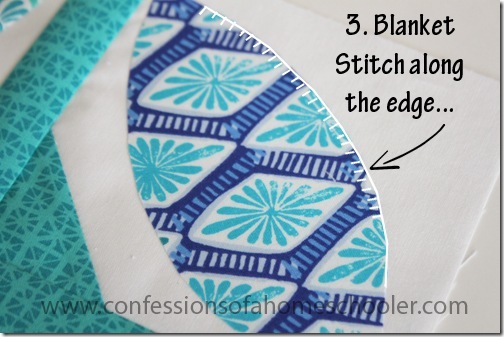 Here is a close up of what my stitching ended up looking like. I choose Aurifil Cotton 50 Wt thread in white, but you can use any coordinating thread you want, and you can even use a contrasting one if you'd like to add a little pizzazz and draw some attention to your mad sewing skills!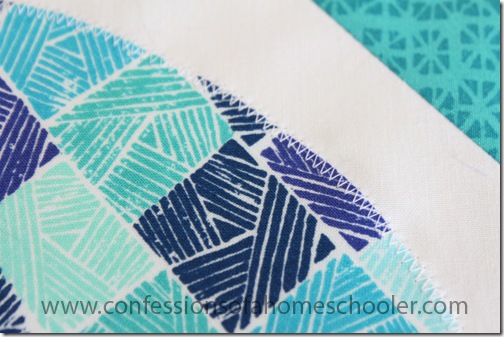 Now I'm off to finish sewing all of my little applique' petals, and we'll catch up next time for batting, backing, quilting, and maybe even a little binding!
If you'd like more information on applique' there are several YouTube video tutorials to help you out! Honestly, that is how I've been learning all of my new found quilting skills!
Here are a couple of my favorite videos to help get you started:
I hope you enjoyed this tutorial, and that I've encouraged you all to try a little applique'! Let me know if you give it a shot, I'd love to see some pics!
The quilt pattern for this project is a free pattern by Corey Yoder called Tiled Blooms. The fabric I used is Horizon by Kate Spain for Moda.
P.S. Homeschoolers, this is a great skill to teach to your kiddos! I definitely think this qualifies as Home Economics!