Good morning everyone! Are you looking for a great project to help teach your kiddos about having compassion for others? I have a great, and easy project that even  younger kids can participate in for you today. They're called "Blessing Bags".
Let's take a look at a few definitions before we proceed shall we?
Philanthropy: the practice of giving money and time to help make life better for other people.
Compassion: wanting to help others who may be sick, hungry, or in need.
Volunteer: a person who willingly gives their time and service to do work without pay.
"If anyone has material possessions and sees a brother or sister in need but has no pity on them, how can the love of God be in that person? Dear children, let us not love with words or speech but with actions and in truth." ~ 1 John 3:17-18
Children by nature can be quite self-serving. At least mine tend to lean towards that direction. Like many things, kindness, compassion, and concern for others is a quality that can be learned over time, and through practice. And there are plenty of opportunities right here in our own communities where we can help serve those in need. One great way we've found to give back, is with Blessing Bags.  Keeping these bags in your car is a great way to be able to bless someone else on short notice as you see needs arise.
Our Keepers at Home group recently participated in creating these Blessing Bags, and so I wanted to share it with you all as well! We did a small study on compassion, and then each girl packed a zip-loc baggie full of goodies with the mindset of giving them out to those in need.
One important thing that I've talked with our girls about is that while we can't control what the person receiving our gift does with it, we can control our hearts when giving. I've read various articles on how some people think  the premise behind these bags are bad, or dehumanizing to the recipient, but honestly I prefer to teach my children to give out of the kindness of their hearts, rather than simply drive by and do nothing. If there is someone truly in need, we pray that they will appreciate the gift. And if it can't bless them, maybe they too can pass it forward to another.
"Each of you should give what you have decided in your heart to give, not reluctantly or under compulsion, for God loves a cheerful giver." ~ 2 Corinthians 9:7
If you'd like to participate in this project, here's a helpful list of items to help you get started.
Basics
Zip-loc baggie – these are great to pack your items in because they're water-proof, and can be re-used.
Water Bottle
Money
Hand-wipes
Travel size toiletries
Non-perishable food items such as…
Granola bars
Energy bars
Trail mix
Raisins
Peanuts
Beef jerky
Seasonal
Gloves
Scarf
Chapstick
Sunscreen
Spiritual
Encouraging card
List of local shelters
Prepaid phone cards
Grocery store gift cards
We also had our girls make their own hand-made cards to include in each bag. They wrote encouraging verses and pictures in the hopes of encouraging others.
"For God so loved the world that he gave his one and only Son, that whoever believes in him shall not perish but have eternal life." ~ John 3:16
Matthew 25:34-40
"Then the King will say to those on his right, 'Come, you who are blessed by my Father; take your inheritance, the kingdom prepared for you since the creation of the world.  For I was hungry and you gave me something to eat, I was thirsty and you gave me something to drink, I was a stranger and you invited me in, I needed clothes and you clothed me, I was sick and you looked after me, I was in prison and you came to visit me.'
"Then the righteous will answer him, 'Lord, when did we see you hungry and feed you, or thirsty and give you something to drink? When did we see you a stranger and invite you in, or needing clothes and clothe you? When did we see you sick or in prison and go to visit you?'
"The King will reply, 'Truly I tell you, whatever you did for one of the least of these brothers and sisters of mine, you did for me.'
Click here for a printable Blessing Bag checklist and verse list.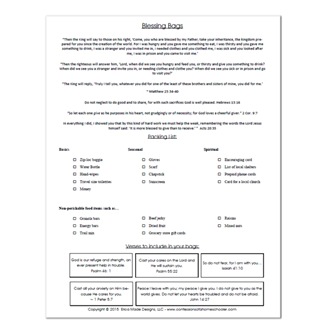 The final thing we do is to pray that the bags will be a blessing and encouragement to someone in need. And that God would give us the opportunity to share them with others. We then store the bags in our car, so that they're ready to go.
I hope this project helps teach compassion to your children. If you've done something like this, or have ideas of useful items to add to the bags, please leave a comment below. If this post has inspired you, I'd love to see your bags. Share a photo on Instagram, and make sure to tag #coahhomeschool in your post!