Good morning homeschoolers! I have a fun new addition to my K4 Kindergarten curriculum for you today! I had a request to add in some subtraction worksheets, so that's exactly what I did!
Introducing the Beginning Math Subtraction Worksheets! We cut out each card, then had our Teeny Tot use paper clips to select the correct answer based on the items on each card.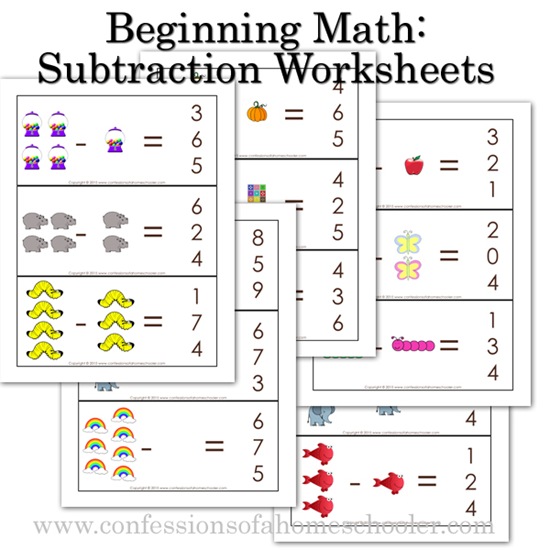 –> Download the Kindergarten Beginning Math Subtraction Worksheets here! <–
These are very basic subtraction problems to help introduce the concept. If your child is having a hard time with the subtraction process, use a manipulative to help them understand what is happening.
I would choose anything that interests them such as goldfish, cheerios, matchbox cars, small animals, beads, etc.
Have them count how many objects they see to start. Then have them take away the number of items subtracted on the card, then recount to see what they have left over.
You can laminate these and students circle the correct answer using a dry-erase marker. Or you can have them use a paper clip, clothes pin, or a small bead to indicate the correct answer on each card.
I hope your students enjoy these cards, and may you have a wonderful time learning at home!
PLEASE NOTE: If you're just purchasing my K4 Kindergarten Curriculum you'll receive the new pages with your purchase. If you purchased prior to now, you'll just want to download the updates here to add to your curriculum.
These printables are now included in my K4 Kindergarten Curriculum. I also have a lot of free kindergarten worksheets on my free printables page!
Is my Letter of the Week Preschool Curriculum a little too easy for your student? Are you ready for something a little more challenging? Then the K4 Curriculum is for you! The K4 Curriculum is geared towards kids ages 4-5 who are kindergarten ready and want a fun hands-on kindergarten curriculum. The K4 curriculum covers beginning reading and phonics skills as well as basic math addition, subtraction, and skip counting skills and more!