Good morning!
Fall is my absolute favorite season! I love all of the changing colors, and we get nice cool weather here as well. It's great weather to head outside and enjoy yourself on a brisk walk, hike, or just kick around some leaves.
It also means yummy soups and cozy sweaters. And you can usually get away without wearing one of those bulky parkas needed during winter time.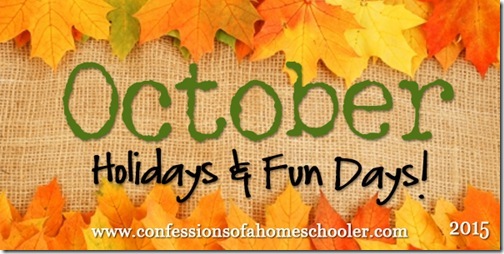 Here are a few holidays and fun days for you to check out this month! Have an idea to share? Make sure to leave me a comment below!
Holidays:
October 12 – Columbus Day (Second Monday)
October 12 – Thanksgiving Day in Canada
October 27 – Sukkot – Feast of Tabernacles marking the end of the harvest time and the dependence of the people of Israel on the will of God.
Fun Days:
October 1 World Vegetarian Day 
Whoohoo! Sounds like a salad is in order! Have any fun vegetarian recipes to share? Comment below!
October 2 Name Your Car Day
"You shall be called squishy and you shall be mine." ~ Dory
October 2 World Smile Day
(First Friday of month) Sounds like a great idea to me! Cheese
October 3 International Frugal Fun Day
(First Saturday of the month) Today find something free to do! We have a whole list of things available in our area that we can do for free. Live in Colorado? Check out my Colorado Unit study with a whole list of field trip ideas! They're not all free, but some are!
October 4 National Golf Day 
I will not be telling my husband that there's a day celebrating his favorite sport. It'll just give him an excuse to golf more, like he needs one LOL!
October 4 National Frappe Day 
Sounds like a good excuse to use my new Starbucks app and order myself a delicious Grande, non-fat, white mocha frappe. Anyone else want to join me?
October 4 Oktoberfest 
(In Germany, date varies) Today begins a 16 day festival held in Munich, Bavaria, Germany. The festival draws more than 6 million people from around the world each year. Visitors enjoy a mixture of attractions such as amusement rides, games, and a wide fariety of traditional foods such as Hendl (roast chicken), Schweinebraten (roast pork), Schweinshaxe (grilled ham hock), Steckerlfisch (grilled fish on a stick), Würstl (sausages) along with Brezen (pretzels), Knödel (potato or bread dumplings), Käsespätzle (cheese noodles), Reiberdatschi (potato pancakes), Sauerkraut or Rotkohl/Blaukraut (red cabbage) along with such Bavarian delicacies as Obatzda (a spicy cheese-butter spread) and Weißwurst (a white sausage).
October 5 Do Something Nice Day 
Sounds like a plan. I'll certainly be telling my kids about this day!
October 5 World Teacher's Day
Thank you to all of the amazing teachers and home educators out there!
October 6 Mad Hatter Day 
Have you read Alice's Adventures in Wonderland lately? If not, today's the day to check out my fun literature unit for this book! Then you can spend the rest of the day wearing a top hat and acting silly.
October 9 Fire Prevention Day 
Today is fire prevention day, which now commemorates the Great Chicago Fire of 1911. The National Fire Protection Association sponsored the first National Fire prevention Day as a way to keep the public informed about the importance of fire prevention. If you haven't already, today is a great day to talk about this with your kids! And if you have little ones, I have a kindergarten fire safety unit just for you!
October 9 Leif Erikson Day 
Leif Erikson sailed to North American from Greenland around 1002 A.D. During his voyage he landed in a number of places, but  he made no maps of his journey, so documentation of his trip was difficult. It is believed he landed somewhere along the coast of New Foundland near Cape Cod.  According to records he was the first European to set foot on North American soil.
October 9 World Egg Day 
(Second Friday of month) Eggs for breakfast anyone?
October 12 Columbus Day 
(Second Monday of month) Today we celebrate Christopher Columbus who discovered the New World for Europeans, who until then, believed the world to be flat.
October 12 Cookbook Launch Day 
If only my cookbook was ready, I would launch it today!
October 12 Old Farmer's Day 
Today we celebrate all of the hard labor of farmers throughout American history! That included my husband's family who used to farm pigs, beets, cows, and corn. His grandma still lives on the farm today, maybe some day we will too!
October 14 Emergency Nurses Day
(Second Wednesday of month) And a big THANK YOU to all of the men and women who serve in our E.R.s.
October 14 National Dessert Day 
Wow, is it just me, or are there a lot of food days this month? No matter, check out my fun desserts page and make one for a special treat after dinner tonight!
October 16 Dictionary Day 
Let's take this day to look up and learn a new word!
October 17 Sweetest Day
(Third Saturday of month) Today is apparently another day aside from Valentine's Day to recognize your sweetheart. I like this idea since I'm sure restaurant reservations should be readily available, and flower costs won't be doubled today!
October 18 No Beard Day 
October 21 Count Your Buttons Day 
Seriously? Who has time for that?
October 21 National Pumpkin Cheesecake Day 
October 22 National Nut Day 
Sometimes you feel like a nut…sometimes you don't.
October 24 Make a Difference Day
(Fourth Saturday of the month) This day is dedicated to helping others by doing volunteer work in your community. Many people participate in projects like community cleanups, painting, repairs, and park maintenance. Where can you help out today?
October 24 National Bologna Day 
Well, I guess it's time to confess, that I'm not really a fan of the processed "meat" we call bologna. But my kids are, so I guess it's sandwiches for all today!
October 24 United Nations Day 
Today is dedicated to the U.N. and to world peace, and the betterment of humanity through a wide range of programs such as world hunger to environmental and health programs.
October 25  Mother-In-Law Day
Fourth Sunday in October, reach out to your MIL's today and send a little love their way! After all, they did bring your spouse into the world!
October 25 World Pasta Day 
Now, as an Italian, this is something I can definitely get behind! Spaghetti for all!
October 26 National Mincemeat Day 
Mincemeat dates back to medieval times as a way to preserve food. It was also a treat, mixed with sweet fruits. I've honestly never had Minced Meat Pie, but it seems like today might be the day to try something new! Here's a Mince Meat Pie recipe by Pillsbury that doesn't look too difficult,!
October 27 National Tell a Story Day 
Celebrated primarily in Scotland and the U.K., National Tell a Story Day celebrates story telling of all kinds! An since reading is a huge part of learning, take some time today to sit down and tell stories, or read a story as a family!
October 27 Navy Day 
In the United States, Navy Day is dedicated to honoring the U.S. Navy. The day was chosen because it is the birth date of President Theodore Roosevelt, who was an avid supporter of the U.S. Navy.
October 29 National Frankenstein Day 
Today we honor the birth of Mary Wollstonecraft Shelley who wrote the book "Frankenstein: or The Modern Prometheus" in 1818. Here's a little more information on the famous author and how you can celebrate Frankenstein Day!
October 30 National Candy Corn Day 
October 31 Carve a Pumpkin Day
No surprise here…will you be carving? We will most likely. Mainly because my kids beg me to. I could do without all of the pumpkin guts. But I love the smell and roasted seeds so…if you find yourself carving, check out my Roasted Pumpkin Seed Recipe!
October 31 Halloween 
What do you do for Halloween? Do you celebrate? Hand out candy? Dress up? Close up the house and turn out the lights? Let me know in the comments below!
And that's it folks! Whew, that was a lot of information! Hope it helps you out with your school planning this month.
For more fun fall ideas check out my Fall Recipes pinterest page!