Hey guys! I'm back today with another What's in the Workbox? video for you all! Today we're taking a look into my 7th grader's daily homeschool workboxes.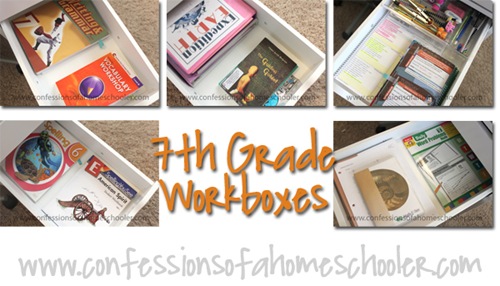 It's crazy to think that I have a 7th grader, but here we are in Jr. High already! I've been homeschooling her for 8 years an that just seems crazy to me!
Anyhoo…let's take a closer look to see what her day looks like, and how she goes about her daily assignments. She is mostly independent in her work now. I still help teach her English as well as our group subjects. But otherwise she's doing well working on her own. And she likes to get a head start in the morning so that she can finish early and be done with school for the day.
Click here to see our 7th grade daily homeschool workload video!
For those of you who prefer photos and links feel free to keep reading!
Drawer 1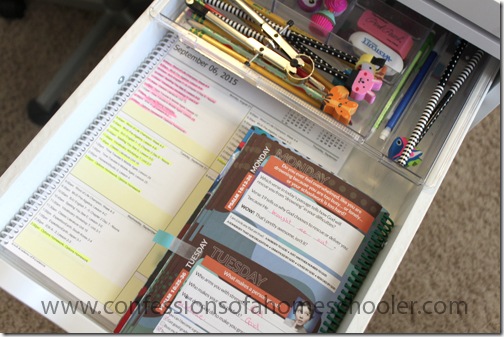 In her first drawer we keep her expandable drawer organizer which holds her basic school supplies, as well as her daily assignment notebook (more info on this in the video) and her Word of Life Challenger Quiet Time devotion.
She also has homework from our weekly options program, so we've included that in her assignment list as well so she doesn't forget.
Drawer 2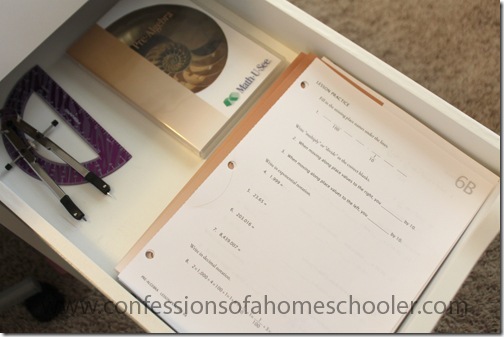 This is her math drawer, she's currently working on Math U See Pre-Algebra. I usually pull out worksheets A-D, plus her chapter test so she can just pull the next worksheet out easily.
Drawer 3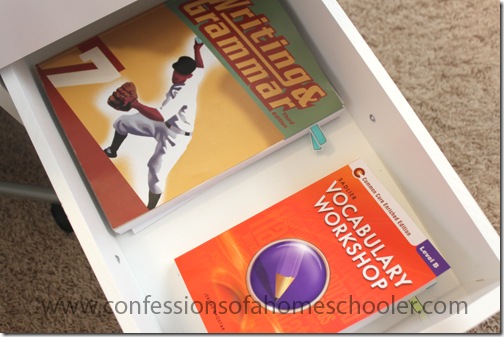 This drawer has her BJU English 7 workbook in it. Instead of pulling out her worksheets each day she just uses a sticky tab to keep track of where she is. This unit is a little different than grades 1-6. I think they might not have updated this version yet as the cover looks different than the previous levels. There isn't much in the way of lessons in the teacher's manual. So it's designed for her to read her own lesson, and then do the work included for each one.
She also has her Vocabulary Workshop (Level B, Grade 7) and like I mention in the video, I'm not in love with it this year. Some of the questions are really awkward and they include words that aren't actually in her word list for that week, or prior weeks. So we're doing a lot of looking up words, and trying to figure out what they're asking for. Not my favorite at this point.
Drawer 4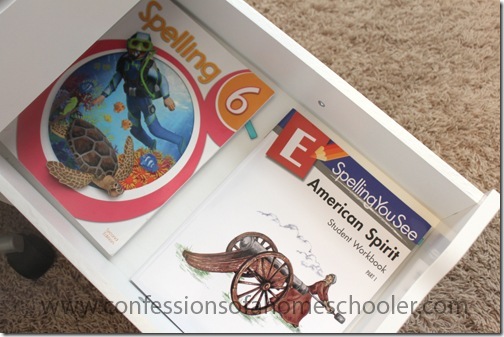 This drawer has her spelling in it. She still had a few lists from last year to get through, so she's finishing up her BJU Spelling 6 book, and then working on the Spelling You See Level E booklet. Most spelling stops around grade 7, so I like that SYS has a level for her to continue working on.
Drawer 5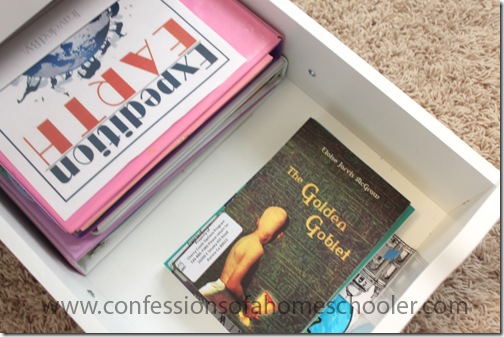 This last drawer keeps all of our group subjects along with her reading. She has her Book Shark reading books in this drawer along with her Expedition Earth Geography/Science Curriculum binder, her The Renaissance & Reformation binder, and her Institute for Excellence in Writing Group A Continuation binder. Check out the video linked above if you'd like to see inside these binders!
And that's all that is in her daily workbox drawers. Here are a few of the things we do that aren't stored in the workboxes:
A note to you…
Keep in mind all homeschools are a little bit different. What we're using might not work for your family or your students. So just go with what works best for you and your kiddos! But if you have questions specifically regarding what we are using, there are links in this post to help you out! Feel free to email me if you have questions that I didn't address!
And make sure to check out my Homeschooling 101 book if you're just getting started and need help finding curriculum, creating lesson plans, scheduling your day, organizing your home, and more!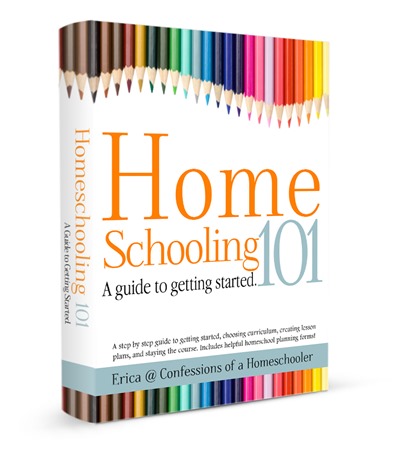 Our School Room…
For anyone with questions on our school room or workbox drawers, you can check out our school room setup here. Links to all of furniture and supplies are there to help you out.
–> I also get a lot of questions on our desk setup. You can read all about it in our Ikea School Desks post!
You can also see a check out this video I did a while back on our workboxes! We've stuck with the Ikea drawer units since they fit better in our room right now. And I even have some small spaces workbox ideas that might suit your needs as well!
Need workbox printables? I have a ton of freebies that you're welcome to download and use in your homeschool!