Hey guys, I've been wanting to do some Tip Tuesday type videos for you for awhile now, and I'm finally getting around to it! I think it's nice to do these in video format because I can just sit down and talk to you all which makes it a little more personal.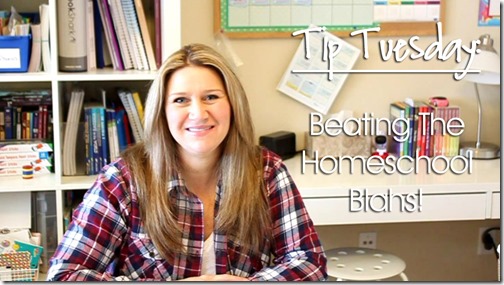 I don't know about you all, but our January has been ho-hum in the back to school sense, and after my instagram post showing our first day back after the break, I'm guessing some of you have been experiencing the same thing! Well, don't worry fellow homeschoolers, you are NOT alone! We've been homeschooling for about 9 years now, and honestly the new year is always kind of a let down after the fun holiday break. Everyone is tired, and no one really wants to do school, including me!
But considering school isn't optional in our state, I wanted to share some of my tips for beating the January Blahs. Check out my Beating the January Homeschool Blahs video below for some helpful tips and tricks to get your students motivated to get back into learning!
P.S.  I'm sorry this post is a little bit late, but hopefully it still helps some of you get back into the swing of things after the new year. You can always take a little bit of time this weekend to give your homeschool a facelift and get your kids motivated for back to school!
Happy Homeschooling,