Have you ever bought a curriculum that you thought would be great, only to find out that it just wasn't a good fit for your family? Don't worry I have some advice in today's Tip Tuesday post that will hopefully encourage you to let it go and move on to better homeschooling days!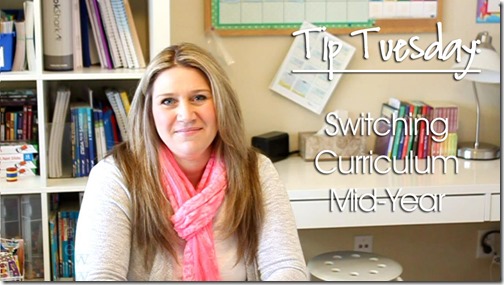 We've all done it, bought something or tried something new that just doesn't work out. So what do you do with it? Do you tough it out for the rest of the  year, or let it go? What about the cost of the curriculum? Certainly we don't want to be wasteful with our money, or curriculum. Find out my opinions on switching curriculum mid-year, and how I recuperate any lost money in the process!
Check out today's Tip Tuesday video on Switching Curriculum Mid-Year to find out more!
I hope today's Tip Tuesday helps to encourage you on your homeschooling journey! If you have a tip to share, or want to have me do a Tip Tuesday on a topic, make sure to leave a comment below!
Happy Homeschooling!