Hi everyone! We had the pleasure of checking out the Sherlock Holmes exhibit at the Denver Museum of Nature and Science this week and it was so cool! I wasn't sure what my kids would think initially, but it ended up being a really neat exhibit. Unlike most special exhibits they host, this one was hands on, and the kids were encouraged to try and solve an actual crime.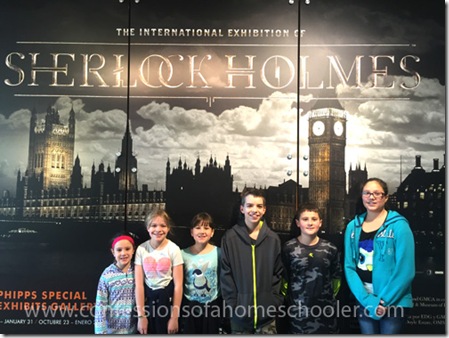 Parent Tip:
I'd quickly like to mention that we went on school day with our options program because it was only $5 each. Normally that would've been fine, but for this type of display, I think I'd rather just pay full price and be able to go on a day when it wasn't so crowded. Especially since the kids were trying to examine evidence, and make decisions on so many things to try in order to try and solve the mystery.
So my one tip would be to definitely go check it out, it's really cool! But go on a day when you don't think it will be crowded, because it's really hard to get through everything with that many kids trying to interact with the displays.
Let's get investigating!
We started off at the underground train station where there were newspaper stands and an International Science Exhibition taking place. Here the kids all received a detective's notebook to record all of their findings through the trip. They also learned about ballistics, forensics, printing, optics, botany, telecommunications, and other crime solving techniques that they could use to help with the mystery.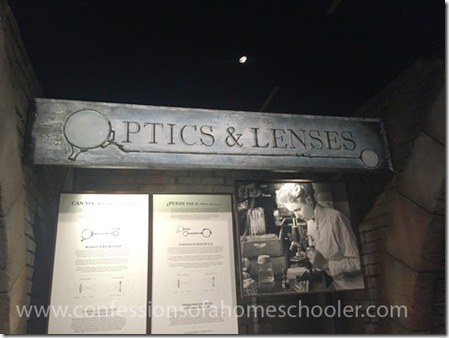 Next we learned a little bit about Sir Arthur Conan Doyle by exploring his world as a medical student at Edinburgh University. They had replicas of manuscripts, letters, illustrations, artifacts, and forensic specimens for the kids to look at.
There were realistic clues strewn everywhere, and it was a little intimidating at first. It was kind of like being in an actual game of "Clue"! They had characters dressed up walking around talking to people. They each had little secrets to share about the pictures and display items which was fun.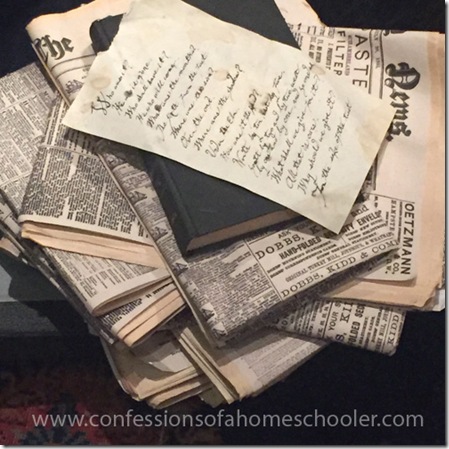 Then we headed over to 221B Baker Street, London and into Sherlock Holmes's sitting room where we practiced our powers of observation! In the detective notebooks they had a cool "I Spy" game in that took place in his study. There were several interesting items, some of which my kids didn't even know what they were. But we found them all!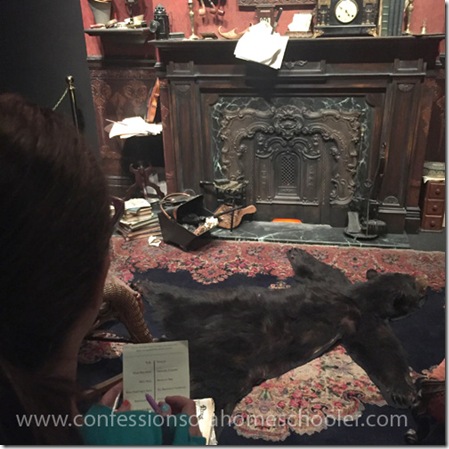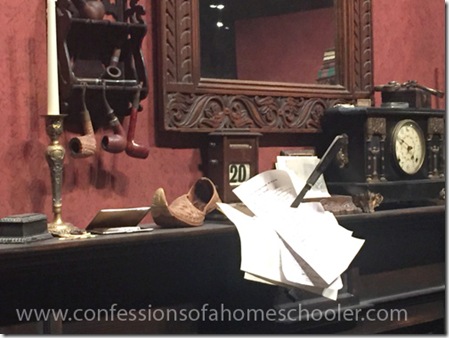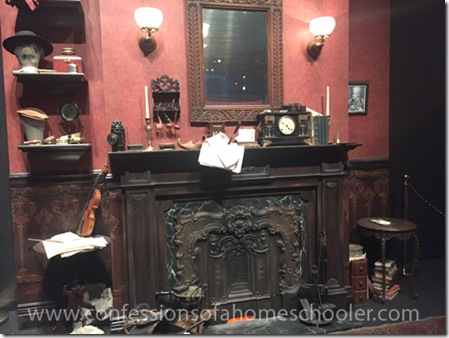 Next we went through a variety of information al booths to help us learn a little bit about each of the clues in the mystery. At the Conservatory we learned about botany and compared the seed pod found at the crime scene with a variety of seed pods at the Conservatory. From that we made a choice on which type of seed pod we thought it was, and whether or not the pod was poisonous and thus possibly a cause of death for our crime scene.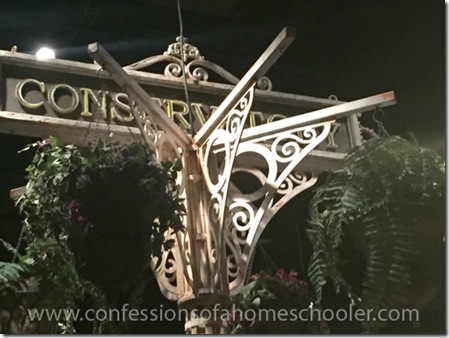 The kids all received a notebook to take notes in throughout their journey. There were stamps they received at each station, and then they spent some time examining the actual crime scene where they received stamps, impressions, and other information about each piece of the mystery. From that they went on to individual stations where they looked at a variety of options, and then made their choice of what they thought really happened based on the evidence at the crime scene.
Once a choice was made, they stamped a hole in their notebook. At two points they could hold up their hole punches to various news paper articles to receive more clues about the actual crime. The final clue sent them to a shed area where another actor was explaining a little bit more about the crime scene and helping the students to think about each clue and solve the final crime.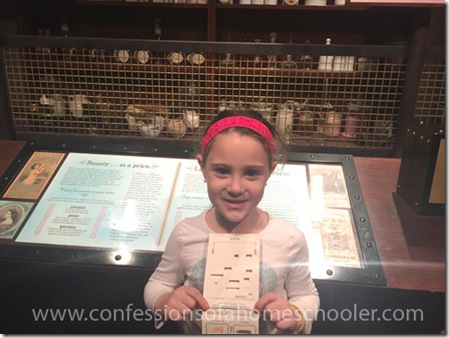 At the ballistics station students learned a little bit about bullet trajectory, how to determine where the shooter was, how tall they were to help solve their mystery. At the end of each station they received a stamp on their notebook giving them a little clue about each piece of evidence.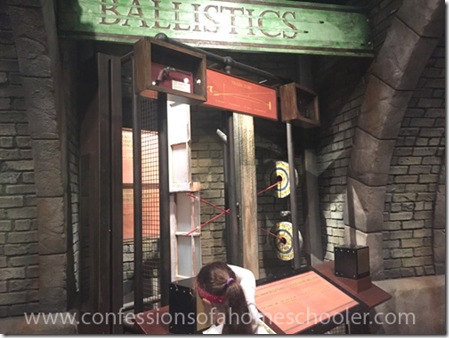 At the crime scene there was some blood spatter found and the kids received a stamp with a sample spattering for their notebook. Later they went to the Slaughterhouse to do blood spatter experiments to determine how they think the spatter was created. This area was a little gross, so if you have a sensitive student you might want to take that into consideration. But it didn't bother any of my kids, they thought shooting "blood" onto a screen was fun.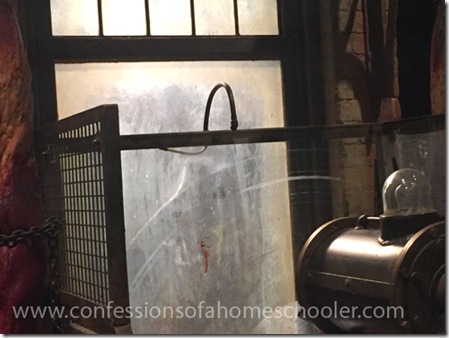 Once we were armed with knowledge on each item the kids made a choice on what they thought happened for each clue and then stamped their notebook with their selection. At the end of the exhibit the students hold their punched card up to a newspaper article to get the final secret message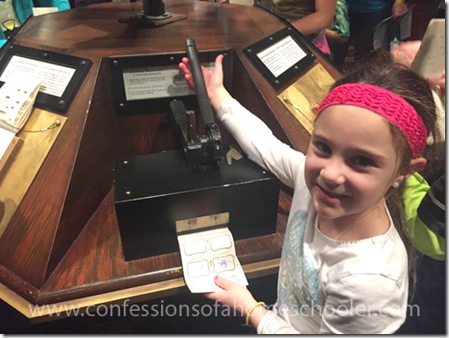 Of course at the end of the exhibit they cleverly send you through the gift shop where they had really cute detective hats. And no we didn't buy one.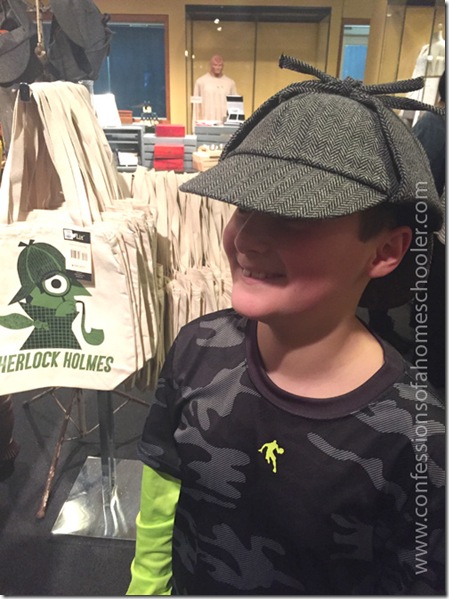 I think it was a really interesting display and I really enjoyed going through and trying to solve a mystery as well. I did have to help Miss Lady Bug read everything, and make choices since she was younger. I think the exhibit is great for like 3rd grade and up. As an adult I really enjoyed it, but younger kiddos will definitely need assistance.
We had a little time to spare before it was our turn for the Sherlock Holmes exhibit so we checked out a few things in the museum that are on regular display. Everyone loves the space section, so we headed their first.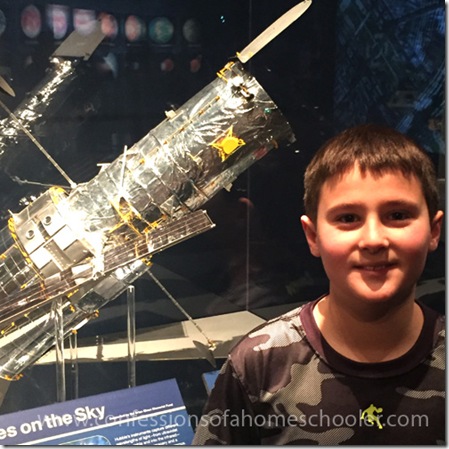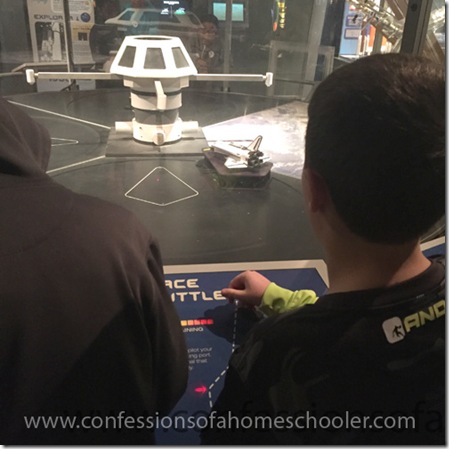 We also checked out some of the wildlife displays as well. Tinker Bell's favorite animals were the walruses.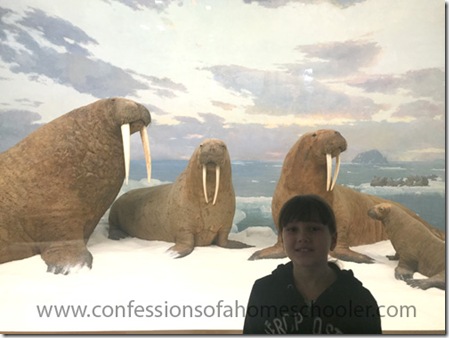 Barbara Manatee, you are the one for me!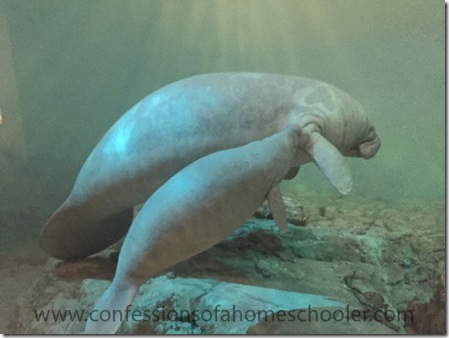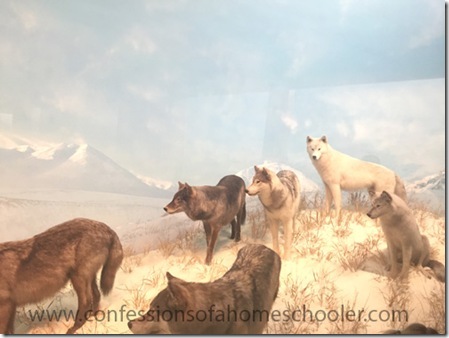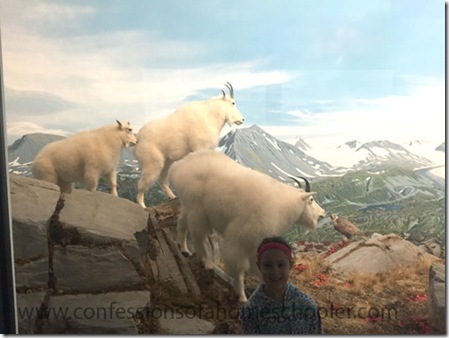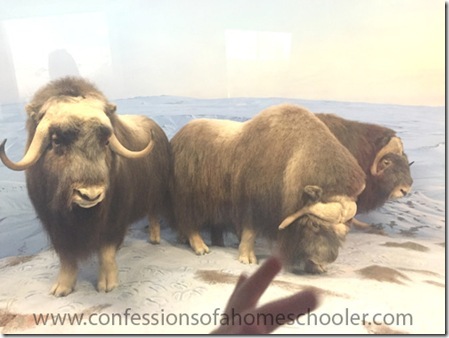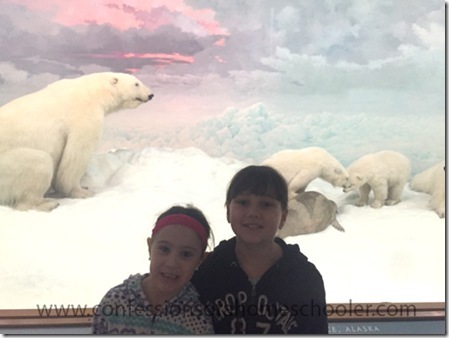 And that was it for this round of adventures at the Denver Museum of Science and Nature! I hope you have a chance to check out this exhibit, it's super fun and interactive. If you have a chance to go, let me know what you thought about it in the comments below!
Happy Homeschooling!