Ni Hao! As most of you know we're going through my Expedition Earth curriculum again this year, and the kids couldn't be more excited! The last time we did this it was 2010 and Miss Lady Bug was only about 2 years old! Since she never got the chance to go through it, and it's been several years, we thought now would be a great time to travel the globe again!
So we're starting off our journeys by visiting China.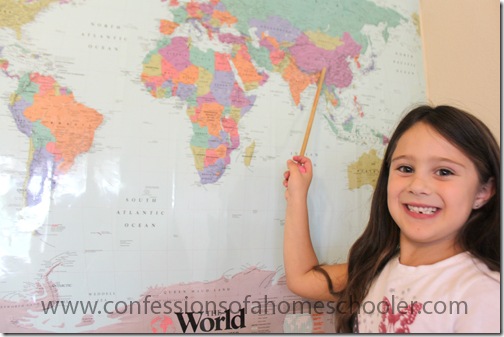 Did you know that China has the largest population in the world, with over 1.3 billion people? It is also the 3rd largest country with an area of approximately 3,747,879 sq. miles. The Yangtze River (3rd longest in the world) and the Yellow River (6th longest in the world) are both found in China. And the Great Wall of China is the largest man made structure in the world stretching an amazing 5,500 miles!
China's Yangtze river is also home to the rare and endangered giant panda bear. The bear eats as much as 22 pounds of bamboo a day, and can live to be about 20 years old in the wild. Giant panda cubs weigh only around 5 ounces at birth, but adult males can weigh up to 330 pounds!
China has also invented quite a few commonly used items such as: kites, paper money, wheelbarrows, porcelain, and folding umbrellas. And since it's across the International Date line from where we are located, China is sometimes a day ahead of the United States.
Those are just a few of the fun things that we learned about China this week! Here are a few more…
We learned:
Where China is on the world map & located Beijing, Huang He River and the Yangtze River

A song in Mandarin

How to say "Hello" in Mandarin

How to pray for the Chinese people

About children in China

Learned Chinese Numbers

Studied the Great Wall of China

Completed a china lapbook activity

Completed and classified animals of China

Read The Story of Ping by Marjorie Flack

Learned new geography vocabulary

Played Chinese Checkers

Learned major landmarks and other fun facts about China

We built the Great Wall of China! (Well, a scaled down version anyway!)

We made handmade paper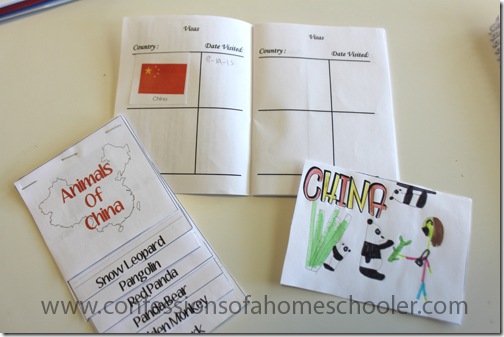 Of course we always add a flag to our passports. Since China was our first stop, it's all alone in there right now, but not for long!  We also learned about some super cool animals found there, and made this cute mini-book with pictures and facts on each one. And just for fun we made a China post card then wrote a fake note to a friend on the backside. It's great letter writing practice!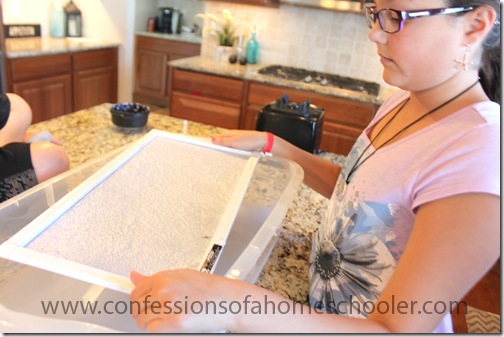 We also made our own handmade paper from recycled shredded bits of paper using a screen.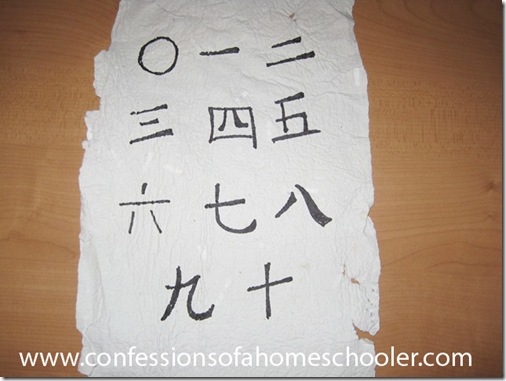 Then wrote out the Chinese numbers on it once it was dried! I'll have a tutorial on this coming up soon, or  you can check out our old Handmade Paper Craft tutorial here!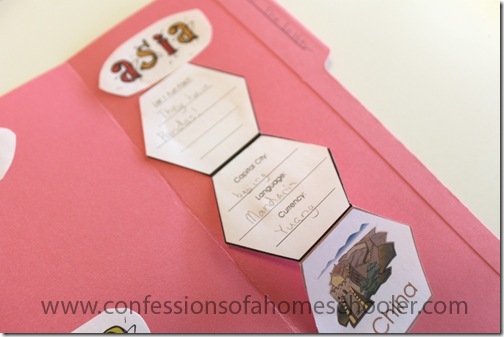 Of course we added our China mini-book to our world lapbook. Inside my kiddos wrote their favorite fun fact about China along with the Capitol, language, and currency inside.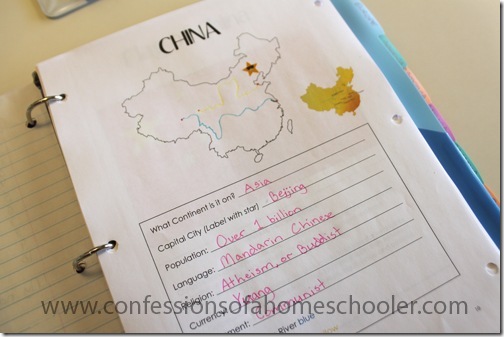 Of course we filled out our China mapping sheet with all of the yummy details on the country itself.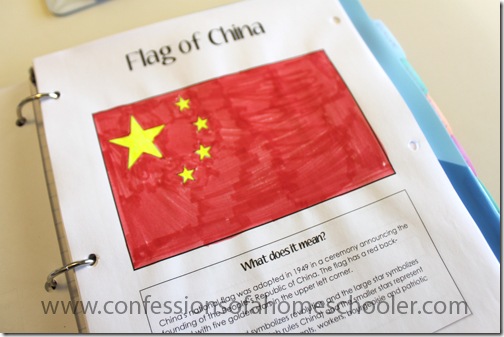 We also learned a little bit about the flag of China, what the colors stand for, an colored our own on our flag worksheet.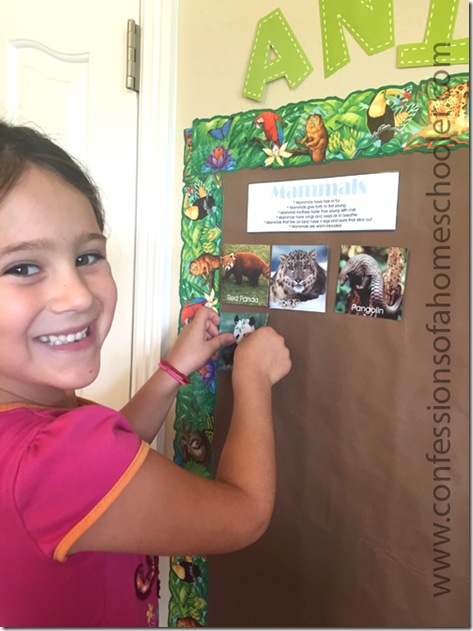 I think that one of our favorite parts is learning about the animals in each country. Here's a shot of Miss Lady Bug putting up her very first Expedition Earth animal on our wall! Since I have four kids, we choose numbers as to who gets to put up what animal. That way it's fair and all.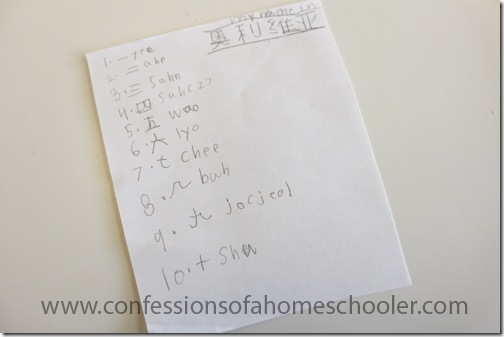 Then everyone wrote down the Chinese Numbers, and also wrote their name in Mandarin.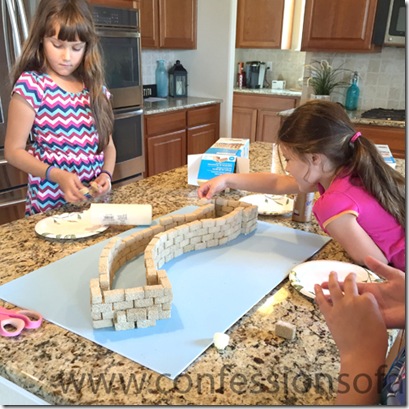 Then of course we had to build our version of the Great Wall of China using Flora Craft foam blocks.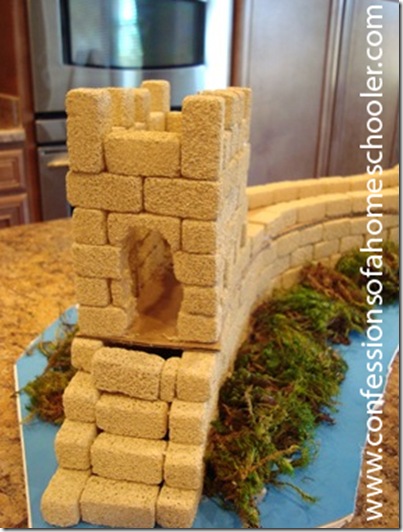 We added some moss around the outside for effect, as well as ended up gluing on some tiny pebbles at the foot of the steps as a path.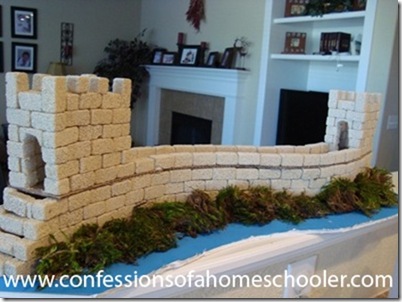 And here's the completed model.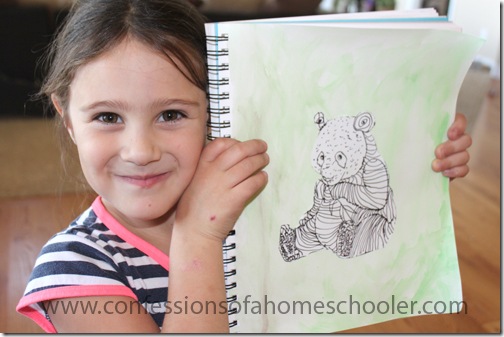 We also did a fun Zentangle Panda craft that everyone enjoyed.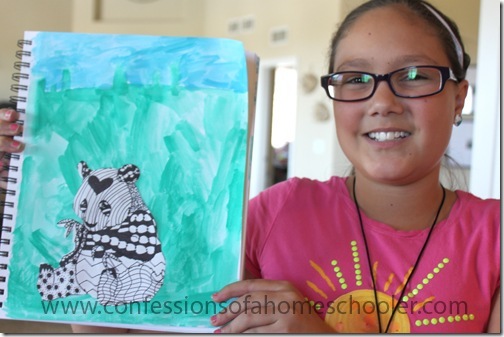 I mean who doesn't love panda's right? Click here to see exactly how we made our Zentangle Panda Art!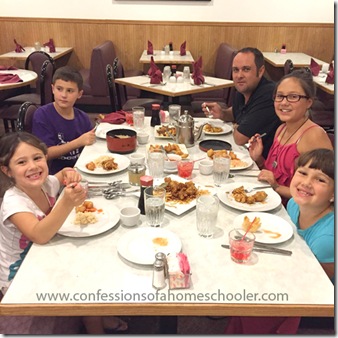 And honestly I think everyone's favorite part of the week is "Try new food Friday". This is when we either make a recipe at home, or head out for an authentic meal from the country we're studying! This was taken at a local Chinese restaurant in our area. The first time we went in, TinkerBell shouted "Ni Hao!" The waiter's were so nice and thought it was sweet of her, so now they always great us with a happy "Ni Hao!" every time they see us coming!
As a side note, she also does this anytime we order Chinese take out as well. The delivery guy is super nice and always looks to greet her in Mandarin.
And that's it for this week!
Want to join in with us on our journey? Get your copy of Expedition Earth here!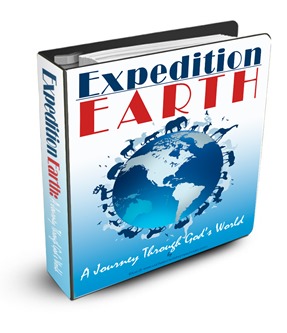 Click below to see more details for each of the fun things we did during our week on China back in 2010: