Hey guys! I'm back today with another fun video for you! Today we're taking a closer look at what is in my 4th grade workboxes, and for something new, we're going to be looking in her drawers via video spy cam!
Okay, we're not really spying, but it really is a video of her daily work, plus some lovely commentary from me as we browse through her drawers!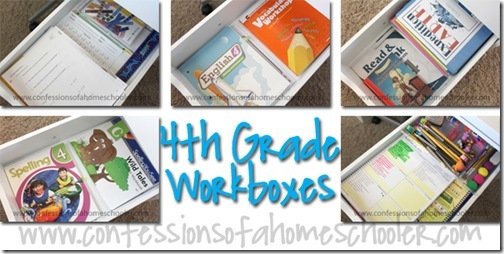 Click here to see what's in our 4th grade workboxes this year!
For those of you who like pictures and detailed descriptions there are links below to all of our curriculum this year, so feel free to keep reading!
Drawer 1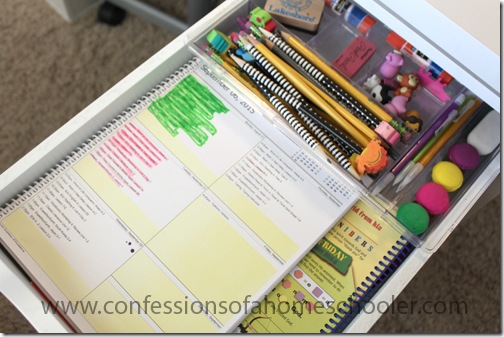 In her first drawer we keep her expandable drawer organizer as well as her daily assignment notebook (more info on this in the video) and her Word of Life Challenger Quiet Time devotion.
Drawer 2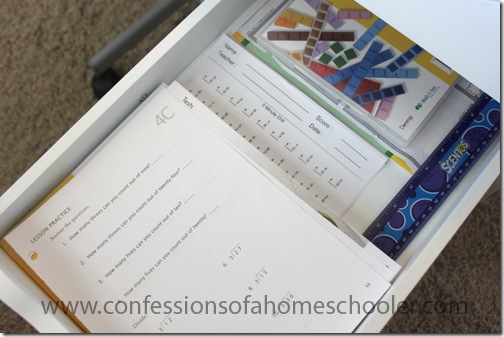 This is our math drawer and I keep her Math U See Delta workbook, as well as an Evan-Moor Daily Math Problems 4 workbook in there. I like the Evan-Moor books, they're fun more critical thinking word problems for extra practice. She does just one a day, and they take about 5 minutes. I pull out all of her worksheets for the whole week and stack them on top of her workbook. Then she grabs one each day to complete.
Drawer 3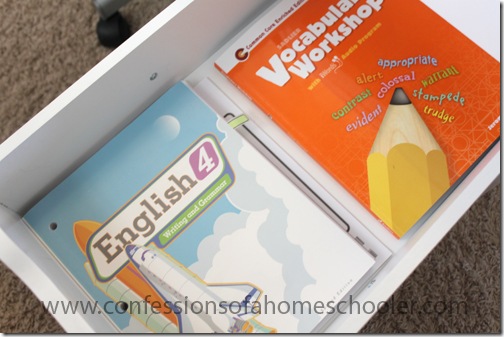 This is her English drawer, this year she's doing BJU English 4 and I just pull out one sheet per day and place it on top of her workbook. She's also doing Vocabulary Workshop (Orange Grade 4). So far I like this level.
Drawer 4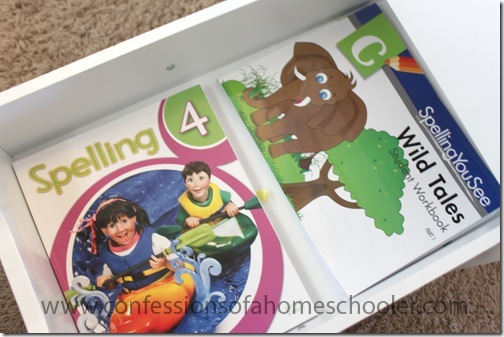 In this drawer she is doing a combo of BJU Press Spelling 4 & Spelling You See Level C. We also still review the All About Spelling 4 phonics cards and every now and then I'll throw in the basic rules from levels 1 & 2 just to review. I'm also using Spelling You See as our handwriting, so she has to make sure it's nice and neat. I allow her to alternate between cursive and manuscript depending on her mood.
Drawer 5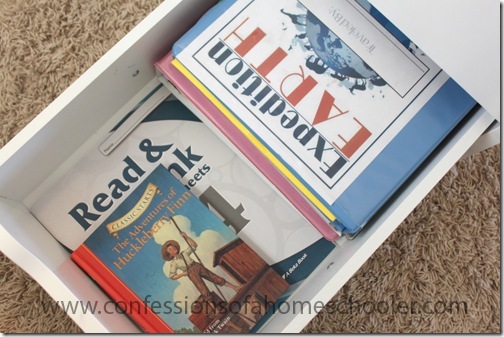 The last drawer is our group activities and reading drawer. You can see she has one of my Classical Literature Units in there. This one isn't released yet, but it will be coming soon! She also has her Abeka Read & Comprehend Skill Sheets Level 4. These are timed speed & comprehension tests. We only do this on Thursdays which is test day.
She also has our Expedition Earth Geography/Science Curriculum binder and her Institute for Excellence in Writing binder in there. We do this as a group and are using IEW Group A Continuation this year. So far I like the continuation unit. And yes you definitely need to start with the Group A level before moving to the Continuation Group A as it builds on what students learned previously.
And she also keeps her The Renaissance & Reformation history binder in there as well. We do this as a group, so I keep all of the handouts in my teacher area, and just hand them out as we get to each lesson.
And that's all that is in her daily workbox drawers. Here are a few of the things we do that aren't stored in her boxes:
A note to you…
Keep in mind all homeschools are a little bit different. What we're using might not work for your family or your students. So just go with what works best for you and your kiddos! But if you have questions specifically regarding what we are using, there are links in this post to help you out! Feel free to email me if you have questions that I didn't address!
And make sure to check out my Homeschooling 101 book if you're just getting started and need help finding curriculum, creating lesson plans, scheduling your day, organizing your home, and more!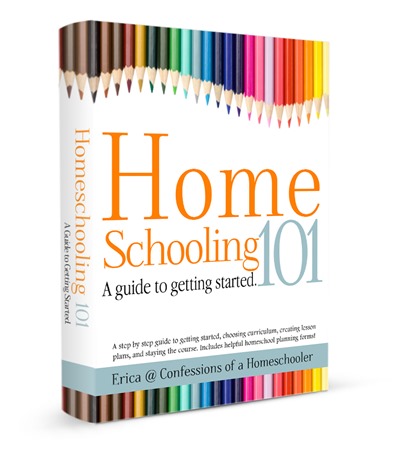 Our School Room…
For anyone with questions on our school room or workbox drawers, you can check out our school room setup here. Links to all of furniture and supplies are there to help you out.
–> I also get a lot of questions on our desk setup. You can read all about it in our Ikea School Desks post!
You can also see a check out this video I did a while back on our workboxes! We've stuck with the Ikea drawer units since they fit better in our room right now. And I even have some small spaces workbox ideas that might suit your needs as well!
Need workbox printables? I have a ton of free printables you're welcome to download and use in your homeschool!