Hey guys! So I have a totally fun applique project for you today along with an awesome giveaway from Sizzix! So make sure to read all the way to the bottom to enter to win.
Awhile back Sizzix sent me this absolutely amazing pack of goodies to check out! And since I'm just a little bit addicted to quilting, I was so excited to try these out. They have so many fun dies that you can use for quilting and applique' that I couldn't hardly wait to get started!
I have big plans folks…
That little bow die in the front is going to be used in Dresden plate wreath mini-quilt that I'm going to work on. How cute will that be? And the little half square triangles on the right there will make my life so much easier! They even already cut off the little dog ear for you. Which is just tedious work, so yea, I'm excited to try that too!
That cute snowflake hiding in the back has already become some super cute Christmassy/Wintery coasters. (Don't worry I have a post on those coming soon!)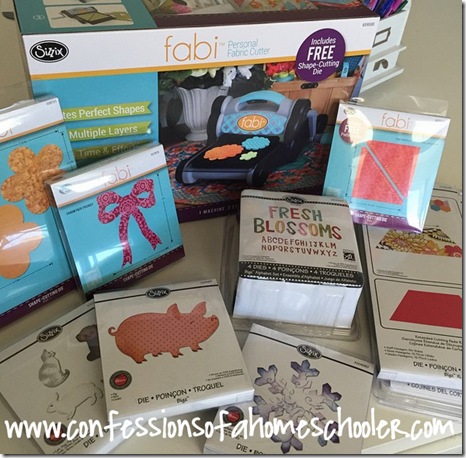 And I'm not sure if you can tell, but that die on the far right is a half hexagon die which I plan to use as little purses on a mini-quilt, or a big one. I haven't decided how ambitious I'm feeling yet! But I play to add little handles, and maybe some fun embellishments to them. How cute!
Now…I'm sure you've all noticed that little piggy in the front there. Tinker Bell is a die hard pig lover, and so I got that one just for her. She's been using it for paper projects since it arrived. And I had to steal it back from her just to get this picture! And I'm thinking that would make a super cute applique' pillow project!
Here's the pig quilt I made for her a little while ago. I'll do a post on it soon because this is probably one of my favorites! And it goes well with the zillion stuffed pigs that adorn her bed.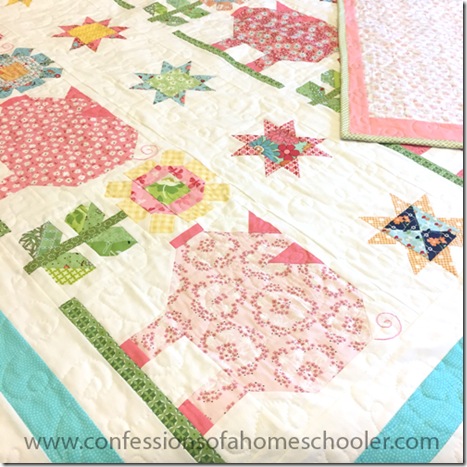 But today we're going to focus on that super fun Fresh Blossoms die set. As soon as I saw that I knew it would be a super cute way to personalize projects. And guess what? I was right! This project is so easy, anyone can do it! And if you're a scrapbooker, it can totally double as alphabet embellishments on your scrap pages too!
Then I thought, hey! Why not film a tutorial showing everyone just how fun and easy these dies are? Plus I've had a ton of questions on how to applique' so I thought this would also make a nice addition to my How To Quilt series. So today I'm going to show you how to personalize your projects using these Sizzix die letters and applique'!
I know applique' can seem kind of scary, but it's really easy and fun! So if you're interested in learning more check out my How To Applique' video below to see just how easy it can be!
For this project we'll need the following:
Fabi Machine and dies
Fabric
Fusible webbing (I like Heat-n-Bond Light)
Fabric or a project of your choice to add your applique' to
Sewing machine
Coordinating thread
Iron and ironing board
Scissors
Let's get started!
Want more great ideas? Make sure to check out Sizzix social media!
Want to learn more about quilting? Check out my How To Quilt series.
I hope you enjoy this tutorial, and if you end up using your mad applique' skills on a project, make sure to tag me on social medial, I'd love to see what you create.
And now onto the giveaway…oh yea!
Whoohoo! GIVEAWAY courtesy Sizzix!
Enter below to win your own Fabi machine and $250 in dies!
Thank you Sizzix for the great giveaway!