Hi everyone! I'm so sorry this is late, I totally forgot to put up my meal plan for February! But thanks to a kind reader I've been reminded, and so here we go! The 2016 February Monthly Meal Plan is now available for download!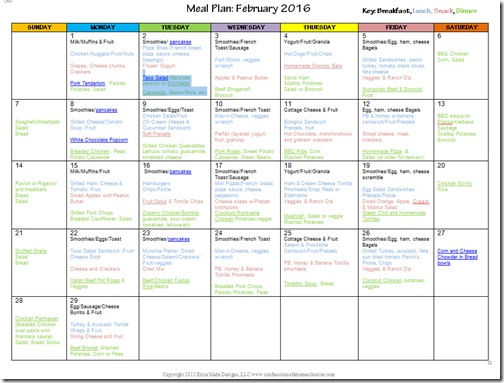 For us it's cold and wintery out, so this menu plan has lots of yummy comfort foods in it. I apologize if you live in a different region where our seasons are not aligned. But if that's the case you're welcome to search back through my meal plans and find a month that corresponds better with your location!
Download the 2016 February Monthly Meal Plan:
If you haven't already used this before, you can click on any of the underlined menu items to get to the recipe.
I like to shop once a week, so I just make a list off of my menu plan and head to the store. I find that I spend less when I shop off of a list, then flying by the seat of my pants. I also end up with ingredients that will actually go together instead of a bunch of random items that don't amount to anything.
For more fun recipes, visit my Recipes Page!
Here are some of our favorite smoothie recipes, just click on the image below!