Hey guys! I get asked about whether or not I record grades in our homeschool, and how I keep track of them as well. So that's what we're discussing in today's Tip Tuesday.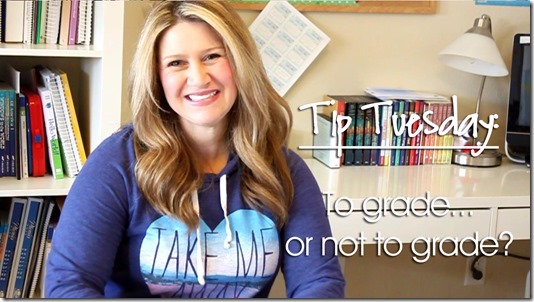 We've been homeschooling for 9 years now, and each year has been different. But we did decide to start grading our children a few years ago. And we'll get into the how's and why's in the video below.
I don't grade in the traditional sense for preschool or kindergarten because I don't want to discourage my kids, or create a negative feeling towards themselves or school in general. So for those younger grades, I like to do assessments to see how they're doing. I do have assessment worksheets as well as grading sheets available in my Planners, as well as in my Letter of the Week preschool curriculum and K4/5 Kindergarten Curriculum that you can use to see how you're child is progressing. But at that age I take the majority of responsibility to make sure they're learning what they need to.
That said, starting in first grade and on up, we do grade their work as well as share the results of their grades with them. We try to keep it a positive interaction between parent and child, and use their grades as a way to make sure that we're doing our jobs as educators, and encourage and motivate them to work diligently and take ownership of their education as well.
I always grade their work on the same day, and then hand it back and go over any corrections that need to be made as well as clear up any confusion on a specific lesson. They correct their work, then turn it back in, and then I enter the original grade into my homeschool tracking software.
Tracking Grades: I'm currently using a very old version of Homeschool Tracker. I also have printable grading sheets in my downloadable lesson planners (Note the grade sheets are not in the daily or weekly day planners, only the planners marked "lesson planners").  I'll also do another video on tracking lessons and grades in another Tip Tuesday later on.
For a more in depth look at grading check out my How to Homeschool eCourse here!
Have an idea for a Tip Tuesday video or some helpful grading advice? Make sure to leave a comment below!
To keep up with our shenanigans, feel free to follow me:
YouTube Channel: https://www.youtube.com/user/EricasHomeschool
Facebook: https://www.facebook.com/ConfessionsofaHomeschooler
Twitter: http://twitter.com/ericahomeschool
Pinterest: http://pinterest.com/ericahomeschool
Want to see more of my Tip Tuesday Videos? Make sure to click the image below to check out all of my homeschooling tips!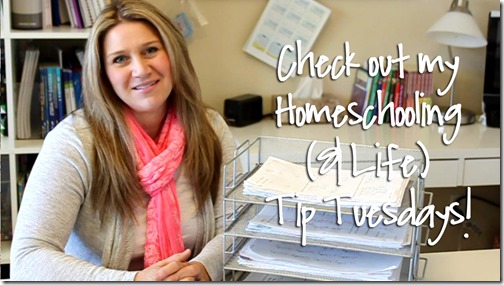 I hope this helps some of you out, I know getting started can be overwhelming! I wrote a book called Homeschooling 101 that will help answer all of your questions on how to get started homeschooling, choosing curriculum, creating lesson plans, etc. For more information on homeschooling check out my Homeschooling 101: A guide to getting started!