Hi everyone! I have a fun unboxing video for the October 2016 Fat Quarter Shop Sew Sampler Box for you today. I love watching unboxing videos, and several of you asked me for one this time. So here we go!
Today I'm showing you what all came in the October 2016 Sew Sampler Box. By the time this post goes live the October box will probably be sold out. But if you sign up now you can be sure to get the November box! They ship on the 20th of each month, so make sure to sign up before the 16th of November to get the next one!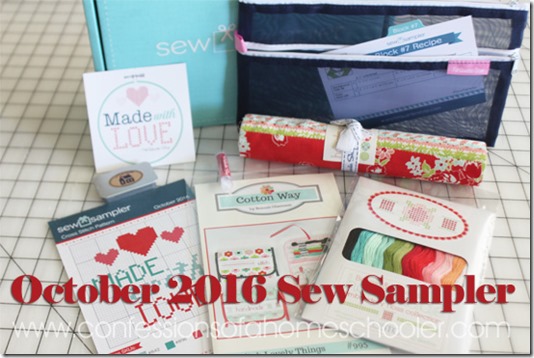 What is a Sew Sampler Box?
The Sew Sampler Box is a monthly subscription quilting box that delivers surprise goodies right to your door! It's $24.95/month and the boxes ship on the 20th of each month.
There are at least 5 specially chosen items which may include fabric, notions, patterns, thread, and anything else full of quilty goodness! You'll also receive a Block Recipe card each month with three size options. These can be put together for a super cute sampler quilt! You can see previous recipe cards here.
If you're new to sewing or quilting these are a great way to build up your stash of fabrics, patterns, and notions. Especially if you're unsure of what to get to start out. I've been sewing and quilting for about a year and a half now and I think the Sew Sampler boxes are really fun and have thus far been packed with super cute and helpful tools!
Ready to see what's inside?
Watch the October 2016 Sew Sampler Unboxing Video here!

For those of you who don't want to watch the unboxing video, read on to see what's in the October 2016 Sew Sampler!
I'm always amazed at how much fun stuff that Fat Quarter Shop stuffs into their Sew Sampler boxes! According to the product card along this month's box was worth $62.34.
Notions:
For this month's notions we received some of my very favorite quilting pins ever, the Little House Glass-Head Pins with a magnetic tin. I love these pins because they're really thin and sharp, so they slide into your fabric really easily and don't make large holes. The glass head makes it nice in the event you need to iron with them in as well.
I also received the new Handmade Embroidery Floss Set which matches perfectly with the new Handmade fabric collection from Bonnie & Camille for Moda. The colors are super fun and bright and really matches most of their other lines as well!
And to go along with the embroider floss, we also received a set of Primitive Gatherings Chenille Needles. They're in size 24 and have a nice large eye in the needle to make threading pearl cotton easy! Yay for that right!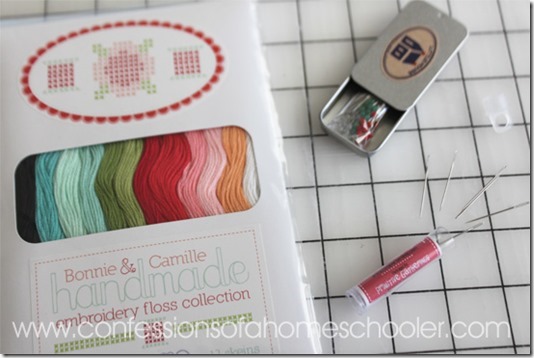 Fabric & Patterns:
Now onto my favorite part, the fabric and patterns! This month we received a fat eighth bundle of Handmade fabric by Bonnie & Camille for Moda. The fabric goes perfectly with the Stitch Lovely Things Pattern by Bonnie of Cotton Way. It's a super cute bag that would be great to hold your sewing supplies, embroidery supplies, paper piecing stuff, or really anything you want to put in there! I'm sure my girls will try to steal it for their school supplies!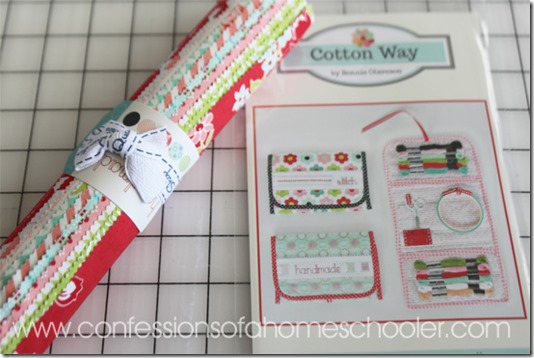 The box also includes a fun Sew Sampler exclusive "Made With Love" cross stitch pattern as well. Of course it goes perfectly with the handmade floss set of course! And I'm not sure if you see that fun little card in the back there, but that has a coupon code for 25% off all Bonnie & Camille yardage for the month too!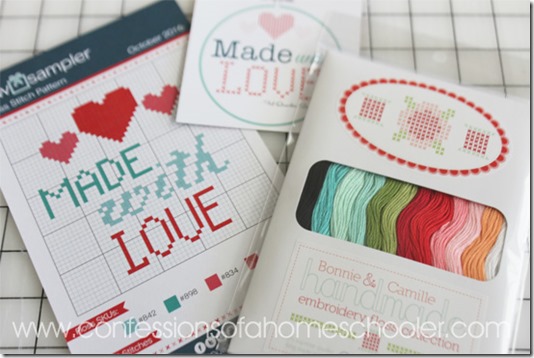 Bonus Items and Recipe Card:
This month's bonus item is this super cute mesh zipper bag by Fat Quarter Shop, another Sew Sampler exclusive item. It's perfect for storing your sewing notions, supplies, or whatever! Of course I'm sure it's no coincidence that the Jolly Bar from last month's box fits inside the bag perfectly right? LOL!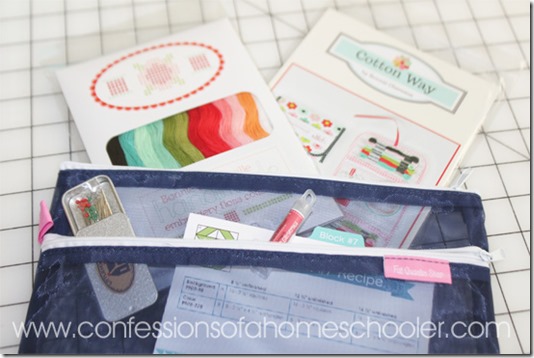 And of course, they always include a new recipe block card, this one is block #7. I'm almost up to enough to create a fun sampler quilt, but they would also make cute quilts all on their own as well. And of course you can use the fabric that comes in the box to create the block, or use some you have at home.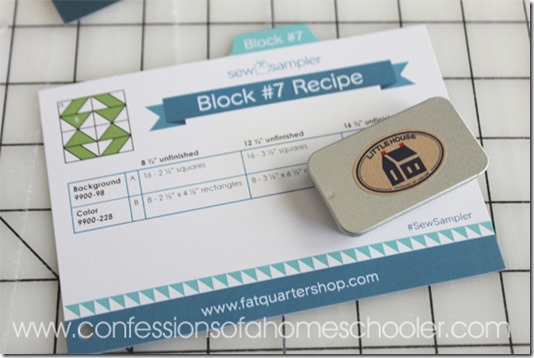 My Thoughts: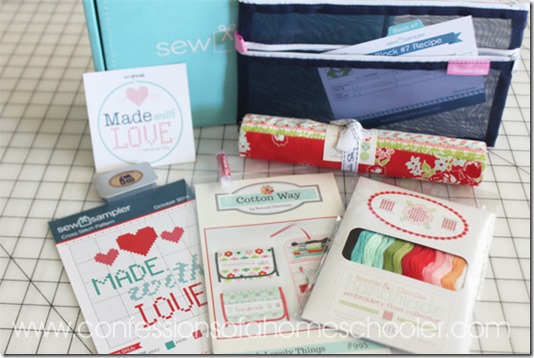 This is my 4th Sew Sampler box and I have to say that I'm usually not that into monthly subscription boxes because you never know what you're going to get. But I've honestly really liked all of the items that I've received in the boxes and Fat Quarter Shop is very generous in what they put in them! I have not been disappointed in a box yet, and I definitely feel like I'm getting my money's worth!
Plus it's fun to get a little happy mail each month too!
Interested in signing up? Click the image below to sign up for your Sew Sampler box too!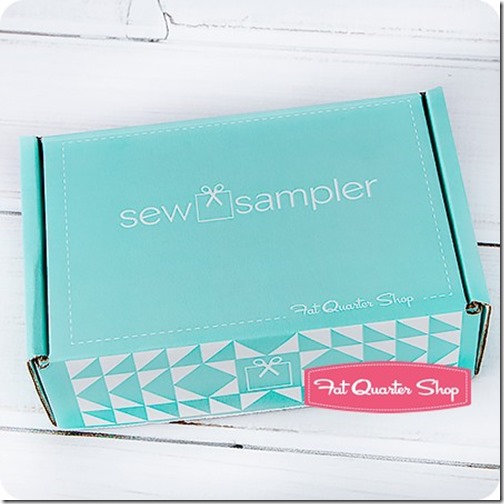 And don't forget to follow Fat Quarter Shop's social media to keep up with all of their fun projects!
Disclosure: I received this box free for review on my blog. The opinions expressed in my post are my own and were not influenced by the company or free product provided.