Hi friends! I have a new Composer Notebooking pages bundle for you today.  This bundle is super flexible to use and ready to go! Just print the pages, and you can use them with any composer unit study you would like to do. Of course it also goes with both of my World's Greatest Composers Vol. 1 and Vol. 2 unit studies as well.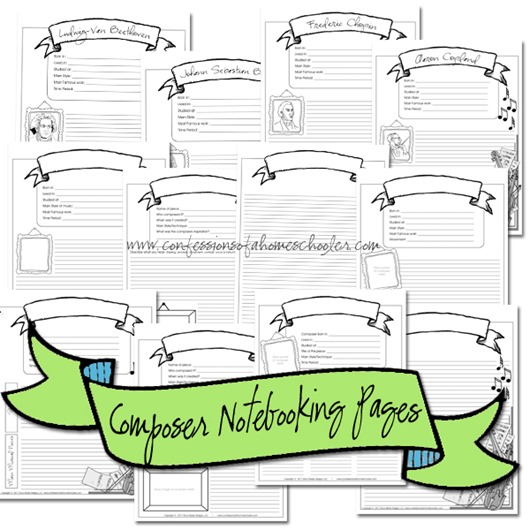 –>> Get the Composers Notebooking Pages Bundle here! <–
There are 21 different composer notebooking pages included in this bundle. They can be used as a supplement to any curriculum you prefer including my World's Greatest Composers 1 & 2 volumes.
The Composer Notebooking Pages Bundle includes:
6 blank composer/piece fact sheets
15 individual composer pages including: Johann Sebastian Bach, Ludwig Van Beethoven, Leonard Bernstein, Frederic Chopin, Aaron Copland, Duke Ellington, George Frederic Handel, Wolfgang Amadeus Mozart, John Philip Sousa, Igor Stravinsky, and Peter Tchaikovsky.
2 blank notes pages to use for any journaling or note taking as needed.
As I mentioned there are several blank pages where students can journal information on individual composers. A few of the pages are totally blank, with just basic information on the composer life facts, the others have a few headers to help students list particular information on each composers style, life, etc.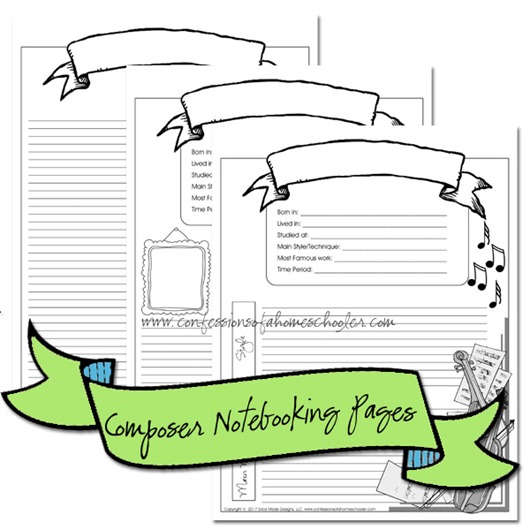 There are also blank artwork pages where students can write information on the composer and a particular piece of work. There are a few bullets to help students write main information along with blank journaling lines where they can write in any information required in their studies.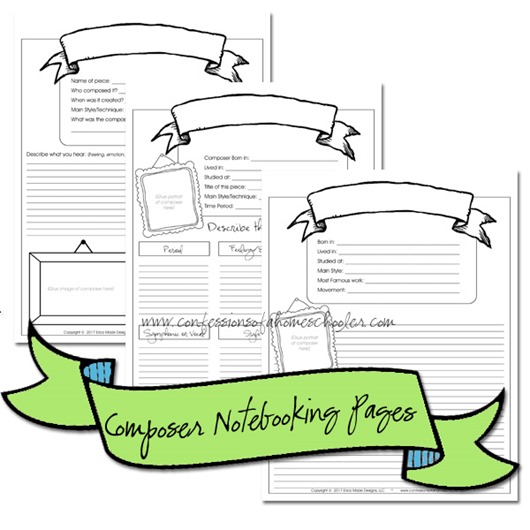 I have also included individual composer pages where students can gather information on the composer listed in the pages. Of course they go along with both of my World's Greatest composer units. I've included some of the more prominent composers which should also fit with other art unit studies that you may be doing, along with individual composer research as well.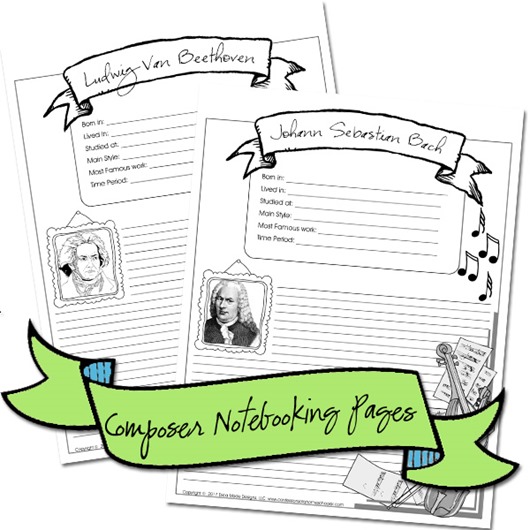 And finally I've added in some blank note taking pages which can really be used with any subject, but they are made to go along with this composer bundle. Students can use them as a second page if the first page of information isn't enough space, or they can be used as plain note taking pages.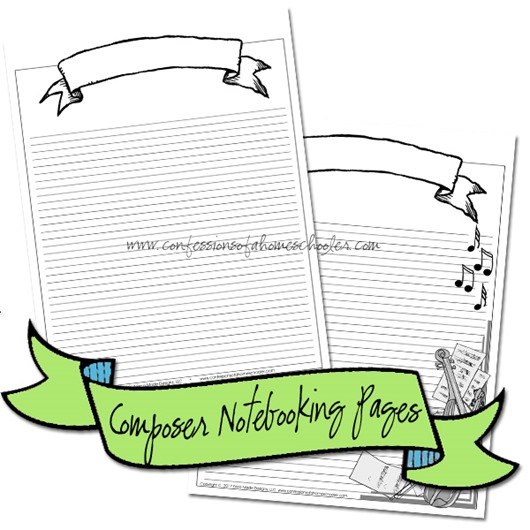 –>> Get the Composers Notebooking Pages Bundle here! <–
I hope you enjoy this bundle, if you have a specific notebooking bundle you are looking for please let me know and I'll see what I can do to create those pages for you.
Happy Notebooking!