Hi friends, it's time for another un-boxing for the Quilter's Candy Box subscription. I'm sorry this one is a little late, for some reason my box came later than normal this month!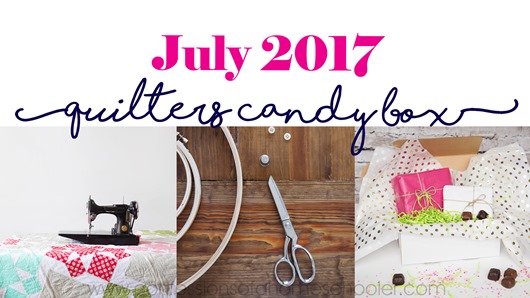 If you're looking for a monthly sewing/quilting subscription box, this is definitely a fun one! The boxes are $46.95/month (plus shipping) and they pack their boxes full of sewing and quilting goodies.
These boxes are unique in that they have a different curator each month who put together a special box of sewing, notions, and a few extra items that you can't get anywhere else.
The boxes ship no later than the 15th of each month, so make sure to sign up before the 11th if you'd like to get in on the next box. If you'd like to get an idea of what they've put in past boxes, you can see them all here!
–>> Ready to see what is in this month's box? Watch my July 2017 Quilter's Candy Box Un-boxing video here!
The July 2017 Quilters Candy Box was curated by All People Quilt and includes…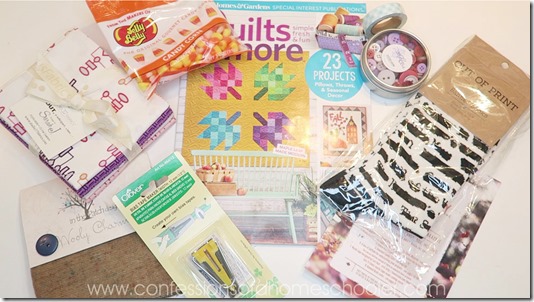 Fall 2017 Edition of All People Quilt Magazine
5 Fat Quarters of 'A Shout, a whisper, a Text' by Sarah Maxwell
Wooly Charm pack
Clover Bias Tape Maker
Gourmet Candy Corn
A Box of buttons for embellishing your projects
Washi Tape by Lori Holt
Banned Book Socks
One of the cool things about the contents of this month's box is that everything correlates with specific projects mentioned in the magazine! The card that comes in the box gives page numbers for all of the projects, even the candy, which is kind of neat!
If you'd like to keep up with their boxes, make sure to check out Quilters Candy Box instagram, they have a lot of fun quilty inspiration over there!
If you're just getting started sewing or quilting, here are a few fun Tutorials to get you started!
Disclosure: Quilter's Candy Box sent me this month's box for review on my channel. The opinions expressed in this video were my own, and were not influenced by the free product or company.