Hi everyone! I have a fun review and giveaway for you today for the new Friends & Heroes Series 2 Bible Curriculum!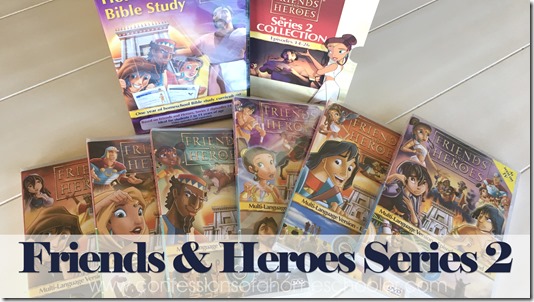 We used the Friends and Heroes DVDs a few years ago, and I still love their curriculum. We've gone through their Homeschool Bible Study Series 1 studies and they just released the Series 2! Unit one covers episodes 1-13 and now Series 2 includes episodes 14-26. The units are geared towards students 7-11 years of age, and they blend visual learning, with hands-on activities to help cover all learning styles.
See my Friends and Heroes Bible Series 1 review here for more information.
Since my youngest is 10 this year, I think the Friends and Heroes DVD will be a fun addition to our Bible study curriculum plans for our year!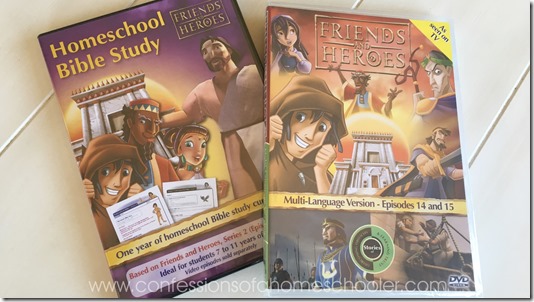 The Series 2 Bible Curriculum includes:
36 weeks of homeschool Bible Curriculum
Each week includes 30 minute to an hour of video viewing (approximately)
Fun interactive lessons that dig deeper into many of the Bibles most important stories
Approximately 10 minute devotional to help apply the themes of the week's Bible study.
Memory Verses
Optional interactive games, puzzles to reinforce each weeks lessons.
CD-ROM printables that can be used with multiple children
Parent's/Teacher's Lesson Guide including answer keys and certificates of completion
Student Workbook of activities
Friends and Heroes DVD containing full length adventure episodes
Multi-Language Version including 10 different languages and subtitles!
Kids will learn to apply God's truth from timeless Bible stories such as Daniel in the Lions' Den, Jesus and the Miraculous Catch of Fish, Ruth and Naomi, Saul on the Road to Damascus, and Jonah and the Big Fish.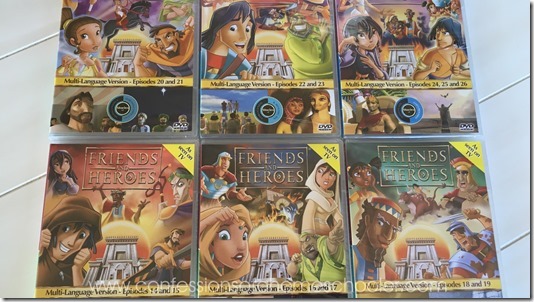 What's the cost?
Cost can vary depending on whether you purchase the entire set, or individual DVDs. Click here for more info on pricing.
Fun Features:
The friends and Heroes site also has a fun interactive children's website at www.friendsandheroes.tv that is loaded with video clips, games, Bible stories, historical background information for the series and downloads! And the best part is it is all FREE!
SPECIAL DISCOUNT!
Friends and Heroes are offering the following discounts to my readers only! The promotion will end August 19, 2018 so make sure to get your orders in before that!
Get the COAH Friends & Heroes Discount here!
10% off purchases of $50 or more
20% off purchase of $125 or more.
I hope you enjoy this curriculum, we're excited to add it to your lessons for our upcoming year!
GIVEAWAY TIME!
Enter to win a $50 Gift Card to the Friends & Heroes website below!