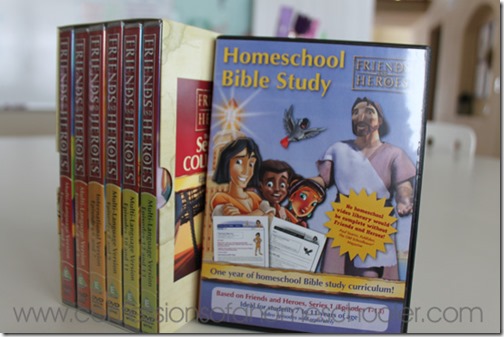 Hi fellow homeschoolers, I have a Friends & Heroes Homeschool Curriculum giveaway for you all. For anyone looking for a new Bible curriculum, now's a great chance to get ahold of a fun and engaging curriculum!
Friends & Heroes has a fun and interactive Series 1 Homeschool Bible Study Curriculum from Friends & Heroes.
We've been doing daily devotionals which we'll continue with, but the kids love watching the DVDs and so we've enjoyed this study as well. I love that it provides a little break from the norm for us. We get out of the school room and head to the family room for a little movie time during school! What? Yep, I didn't get one single complaint from any of my crew when I told them what we were doing for Bible for the rest of the year!
So  far they're loving the videos, and I like them as well. They're very entertaining, and engaging, but also full of information at the same time.
My kids have always loved watching the Friends & Heroes DVDs in the past, and these were no different! They really like that the lessons were based on the videos. After doing worksheets most of their day, a video lesson was a nice break from the norm.
I also love that the videos are of professional quality production, which is awesome. You can click here to check out a video trailer for the curriculum to give you a better idea of what you can expect.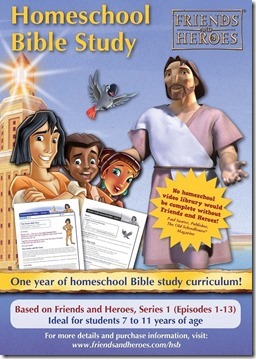 Summer promotions:
Make sure to check out their SUMMER PROMOTIONS going on here for more specials and information! The sales run from July 15, 2017- August 15, 2017.
10% off purchases of $50 or more
20% off purchases of $125 or more
The Series 1 Homeschool Bible Study Includes:
Episodes 1-13 on six multi-language DVDs
36 weeks of homeschool Bible study curriculum
Plus bonus material which includes family activities for Christmas, Valentine's Day and Easter.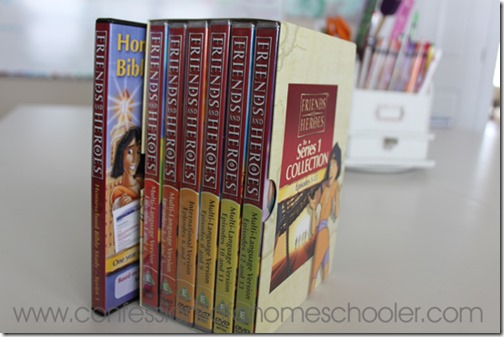 Features of the curriculum:
Each week includes a bible study which are approximately 30 minutes to an hour depending on whether or not you are viewing the video that day.
A 10 minute devotional.
A memory verse
Optional activities including fun interactive games and puzzles.
A teachers guide,
Printable pdf files that you can use with multiple students.
This curriculum is geared towards students 7-11 years in age.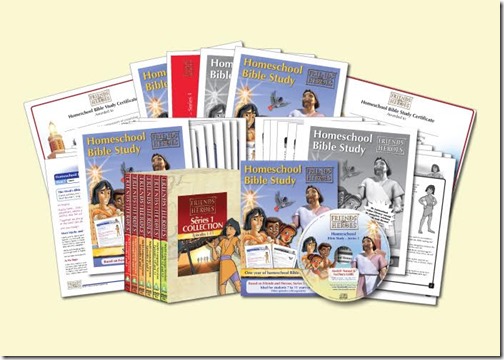 Want more information on Friends and Heroes? You can check out my previous Friends & Heroes review here!
The friends and Heroes website also has a fun interactive children's area at www.friendsandheroes.tv that is loaded with video clips, games, Bible stories, historical background information for the series and downloadable worksheets too. And the best part is it is all FREE!
GIVEAWAY!!!
Friends & Heroes is giving away one month of their Homeschool Bible Curriculum to one of my readers. Enter to win below!