Hi everyone! Today I'm sharing my 3rd Grade Homeschool Lesson Plans with you all!
While some times people prefer to be spontaneous, other times I think it's better to have a plan to follow so things don't get missed or left behind!
Planning ahead is especially important if you're a new homeschooling. Having a good plan will help make your days less chaotic and stressful, while giving you the comfort of knowing you've done everything you need to do on a daily basis. And having a good plan will also allow you to be more flexible when something fun arises!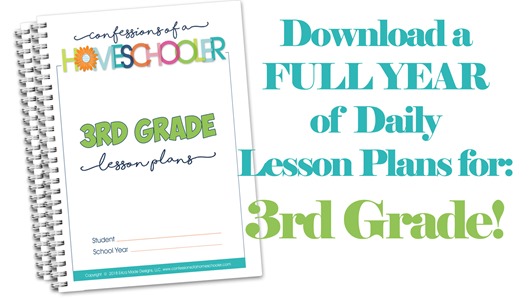 I always get requests for our exact lesson plans for different grade levels, and so I'm so excited to be sharing my homeschool lesson plans with you all!  And YES, I will be releasing lesson plans for more grades coming soon!
I've done all of the hard work of planning and organizing your day for you, all you need to do is print them out and follow along!
These plans use the exact curriculum that we've used for our children, and hopefully they'll be able to help you too! Most importantly I'm hoping my pre-made homeschool lesson plans will help you save time and stress by having all of the planning done for you!
We've been homeschooling for over 11 years now, and as you can imagine we've tried just about everything. I've complied our favorite curriculum in these lesson plans to help make your life a little easier and enjoyable!
What is included?
My daily lesson plans include everything you need to do to complete an entire year of third grade homeschooling including daily assignments for 34 full weeks of homeschool.
The lesson plans include daily learning activities for Art, Bible, English, Handwriting, Math, Phonics, Reading, Science, History, Spelling, Typing and Writing.
I know my exact curriculum may not work for all of you, so I'm also releasing an editable version for those of you who would like to use my lesson plans as a backbone, but be able to edit them to fit your own specific needs as well.
**These plans include main subjects to complete third grade with your student. That said, you'll want to check with your local state homeschooling requirements to make sure you are following their requirements as states can vary.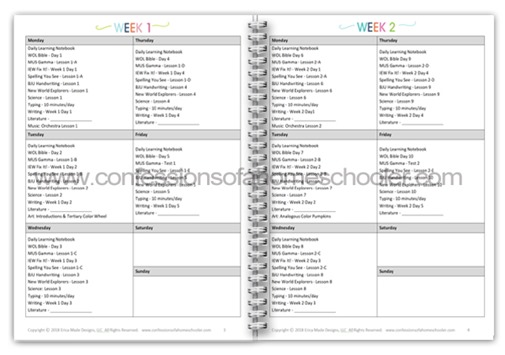 What curriculum is used?
These lesson plans utilize the resources listed below which must be purchased separately. For your convenience I have written them out in daily lesson plan format for ease of use. You can then print the assignment booklets for you and your students to use each day, and just follow along. It's as easy as that!
Note: You will want to keep your curriculum's teacher's manuals handy as a more detailed guide if there are special projects or activities included.
Optional: Daily Learning Notebook (Elementary level cursive version)
Art: Homeschool Art Studio DVD Grade 3 and How to Teach Art Part 2
English/Grammar: IEW Fix It Grammar (The Nose Tree Book 1)
Handwriting: BJU Cursive Handwriting 3
History: Time Travelers U.S. History Study: **New World Explorers, Colonial Life, The American Revolution, The Early 19th Century, The Civil War, The Industrial Revolution through the Great Depression. **NOTE: I have scheduled history 5 times/week which may be a bit too much for younger students. If you find that is too much I suggest doing history M/W/F or T/TH and spreading out the lessons accordingly. If you do MWF you will get through the first four units listed, if you do T/TH you will only get through two. I also suggest choosing the activities that suit you best rather than trying to do every single activity they provide.)
Literature: Classical Literature Units (NOTE: You should plan to get through 5-6 books during the course of the year. I have left the Literature assignment blank so you can pick books that suit your child best. I suggest reading one chapter per day. If that's too much for them, you can do a chapter every other day, or even one chapter per week. Feel free to adjust this to fit your child's needs best.)
Reading Comprehension: Abeka Read and Think Skills 3
Math: Math U See Gamma
Science/Health: Abeka 3rd Grade
Spelling: Spelling You See Level E
Typing: Typing Web (I suggest students go through the lessons in order. Set a timer for 10 minutes and they type until they're done.)
Writing: Institute for Excellence in Writing Group A SWI (Group A Student Writing Intensive)
Tips for use:
I suggest printing the lesson plans, then having them spiral bound at an office supply store. Then students can highlight activities as they're completed. You can also print a copy for yourself if you would like!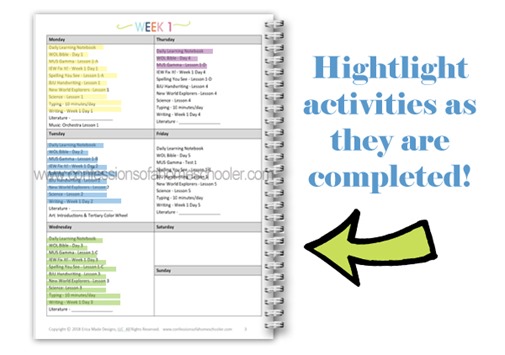 –>> Get my COMPLETE 3rd GRADE HOMESCHOOL DAILY LESSON PLANS here!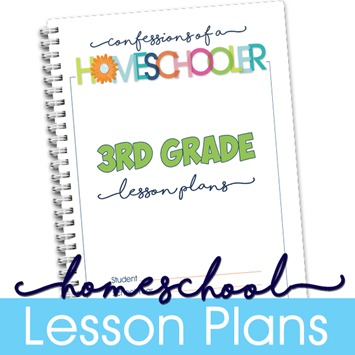 **PLEASE NOTE: These plans include main subjects to complete 3rd grade level work with your student. That said, you'll want to check with your local state homeschooling requirements to make sure you are following their requirements as states can vary.