Hey guys, it's time for my annual Homeschool Curriculum Sale!! Our school year has just ended, which means it's time to plan ahead for next year! I'm busy gathering curriculum, planning, and getting things ready to go for our 12th year of homeschooling!
And just to say a big thank you to all of my subscribers, this week is our annual store wide SALE!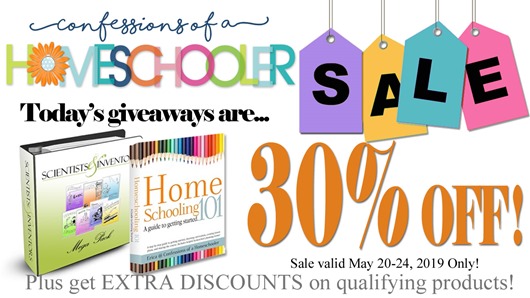 NOTE: I only do this sale once a year, so if you've been waiting to get something, now is the time. The sale prices are only valid from May 20-24, 2019 so make sure to get your orders in during that time. I will not be extending the sale.
How do I get the discount?
It's simple! I've just marked everything in my store at 30% off, plus you'll get an additional discount if you purchase 2 or more qualifying items totaling up to 40% off. Please NOTE: My eCourses and Amazon books are not included in this sale, sorry!
TODAY'S FEATURED PRODUCTS:
Homeschooling 101: For those of you new to my site, or to homeschooling I wrote a book called Homeschooling 101 that will help answer all of your questions on how to get started homeschooling, choosing curriculum, creating lesson plans, and more! For more information on homeschooling check out my Homeschooling 101: A guide to getting started!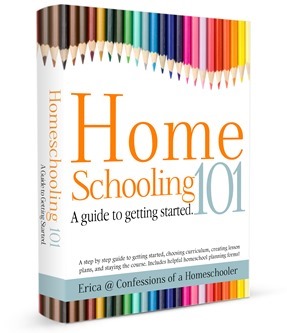 World's Greatest Scientists Vol. 1: This series is all about famous Scientists & Inventors! As usual each study includes fun hands-on activities to go along with the unit to help students remember what they've learned, and also provide them with a fun reference too to review and recall each person they've learned about.
Each of my scientist & inventor unit studies contains educational lessons, activities and a fun lap book that your students will work on as they progress through the study. The lessons also include book reports, vocabulary, character traits of these important figures, major inventions and contributions, as well as some critical thinking skills. Units can be purchased individually or as a Scientist & Inventor Mega Pack. These studies are geared towards grades Kindergarten-4th, but can easily be adapted for older students as well.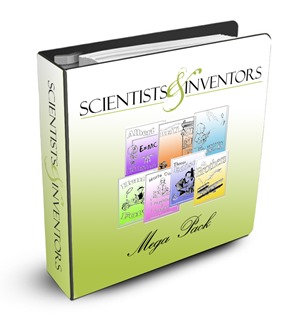 Scientists and Inventors included in the combo pack:
Albert Einstein
Alexander Graham Bell
Benjamin Franklin
Henry Ford
Marie Curie
Thomas Edison
The Wright Brothers
Visit the Confessions Store to see all the goodies on sale!
This sale is valid from May 20-24, 2019 ONLY!!

I apologize to anyone who has purchased prior to today or who may miss this sale, unfortunately the sale prices are only effective for purchases made during the week of May 20-24, 2019 ONLY.
WIN IT!
Today I'm giving away one copy of my Homeschooling 101 eBook download, and
one copy of my World's Greatest Scientists & Inventors curriculum!
Winner chooses which volume they want!
Enter below to win!
CAN'T WAIT?
Feel free to purchase this product during the sale so you can get the discount, and I'll refund your cost if you win!