Hi everyone! I'm back with a new video in my beginner friendly How to Knit series! Today I'll be showing you how to do the KNIT STITCH. Today we'll be focusing on the English style version of this stitch which is fairly common. And in the next video I'll show you how to do the same stitch using Continental Style. Both ways are very beginner friendly and work well for almost any project!
Keep in mind there are a variety of ways to do the knit stitch, this is how I learned when I first started, so hopefully it will help you out as well!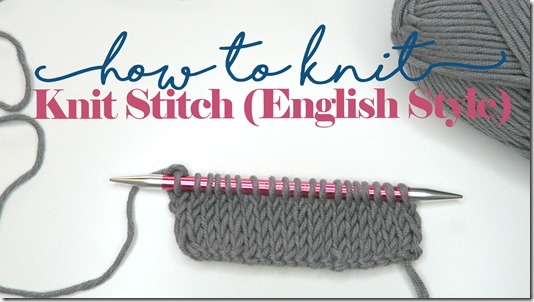 Ready to get started?
Watch my How to Knit: The Knit Stitch (English Style) video tutorial here!
Supplies mentioned in the video:
And that's it, as you can see the knit stitch is super easy. Practice this stitch as much as you like and then we'll meet back up here for the next video in my series!
Stay tuned for more How to Knit videos coming soon! If you have a knitting skill you'd like a video tutorial on, make sure to leave a comment below!
Thanks for joining me today and happy knitting!