We are trying a new science curriculum this year, and I'm so excited to share it with you! It's called Science Shepherd and they offer several video based homeschool science subjects perfect for younger students, elementary, middle school, and high school!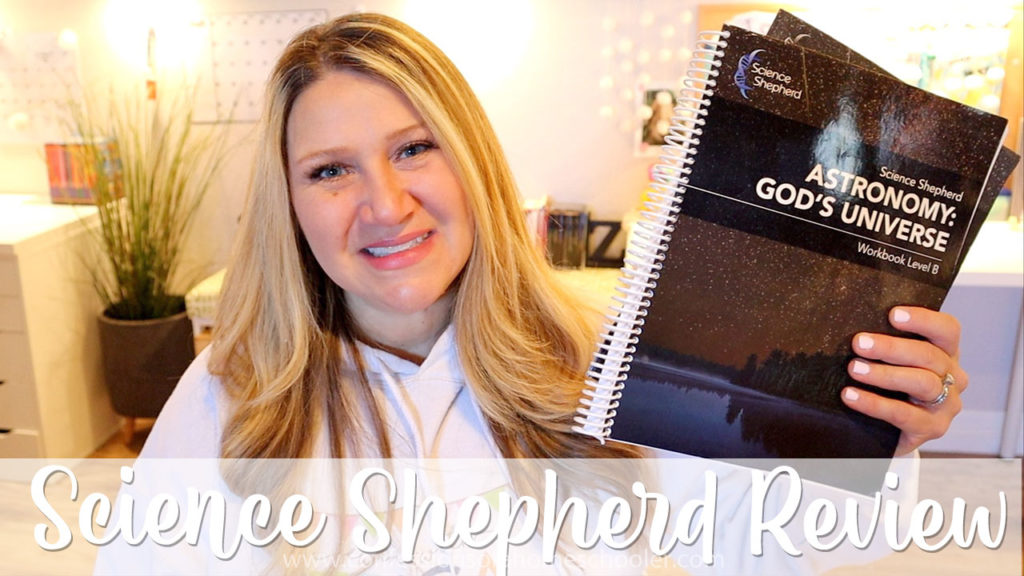 Watch our Science Shepherd Homeschool Curriculum Review
We are loving Science Shepherd, it has been so much fun, and my daughter looks forward to doing science now. It is a video based curriculum, and is laid out by week including 3-4 lessons per week.
Science Shepherd offers a variety of video based courses. We are doing Astronomy this year, and my daughter is loving it.
The Astronomy course has 106 lessons in it, and includes a student workbook and extra activities to go along with the lesson. When you log in to your course, you simply click the course lesson, and your video starts. It's very easy for my daughter to navigate on her own, and the layout makes it very clear what she will be doing each day.
The course comes with a student workbook which includes guided notes that your student will fill out as they go through the video. I also have my daughter take her own notes in a spiral binder for even more practice. She writes down anything else that she thinks is important during the video lesson. I love this because it is teaching her how to listen to the lectures, and take notes as she goes. This is a very important skill for future!
Another cool thing is that Homeschool Planet, our lesson planning software, offers pre-made lesson plans for the Science Shepherd units which makes planning a breeze!
Overall we are enjoying Science Shepherd, the lessons are thorogouh and entertaining. We definitely plan on continuing through more of their units in the future!
If you have any questions, please let me know in the comments and I'll be happy to answer anything else you are curious about!