Back by popular demand is my newly updated 2013-2014 Preschool Daily Learning Notebook! I created this last year for the Teeny Tot and since she's not quite ready for the Elementary Level Daily Learning Notebook,  I made an updated one for the 2013-2014 school  year.
**The updates are only to the calendar pages where they trace what day it is, and I added in the year at the top of the calendar as well, so if you already have this, you might want to just print the calendar pages to save on ink!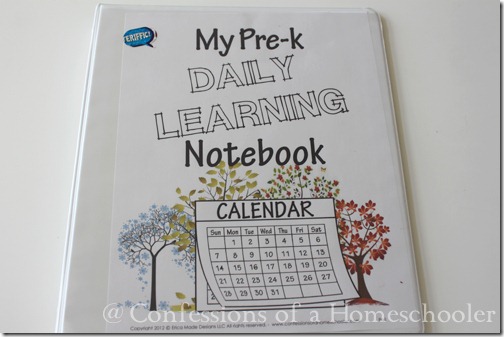 Supplies:
1" 3-ring Binder
3 divider tabs for numbers, letters, and shapes
4 page protectors
Expo Dry-erase markers (variety of colors)
Outdoor thermometer

Directions: Print pages 4-92 on regular copy paper. Place pages 4-11 in page protectors back to back so that these pages can be used with expo dry-erase markers and re-used. Next place the remaining pages in order in your binder. Have students use crayons, pencils, or markers to complete each day as directed in the download. (More specific instructions included in download!)
The Preschool Daily Learning Notebook includes:
What day is it?
Find today's number
Write today's number
Write today's number word (I don't always require her to do this, but added it for days when she's on days 1-10)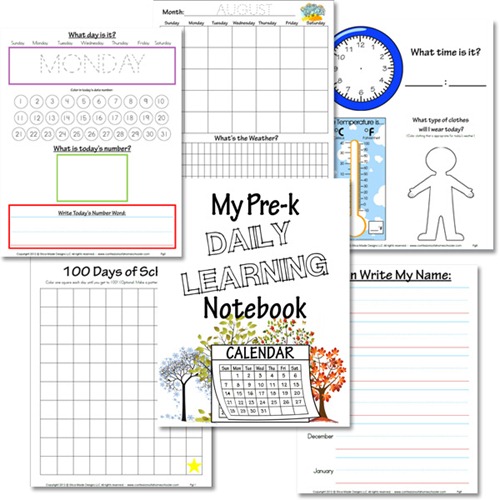 I made a printable for each weekday, Monday through Friday, with traceable days on it for preschoolers. On this page she'll trace the weekday, find today's number and color in the circle. Trace the number (I write this in with pencil for her to trace), and then write the number word for the day. Right now I only have her do this when we're on days one-ten.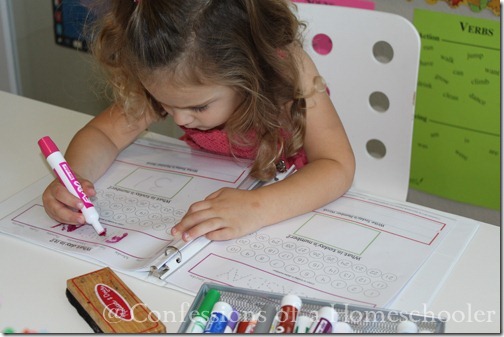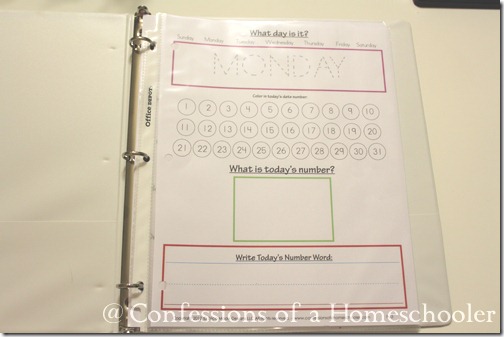 I think her favorite activity is finding the temperature. (We have a simple thermometer right outside our front door that she checks.) Then she comes in and colors a weather appropriate outfit on her paper doll.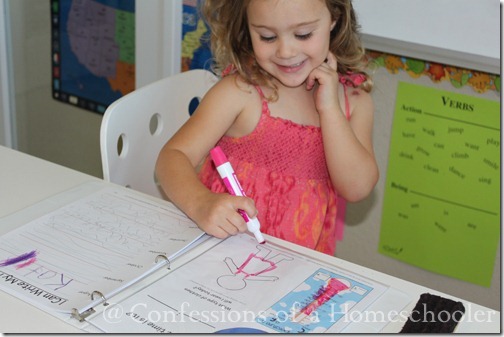 It also covers:
What time is it?
What temperature is it?
What would I wear for this temperature?
I can write my name (monthly name writing practice)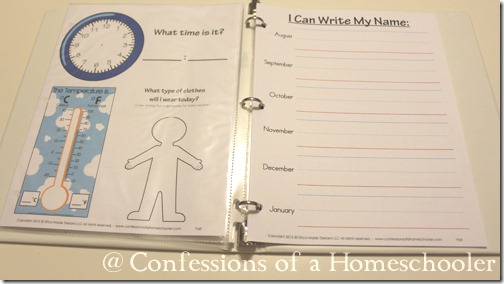 Each month Teeny Tot will trace the month name, then write in one number per day to fill in the calendar for each month. She'll also color in a box for the weather. I only went to 25 on this because I figure most of us only do about 20 days per month, so I gave a few more just for you hard core homeschoolers out there! NOTE: Since she's not ready to write the numbers on her own, I wrote them in dashed font for her to trace.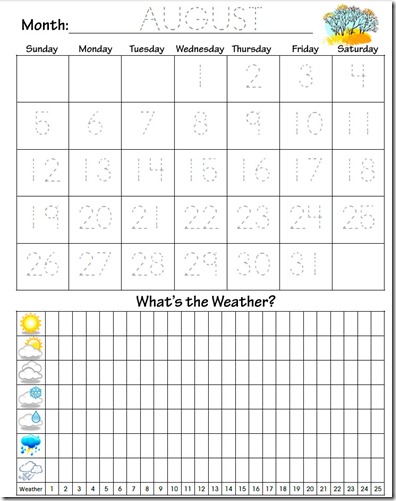 She'll also color in one box for each day we're in school until we get to 100! Uhem…She apparently misunderstood when I said color in ONE square…so I'll be  re-printing and we'll try this one again!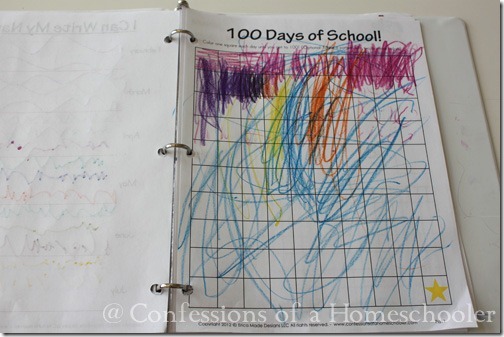 I also added numbers, shapes, and letters to her pack. To help make them easier to find, I put in colored divider tabs so she can flip to the correct spot.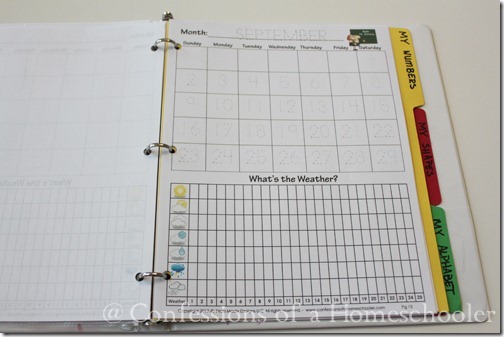 For the numbers I put lightly colored dots on each one, I plan to have her put a sticker for each dot on the numbers, then trace the number word. But you can also have them color the shape, or glue the correct amount of objects to it as well.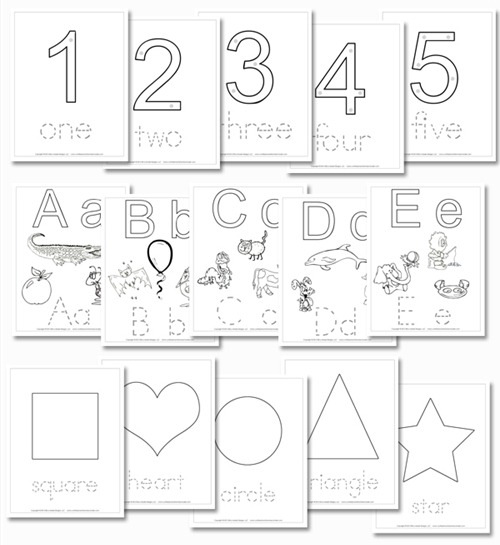 –> Download the 2013-14 Preschool Daily Learning Notebook <–-
MAC USERS:  I've had a couple people saying they've had the same issues downloading the file if they're on a MAC. I've been told if you use Google Chrome it should work. Others said they needed to make Adobe Reader their default program for opening PDF files so that the file opens in Adobe and not Safari. Safari opens files in preview mode and then doesn't show all of the data properly. Hope that helps!
Click the links below to download: