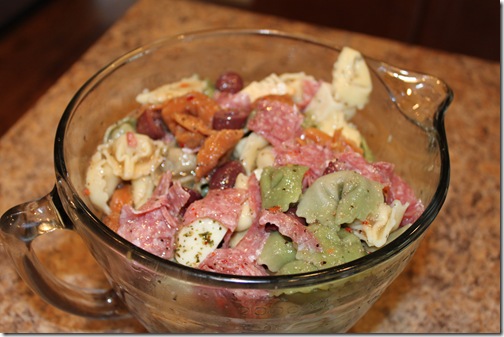 Hi everyone! I wanted to share a super quick and easy summer salad recipe. As a homeschooling mom I rely on things that are fast and easy when it comes to food, and this yummy salad fits the bill!
Ready to try it yourself? Seriously, this is so easy you're going to thank me!
Ingredients:
Tri-Colored Tortellini (I found mine in the frozen food section)
1 jar Kalamata Olives (The pitted kind, unless you're bored and feel like pitting olives.)
10 slices Hard Genoa Salami, chopped into 1" pieces (I just got sandwich slices, then chopped it, but if you can find a chunk and cube it that's even better)
1 pkg fresh mozzarella cheese, cubed (Can substitute Feta Cheese crumbles if you want too!)
Good Seasons Italian Dressing, prepared (Needs vinegar, water and Vegetable Oil)
Some Optional additions we like: pepperoncini, artichoke hearts, black olives, diced red onion
Directions:
Now comes the easy part!
Step 1: Cook tortellini according to packaged instructions, rinse with cold water to cool.
Step 2: Toss all ingredients in a bowl and drizzle with Italian Dressing.
Step 3: Serve!
Now really, it's that easy! And I have to say that everyone LOVES this salad. It's great as a side dish to just about any summer dinner you can think of…grilled chicken, steak, Shish-ka-bobs, pork chops…you name it!
Hope you enjoy this recipe, leave a comment letting me know how it goes if you try it out!