Welcome to our World's Greatest Artist study on Van Gogh!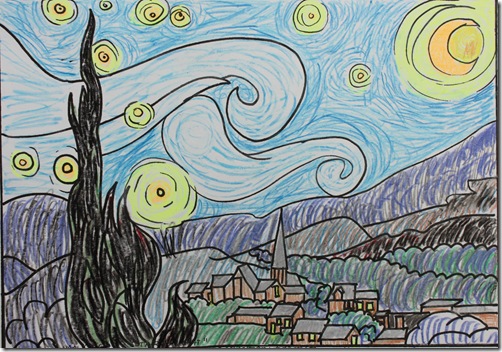 Vincent Van Gogh was born in 1853 in the southern Netherlands. He had many jobs, but was most noted for his work as a Dutch post-impressionist painter. He was known for the emotional impact created by the use of brush stroke and intense color in his art work. Van Gogh's thoughts on art are recorded in hundreds of letters he exchanged with his brother Theo, an art dealer. It was not until after his death in 1890 that his works became famous. Today he is widely regarded as one of history's greatest painters and important contributor of modern art.
This year for art, we are going to study 8 different world famous artists. We have chosen to do art twice a week, and we'll cover one artist each month. We're currently using my World's Greatest Artists Vol. 1 curriculum!
We took a few lessons to read through the Vincent Van Gogh World's Greatest Artist series by Mike Venezia.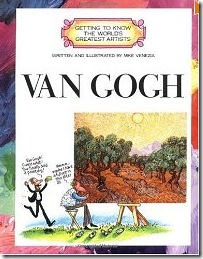 Then we went back through and studied each of his art pieces individually. We discussed color, and technique along with style and mood. We also did a puzzle of The Starry Night (Avail. in my artist study download above).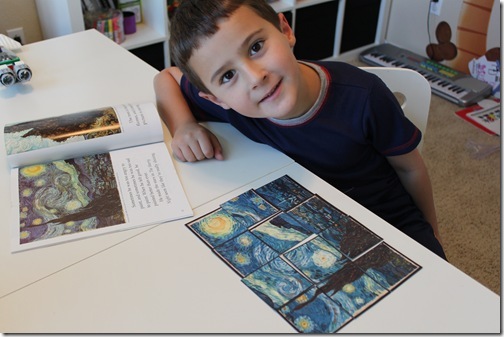 Once we took some time to go over The Starry Night, we decided to take our turn at trying to emulate Van Gogh's style ourselves. Since this was a fairly detailed painting I downloaded the Van Gogh Starry Night Outline from the Practical Pages blog, it was quite helpful for the kids to be able to focus on technique instead of trying to also figure out how to replicate the image as well.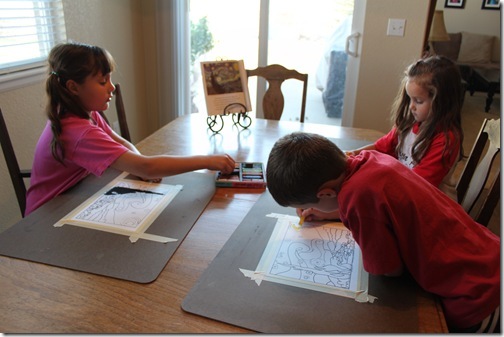 We used crayon (for resist purposes) and water color pencils. (If you haven't tried these, do! They're so fun, you can color your picture then go over it with a water wash and the pencils blend together like water color paints…very cool!)
Here was our finished painting. The moon, stars and trees were done using crayon, then the rest was the water-color pencils. The water wash blends the pencils, but is resisted by the crayon providing a fairly cool effect. They definitely got to see how tedious all those little strokes that you can see in Van Gogh's art can be! It must have taken great patience to paint using this technique.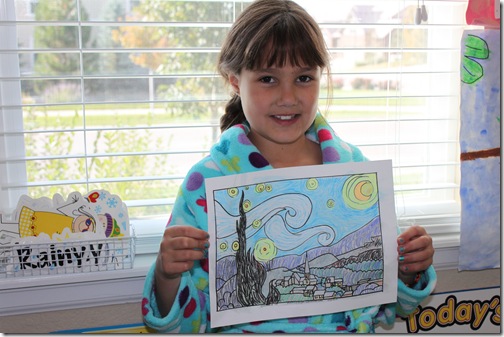 After that we filled in our artist flash-card then added it to our lap book for safe keeping. We'll review these flashcards as we go.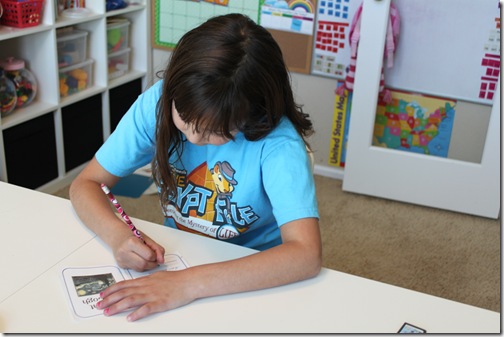 We also added all the artwork to our Van Gogh mini-book then put that in our lap book as well.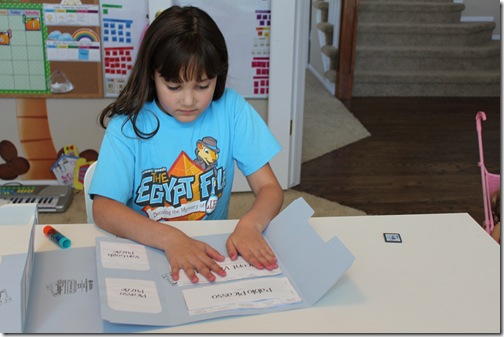 After reviewing all of Van Gogh's pieces in the World's Greatest Artist series, we did our own free-form painting. I told the kids they could paint whatever they wanted as long as they used a technique they learned over the course of the month. They all wanted to try to copy the Sunflowers painting, so we went for it. I was particularly amazed at their ability to blend the paints I provided them with into colors similar to the ones in Van Gogh's work. They were given the colors below to work with…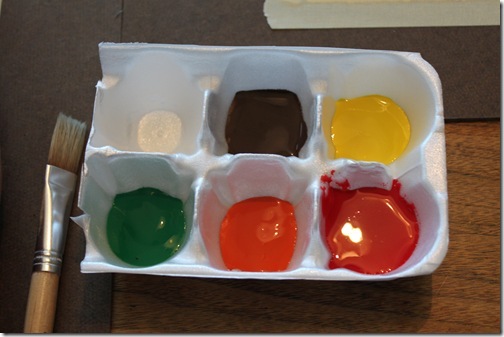 We also brought our book in so they could see the Sunflowers painting as they were working. First they sketched their idea on the paper, then they were allowed to paint it.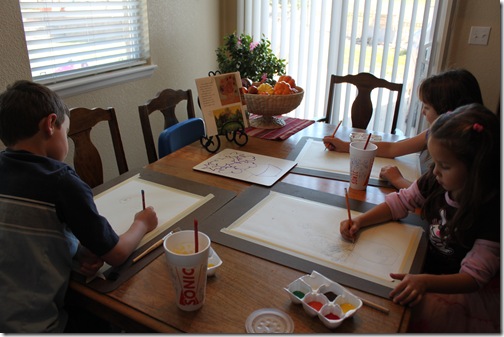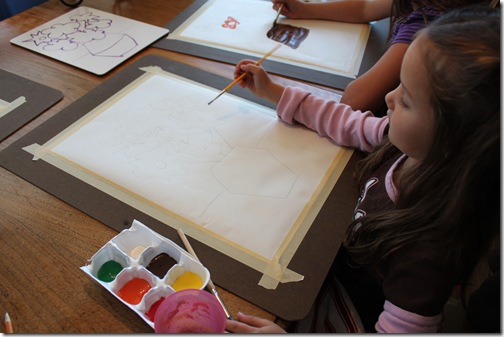 I was happy to see Turbo enjoying this process. He's a great color-mixer, and I loved seeing how he came up with his mixes.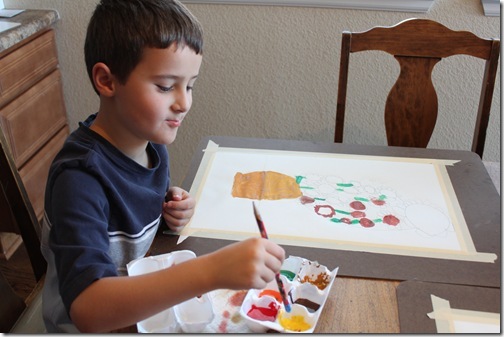 Tinker Bell was very careful in her work, being she's only 5 I was impressed with her patience and attention to detail in this activity.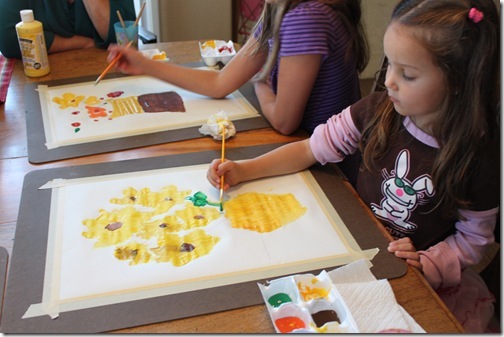 Here are our finished pieces. I think they did a great job overall!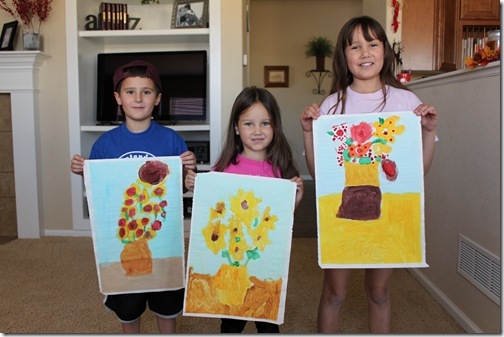 And that wraps up our study of Van Gogh! Up next we're getting into works of Jackson Pollock next month! I'm sure paint will be a flyin'!
If you'd like to join us in our World's Greatest Artists Vol. 1 study, just click on the image below!