In honor of Black Friday, I thought I'd put up a special little surprise for you all today! I have a great stocking stuffer giveaway Pick and Draw! It continues to be a favorite in our home. If you haven't heard about this yet, keep reading, I'm sure you're kids will love it too!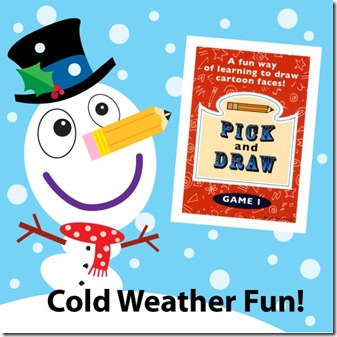 About the Game
Pick and Draw is a fun, one-of-a-kind drawing game that teaches you how to make very creative cartoon faces. It can be played by one or more people, and is an excellent way to encourage creative thinking skills. This game is so much fun and encouraging for everyone, even my children who seem reluctant to try drawing. As you can see the cards are easy, fun shapes:
The game:
A good quality deck of cards with a sturdy plastic carrying case
60,000 different drawing possibilities in the deck
The cards use basic shapes that anyone can draw
Can be one player or multiple
It is easy to play: just pick a card from each pile and draw it!
All you need is the deck of cards, a pencil and paper
It only costs $10!
It's great for boosting drawing skills and creativity!
We always have so much fun playing this game, it is super easy, and with all the different combination's it was fun too!
Each game comes with instruction cards, suggestions, drawing tips, and a personal message from Rich:
"I have made this Pick and Draw game so tat you and I can draw together. I want it to be fun for you and I think you will be surprised how well you can draw. Your ability to create is a gift from God. So grab your paper and pencil and let's draw!"
Rich also encourages you to name your characters and tell information about them such as what they like to do for fun. Its a great creative outlet that reaches children in such an effective way!
Here are some of our results:
About Rich Davis:
The game was developed to be used for all ages at public libraries and schools. Rich wanted to help people unlock new pathways of visual thinking, empower them, and to do it in an unsuspecting fun way.
According to Rich, he developed the Pick And Draw Game "to help kids open up their creativity that God has placed in them and to build enough confidence for whatever the next creative-growth-step will be for each person."
Rich is also a children's book illustrator, if you've read any of the "Puffin Readers" you have seen his work!
"My Inspiration for creating art lives inside me….the Creator of the Universe, Jesus Christ. I am not ashamed to state that…He is reality for me, not a concept."
Where you can find Rich:
Children's Books
Squiggle Fly
CAN'T WAIT? Visit Pick And Draw  to get your game today!
READY TO WIN? Rich is offering 3 FREE Pick and Draw Games to giveaway to my readers!

Mandatory Entry:
Simply leave a comment below letting me know why you'd like to win.
Additional Optional Entries: (not required to win, leave a separate comment on this post for each additional entry)
LikePick and Draw on Facebook
Follow Confessions on Twitter
Tweet about this giveaway, feel free to copy the text below:
Enter to win a Free Pick and Draw game from @ericahomeschool! Enter thru 12/2/11! /?p=5479
Nitty Gritty Giveaway Details:
The give away will be open until midnight EST Friday December 2, 2011. Winner will be announced by Monday December 5, 2011.

Make sure to leave a separate comment for each entry, winner will be chosen at random!

This giveaway is offered to US residents only!

This promotion is in no way sponsored, endorsed or administered by, or associated with, Facebook.

NOTE: In order to enter the contest you must leave a comment on THIS post. To leave a comment scroll to the bottom of the post and click "Post a comment" (If you are reading this via RSS, you will need to visit my actual blog to post a comment.)
Disclosure: I received a free game for review on my blog. The opinions I have given are mine and may differ from others but were not influenced by the company or the free product provided.