Welcome to our Road Trip USA post! This week we traveled to Pennsylvania!  We started off our time by reviewing all of the states we've learned so far, then locating our new state on the map.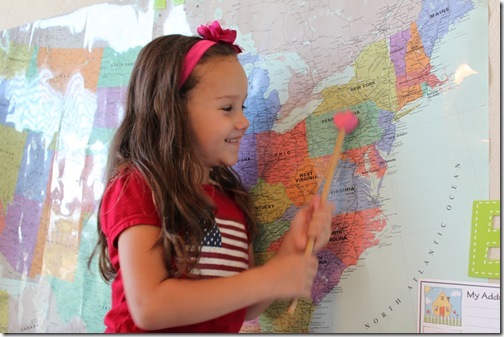 Here are some of the things we covered this week:
Located Harrisburg, PA on our Wall Map
State Capital: Harrisburg
State Bird: The Ruffed Grouse
State Flower: The Mountain Laurel
State Insect: The Firefly, we also learned about bioluminescence.
Famous People: Betsy Ross
US Presidents: James Buchanan, the 15th President of the United States.
Landmarks: Hershey's Chocolate Company
Learned about the Declaration of Independence signed in PA on July 4, 1776
Sang our 50 States Song
Food: We had some yummy Philadelphia Cheese Steak Sandwiches!
Learned about The Liberty Bell and did a Liberty Bell kids craft.
We finished up our time by reading "If You Were There When They Signed the Constitution".
Of course we start each state off by adding the flag to our Travel Log: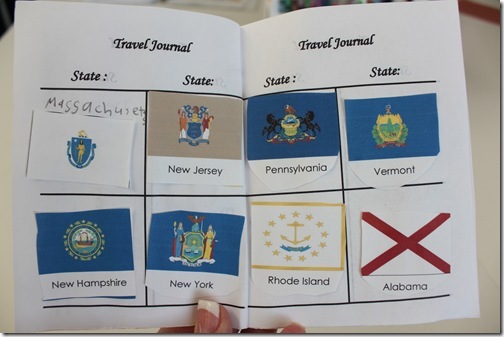 The kids are really doing great with our 50 states song, we only have 2 more verses to learn and we'll have the whole thing down pat. Since it's such a long song, we took it one verse at a time to help make it easier for them. I'll put up a video once we get the whole song down.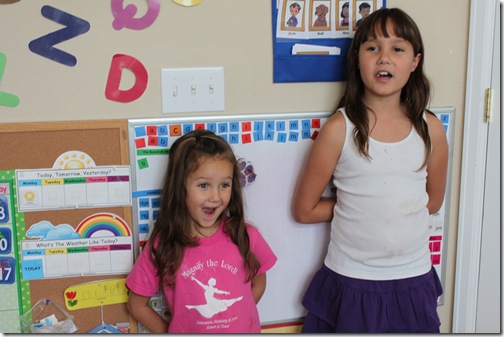 Worked on our Pennsylvania coloring page and learned all about the state symbols.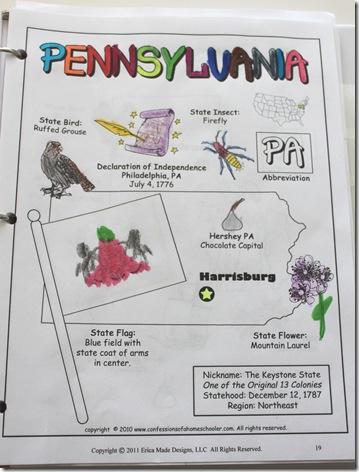 Of course since Pennsylvania is the Hershey capital of the world, we had to have some yummy Hershey's kisses! Actually my curriculum said to make those awesome peanut butter kiss cookies, but sadly the kisses didn't last that long!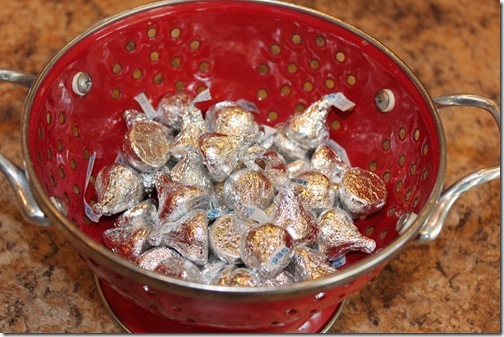 Next added Pennsylvania to our mini-US poster.
We learned a little about Betsy Ross who was born in Philadelphia, Pennsylvania. Since she was known for making the first American Flag for George Washington during the American Revolution. We made our own version out of red, blue, and white construction paper.
We read all about Pennsylvania, then practiced our mapping skills by using the map key to locate various spots in PA, including the capital.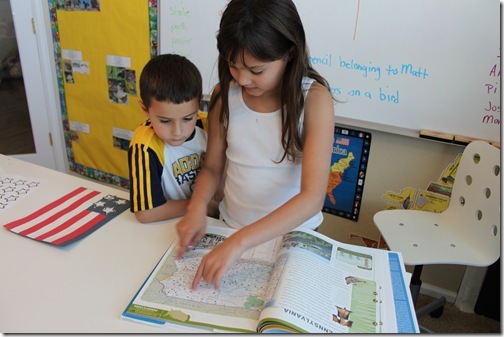 We also added our Pennsylvania state section to our bulletin board.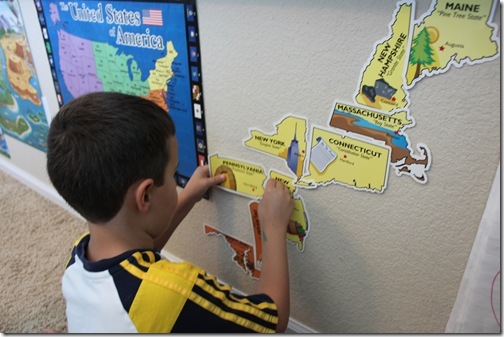 Liberty Bell Craft: Lastly, we did a cute little liberty bell kids craft. I kind of pulled this one together, but it got the point across!  We used some brown construction paper for the top, then wrapped foil around a plastic cup. We added a jingle bell in the center with a pipe cleaner and ran a hole between the cup and brown construction tube to secure it. We wrote the name "LIBERTY" on the top and added in a crack with a sharpie!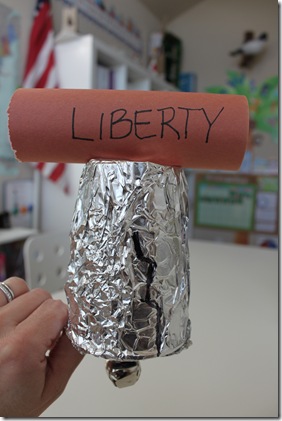 And that wraps up our New York study! If you'd like to come along with us on our Road Trip USA journey, click the image below to learn more!