I've had a lot of questions on how to keep your toddler busy while you're doing school. I've found that giving our Teeny Tot her own workboxes was really the key to keeping her occupied. She just turned 3, and her motivation right now is to feel like she's doing the same thing that the big kids are doing.
Here are some of the items in the Teeny Tot's workboxes today: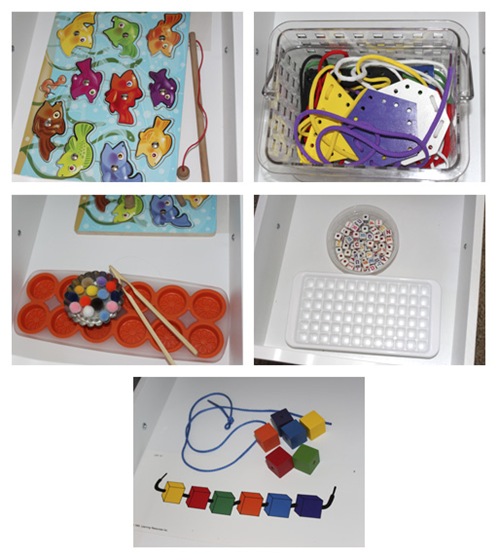 Wooden Fish Puzzle (I couldn't find the exact one, but this is close)
Ice cube tray from Bed, Bath & Beyond, bamboo toast tongs, and pom-poms
ABC lacing beads from JoAnn's craft store, small ice cube tray from Bed, Bath & Beyond.
And here are some of the items in action. These are our Beads & Pattern Cards from Learning Resources. When she first started, I had her practice lacing the beads, now that she's 3 I gave her a card and had her match the pattern on it.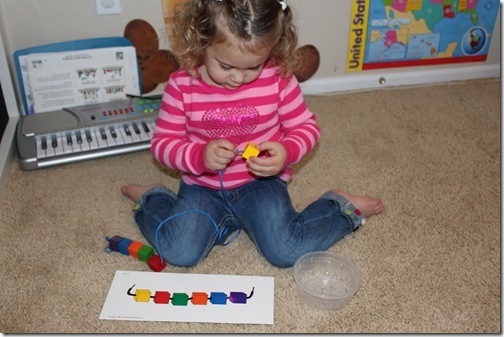 Another thing that really helps keep her occupied is reading time. Quite often Strawberry Shortcake will read to the Teeny Tot. She loves it, and it benefits everyone!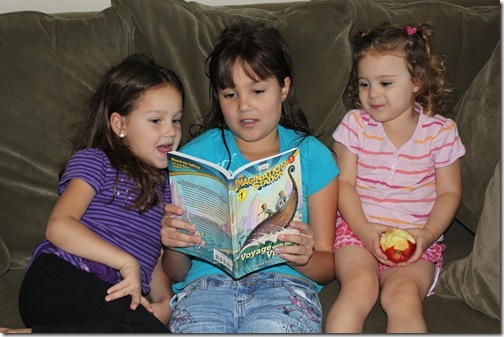 This is a game called Tangoes Jr.. It's great for younger kids, it comes with 7 large magnetic game pieces and 12 double sided puzzle cards. The pieces are magnetic so they don't slide around.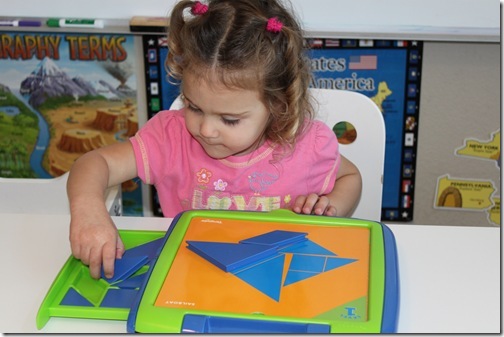 This is one of our Hot Dots Jr. alphabet packs and Ace the talking dog pen. The Teeny Tot loves the little sounds that the pen makes. I would tell her the name of the letter and have her click on the matching lowercase dot.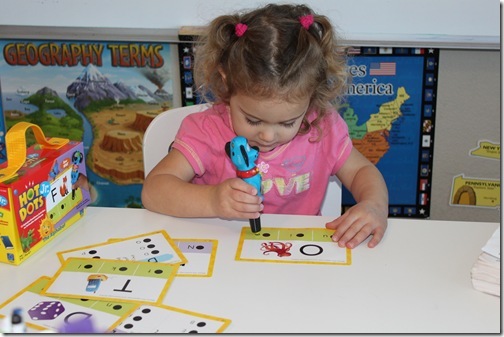 These are one of our favorites. They're called Kumon ABC's write and wipe. These cards are uppercase, but they also sell lowercase and numbers too. You use them with dry-erase markers and though you can't see it in the picture, there are light dotted lines to trace.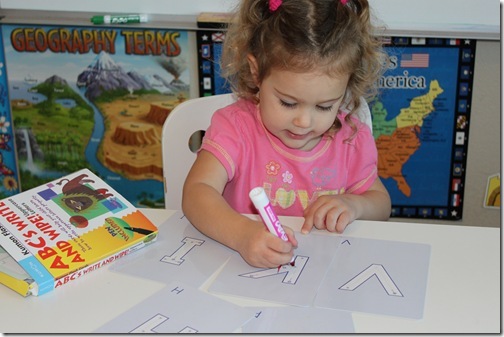 I hope that helps give you some ideas to keep your toddler busy. If you have any to share, please feel free to leave a comment!
Stay tuned next week for Teeny Tot Tuesday!