Welcome to week 6 of our Ephesians Study! I hope you are all persevering in your study and taking some time each day to soak in God's Word and see what He has for you! No matter how many times I read Ephesians I always walk away blessed and encouraged and that is my prayer for you all as well!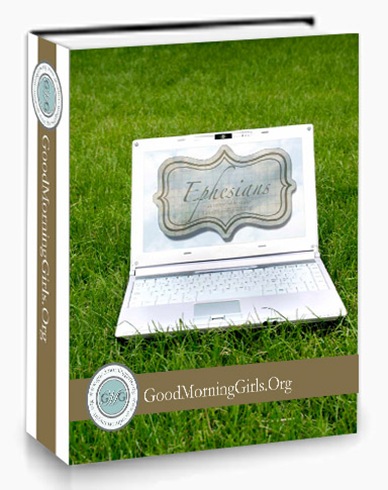 In our reading this week Paul prayer for us as believers is so powerful! Paul is humbly asking of God spiritual blessings for his brothers and sisters in Christ, the Ephesians. These blessings are something that can be prayed for by everyone of us, both for ourselves, and for others around us. We too can seek to be rooted and grounded in His love, and ask for strength from the Spirit of God in our inner most parts, strength of the soul, strength of faith, strength to serve and persevere through our calling as Christians, husbands/wives, fathers/mothers, sons/daughters, and friends.
Having Christ dwell in our hearts drastically changes our outlook, our priorities, and places our focus on the eternal. Trying to comprehend the immeasurable dimensions of God's riches in Christ is just too much for me to understand. The closest thing I can come to here on earth for understanding Christ's love for me is the love I feel for my children.
As a mother, and wife, all this talk of spiritual blessings doesn't end with me. My family is immediately brought to my forefront thoughts. And my charge as a mother is to impart these things into the hearts of my children.
Something we recently shared with our children during our family devotion time was Proverbs 4:1-13.
Hear, my children, the instruction of a father, and give attention to know understanding; 2 For I give you good doctrine: Do not forsake my law.3 When I was my father's son, tender and the only one in the sight of my mother, 4 he also taught me, and said to me: "Let your heart retain my words; Keep my commands, and live. 5 Get wisdom! Get understanding! Do not forget, nor turn away from the words of my mouth. 6 Do not forsake her, and she will preserve you; Love her, and she will keep you. 7 Wisdom is the principal thing; Therefore get wisdom. And in all your getting, get understanding. 8 Exalt her, and she will promote you; She will bring you honor, when you  embrace her. 9 She will place on your head an ornament of grace; A crown of glory she will deliver to you."  10 Hear, my son, and receive my  sayings, And the years of your life will be many. 11 I have taught you in the way of wisdom; I have led you in right paths. 12 When you walk, your steps will not be hindered, And when you run, you will not stumble. 13 Take firm hold of instruction, do not let go; Keep her, for she is your life.
Just as King David passed on wisdom to Solomon, and Solomon passed it on to his sons, so are we to pass on knowledge to our own children. I know you've all read it before, but as homeschoolers it's never been more important to remember our calling. We are to show our children God's path, and His way of wisdom. We need to be Godly examples in our home, and in the Word daily with our children.
"And these words which I command you today shall be in your heart. You shall teach them diligently to your children, and shall talk of them when you sit in your house, when you walk by the way, when you lie down, and when you rise up." ~ Deuteronomy 6:6-7
When my husband and are gone and our children remain, we want to make sure that we've left them a spiritual legacy that will guide them. We want them to be in the habit of going to the Word first when trials arise. We want them to know the way of wisdom, how to seek God's will, and how to stay in right paths so that when they walk, they will not be hindered, and when they run, they will not stumble.  We want them to be filled with all the fullness of God so they may truly know the love of Christ which passes knowledge.
It's a tall order, no?
Parenthood isn't an easy calling, and neither is the call to teach our children at home, but thankfully we have a place to turn. If we're feeling like we can't measure up, or that we aren't good enough, it's okay. It is His power at work in us, not our own. He is able to do exceedingly abundantly above all that we ask or think!
I'd like to encourage you to take some time today to pray spiritual blessings over your children. If you're at a loss for words, pray through Paul's prayer below, you can't ever go wrong praying through the Word of God!
Ephesians 3:14-21

Appreciation of the Mystery

14 For this reason I bow my knees to the Father of our Lord Jesus Christ,[a] 15 from whom the whole family in heaven and earth is named, 16 that He would grant you, according to the riches of His glory, to be strengthened with might through His Spirit in the inner man, 17 that Christ may dwell in your hearts through faith; that you, being rooted and grounded in love, 18 may be able to comprehend with all the saints what is the width and length and depth and height— 19 to know the love of Christ which passes knowledge; that you may be filled with all the fullness of God.

20 Now to Him who is able to do exceedingly abundantly above all that we ask or think, according to the power that works in us, 21 to Him be glory in the church by Christ Jesus to all generations, forever and ever. Amen.
If you have fallen behind, don't fret, it's not too late! You've just read the 6th week of verses above, so start fresh this week and commit to spend time in the Word each day! You will be blessed for any time you give to the Lord, so don't sell yourself short, or condemn yourself for not keeping up! Each day is a new opportunity to start fresh and dig into the Word to see what God has for you!

Download the GMG Ephesians Study Guide
Join our Facebook Discussion Group
Sign up for the Good Morning Girls email list so you can stay in touch!