Turbo has been participating in a Robotics club this year and he absolutely LOVES it! Since it's been such a big hit, I wanted to take a minute to share some information with you as well. They have 3 tracks to work through, Virtual Robotics, Junk Drawer Robotics, and Robotics Platforms.
The program Turbo is currently doing is called "Junk Drawer Robotics" because the items used can typically be found in your junk drawer!
The group is filled with boys ranging from age 6-12 and they all team up to work together on projects. They are currently working through the Robotics Level 1 "Give Robots a Hand". They'll eventually move onto Levels 2: "Robots on the Move", and Level 3: "Mechatronics". Each project (teacher manual) book costs around $7-$9.
In order to complete the program, each student needs a 4-H Robotics Youth Notebook ($5.95). The notebook is used to record ideas, collect data, draw designs, and take notes on their projects. Along with the main curriculum books, they also supply facilitator resources (Free pdf downloads) as well to help you teach through the lessons in the notebooks and help with supply ideas.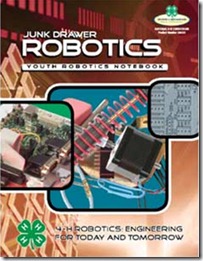 In our group, the boys gather in teams of 2-3 to to design and assemble their projects, but you could easily adapt your "group" to fit your homeschool family. Or if you're feeling brave, you could even offer to lead a robotics group for some friends as a co-op!
Marshmallow Catapult:
Here they made a "Trebuchet" style swing arm marshmallow catapult. They used weights and gravity for their power source, and finally tested it out. They measured how far it went and if it hit their target depending on how far away they were.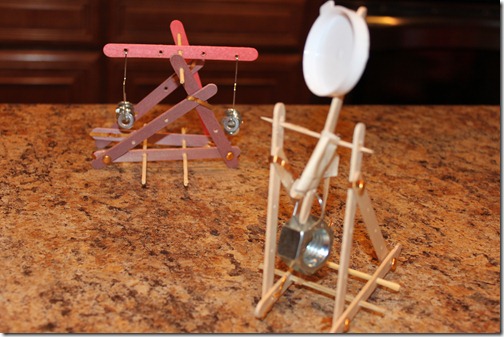 Weighted Balance:
In Activity F they created a weighted balance, learned about Torque (Force x Distance), and then used beams of different lengths to control their robotic arm movements on their balance. They also recorded what happened when they altered their pivot points.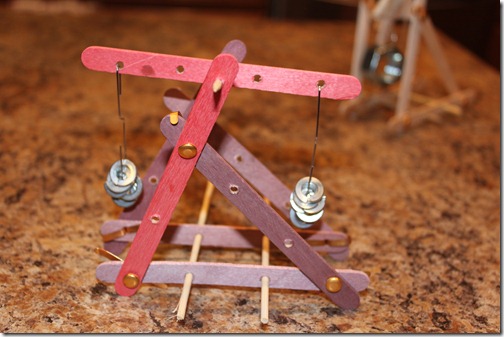 They've also created a 3-D tic-tac-toe game, and are currently in the process of designing a robotic arm using levers.
One way I know Turbo loves this program?
As soon as he comes home, he starts rummaging through my drawers looking for "supplies" to make something. he usually tries to replicate what he's made in the group, but typically ends up making something else as his project evolves. I love to see his mind cranking away at how to make something work. I think the practice of  logical thinking of process and design is really enriching his education!
Want some more information?
Level 1 Give Robots a Hand: This level covers pneumatics, arm designs, and three-dimensional space. It also includes form and function, scientific habits of mind and engineering design process.
Level 2 Robots on the Move: In this track, the students will cover concepts such as friction, basic electrical power and motors, engineering constraints, gear systems and buoyancy.
Level 3 Mechatronics: This level introduces simple electronic components, circuit building, and basic elements of programing and instruction for robotic computer control.
The great thing about these courses is that they mostly use easy to find, everyday items to build the projects. It's great to have students work in teams if possible, and creates a wonderful learning experience, instills investigative skills, and fosters creative thinking!
Disclosure: I just wanted to make it clear that this was not a sponsored review, nor did I receive anything free in return for posting. Turbo is really enjoying this course, and so we really wanted to share some of his projects with you all and hopefully give you some ideas of how to add fun, hands-on experience, and creativity in your homeschool!