In response to a readers request from my recent post on the Place Value Practice Board, I created a Place Value Money Board as well!  This one goes up to $9999.99.  It's a great hands on way to work on place value and proper money notation, and I think  this is a great visual for students!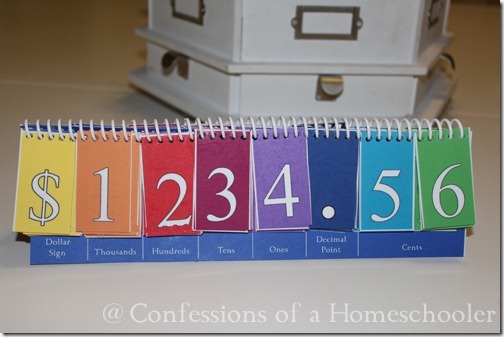 –> Download the Place Value Money Board<–
Supplies:
Printer with lots of ink ;o)
4 sheets of durable cardstock
Lamination
Spiral bind (I took mine to Office Depot)
Directions:
STEP 1: Print pages 3-7 on cardstock and laminate for durability.
STEP 2: Cut out the cover page, and back page. Cut out the blank and 0-9 number strips LEAVING THE STRIPS WHOLE – Do NOT cut apart individual numbers yet. (See below, ignore the fact that mine is already bound…yours won't be at this stage.) Per a reader request, I also added a row of blank cards as well, so you don't have something like $0013.56.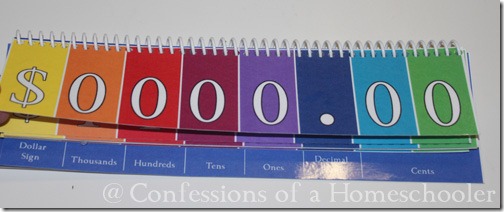 STEP 3: Take the pages to a local office supply store and have them spiral bound with a white spiral binding. (See above!)
STEP 4: Carefully cut along the lines to separate each individual number strip. (See below)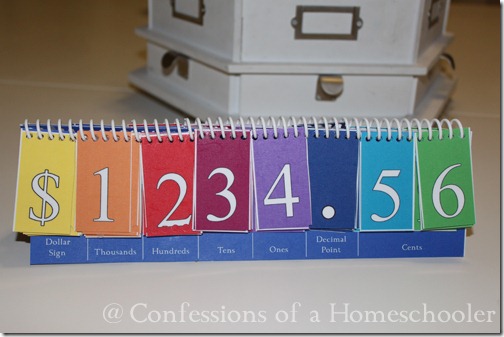 (Hopefully yours won't be all goofy looking like mine, the nice man at Office Depot didn't bind it correctly, so they hang funny. The good news is I got it for free since he messed up!)
STEP 5: Start building numbers as needed to help with place value practice! I like to put a bag full of money in their workbox along with this money practice tool and then have them count the money in their drawer and make it using the money flip chart. You can see the blank flip pieces below in the thousands and hundreds place.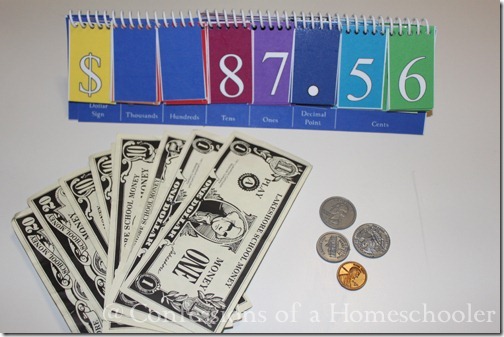 You can download both of my place value practice boards below:
I hope you enjoy this fun and helpful math tool!