Hi everyone, looking forward to a relaxing summer? I know I am! And one of the things that helps relieve some of the stress in my life  are my Monthly Meal Plans!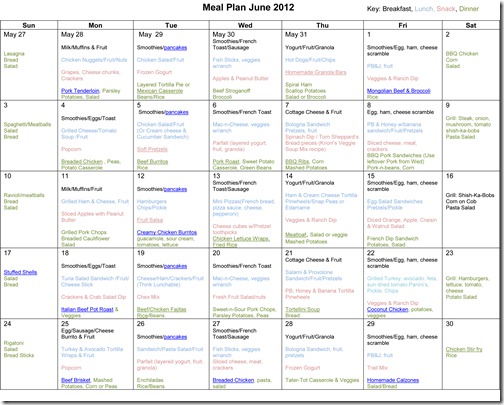 Download the June 2012 Monthly Meal Plan:
My Smoothie Recipe:
I'm kind of lazy when it comes to smoothies, I buy the family packs of Yoplait or Jamba Smoothies they have in the grocery store for days when I need a quick breakfast. Just add milk or orange juice and voila!
Here is my recipe for days when I have a little more time…
Ingredients:
1 banana (frozen is better, but I will work at room temp.)
2 cups frozen strawberries (Again, room temp is okay)
1 cup milk
1/2 cup vanilla yogurt (We prefer frozen yogurt)
1/2 cup orange juice
Optional: 2-3 tablespoons honey to taste (The plain fruit can be a bit sour, but the orange juice helps with this, so try it before adding honey)
Directions:
Add all ingredients into a blender and mix until smooth! Pour into glasses and serve!
This usually serves my 4 kiddos and me, but they all get half glasses. If I need a little more, I'll just add in some more milk or juice. It makes the smoothie a bit runny, but no one seems to mind and it's cheaper that way!
Note: Really you can use any type of fruit you prefer! Some of our favorites alternatives to above:
Mango, peach, & banana.
Raspberry, Blueberry, and Strawberry
Hope the meal plans help relieve a little bit of mom-stress this month!